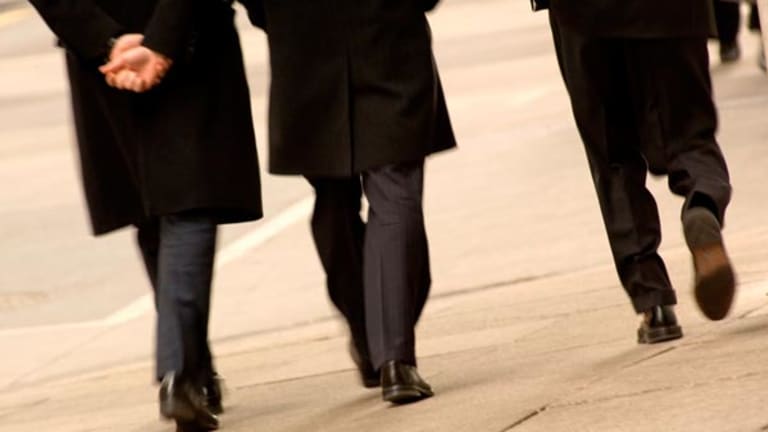 Dow Watch: Nothing Wrong Here
Despite a number of negatives, the Dow is up anyway.
It's Not All Bad
(
At 12:10 p.m. EDT
)
This market sure has a lot going against it these days. I don't want to be too much of a drag, but let's review a few of the more recent downers.
We'll start with the big rally in the past two months. Great rebound. Still, we have to wonder how much longer
. As of last Friday, the
Dow
was up some 30% since March 9.
Then we have more
stock offerings
every day. Anybody not doing a secondary?
Economic data, generally speaking, haven't been much to cheer about, even if they're of the less-bad variety. The latest included word that
jobless claims
were up again, staying well above 600,000.
Plus, we hear that Washington is looking at
, and not just for aid recipients. Wall Street doesn't care much for that. Not sure any of us should want to go
.
If that's not enough, we have talk that Uncle Sam might lose that long-held and highly coveted
. Say it ain't so.
Meanwhile,
, the Nobel Prize winner for economics, is continuing his rain-on-the parade tour. From
Bloomberg
: "The world as a whole looks quite a lot like Japan during its lost decade. I am very optimistic about the world in, let's say, 2030; it's the next ten years or so that have me worried."
Seriously? 2030? Fine, let's just throw in the towel on the next 10 years. Or so.
The things I've mentioned here are only a handful of the bad that remains out there. Plenty ails this economy, no doubt about it. So it was hardly a surprise when futures were indicating ahead of the open this morning that
would continue.
Imagine my surprise when the market opened up. Still there, too. Not a lot, mind you, but it counts. Recently, the Dow was tacking on about 60 points to 8346.
Only eight of the 30 stocks were lower, though admittedly they were some of the key components considering the price-weighted nature of the DJIA.
IBM
(IBM) - Get International Business Machines Corporation Report
was losing 1.4% to $100.80. Both oil stocks,
Exxon Mobil
(XOM) - Get Exxon Mobil Corporation Report
and
Chevron
(CVX) - Get Chevron Corporation Report
, were falling.
Wal-Mart
(WMT) - Get Walmart Inc. Report
was down 2.3% following its
and outlook. The worst stock on a percentage basis was
GM
(GM) - Get General Motors Company Report
, off 3.3% at $1.17. That's only 4 cents, but it had to be pointed out.
The good news is the banks were up, paced by
Citigroup's
(C) - Get Citigroup Inc. Report
3.8% gain to $3.54. Outside of Big Blue, the rest of the techs were rising, led by
Intel's
(INTC) - Get Intel Corporation Report
2.7% advance.
Equities were in a free-fall for so long, culminating in that 12-year low earlier this year, that it looked like better days would never return. Now it seems at least a few folks are afraid if they stay out of this market for too long, they're running the risk of missing the upside, even with all the negatives.
If history repeats itself, the day will come when those negatives are outnumbered by the positives. Don't know when. For now though, considering where we were, I'll take a little gain anytime I can get it.