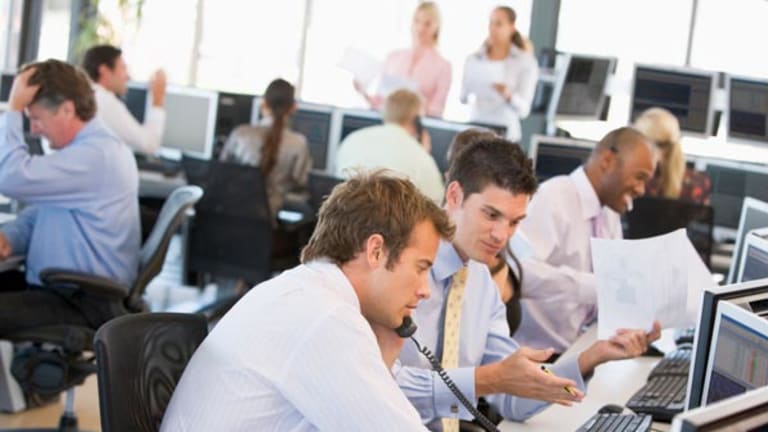 Publish date:
Dow Takes a Step Back
The average closes down 1.7%, while the Nasdaq finishes with a slight gain.
The average closes down 1.7%, while the Nasdaq finishes with a slight gain.
Updated from 4:07 p.m. EDT
Blue-chip investors took it on the chin Wednesday as the
Dow
dove to a 1.7% loss, while the
Nasdaq
inched higher.
The
Dow Jones Industrial Average
lost 144.75 points, or 1.72%, to end at 8257.61, while the
Nasdaq
gained 3.71 points, or 0.27%, to 1394.72. The
S&P 500
shed 10.90 points, or 1.22%, to 879.91.
"We are where we thought we'd be, with profitability being held with the help of cost cutting. But at some point this won't be the driving force anymore: We'll need to see some revenue growth, too," said John Atkins, market analyst at IDEAglobal.
Among tech stocks,
Intel
(INTC) - Get Report
rose 6% to $18.18, while
Microsoft
(MSFT) - Get Report
climbed 1.2% to $24.90.
Sun Microsystems
(SUNW) - Get Report
shed 1.2% to $3.31 ahead of its results after the closing bell.
Some of the optimism in the tech sector was due to Intel's sales forecast for the second quarter and comments from the company's chief financial officer. The microprocessor giant, while reporting an essentially flat first quarter, said sales in the second quarter will be above the midpoint of its closely watched range. At Microsoft, meanwhile, the latest quarter was solid, but guidance was weak.
"This trend has been in place for a while, with technology outperforming the rest of market," said Dan Veru, co-investment officer at Palisade Capital Management. "The weakness in the Dow stems from profit-taking in some banks, which performed well the last couple of days."
Separately,
Motorola's
(MOT)
shares finished down 1% at $7.86. The company said it expects to see stronger sales growth in the second half, but reportedly cut its estimate for total industry cell-phone sales this year.
On the NYSE, volume was heavier than in the past few sessions, with 1.6 billion shares trading hands. Some 1.5 billion shares were traded on the Nasdaq, while advancers and decliners were running about even in both exchanges.
"Options expiration this week is generating additional volatility and volume in some names, but overall the market is still not convinced," said Cary Nordan, equity analyst at BB&T Asset Management.
Altria
(MO) - Get Report
said earnings fell about 8%, in part reflecting its ongoing legal battle in Illinois. The cigarette maker's shares slid 1.9% at $31.85.
Coca-Cola
(KO) - Get Report
lost 6.4% at $39.79 despite reporting first-quarter earnings that were in line with expectations. But volume sales, a vital measure for beverage companies, were below forecasts in most regions, including North America.
AMR
(AMR)
shares were up 23.8% at $4.21, as investors bet that American Airlines flight attendants would agree to wage concessions to avoid bankruptcy at the world's largest airline. Workers have a second chance to vote until 6 p.m.
Ford
(F) - Get Report
posted a higher-than-expected profit in the first quarter, with the help of cost cutting and gains at its finance arm. Ford shares gained 10.5% to $9.23.
Hotel and casino operator
MGM Mirage
(MGG)
guided second-quarter earnings lower, and its shares fell 10.6% to $26.74.
The news from MGM Mirage dragged most of the sector lower, with shares of
Ameristar Casinos
(ASCA)
,
Trump Hotel & Casino Resorts
(DJT)
,
Station Casinos
(STN) - Get Report
and
Monarch Casino
(MCRI) - Get Report
losing ground.
J.P. Morgan Chase
(JPM) - Get Report
said its income rose 43%, helped by revenue from investment banking and consumer finance. Shares of the bank finished 1.8% lower at $26.38. Securities firm
Merrill Lynch
(MER)
also posted a jump in first-quarter earnings, but revenue fell 5%. Merrill Lynch shares fell 0.4% at $39.70.
Texas Instruments
(TXN) - Get Report
rose 10.8% to $19.08 after the maker of chips for wireless phones swung to a first-quarter profit and posted a 20% rise in revenue.
Other technology companies reporting results Wednesday include chipmaker
Advanced Micro Devices
(AMD) - Get Report
and computer maker
Apple
(AAPL) - Get Report
.
In economic news, housing starts rose 8.3% in March, almost double what economists had expected, amid low mortgage rates. Separately, the Labor Department said consumer prices rose 0.3% in March, less than the 0.4% economists had forecast. Excluding energy prices, the inflation gauge was unchanged, after rising 0.2% in February. This marked the first time since early 1999 that the so-called core CPI remained flat.
Overseas markets were mixed, with London's FTSE 100 down 1.6% at 3854 and Germany's Xetra DAX virtually flat at 2834. In Asia, Japan's Nikkei gained 0.5% to end at 7879, while Hong Kong's Hang Seng rose 0.5% to close at 8675.
U.S. stocks ended Tuesday with gains, as the Dow rose 51 points to 8402, and the S&P 500 gained 6 points to 890. The Nasdaq finished up 6 points at 1391.