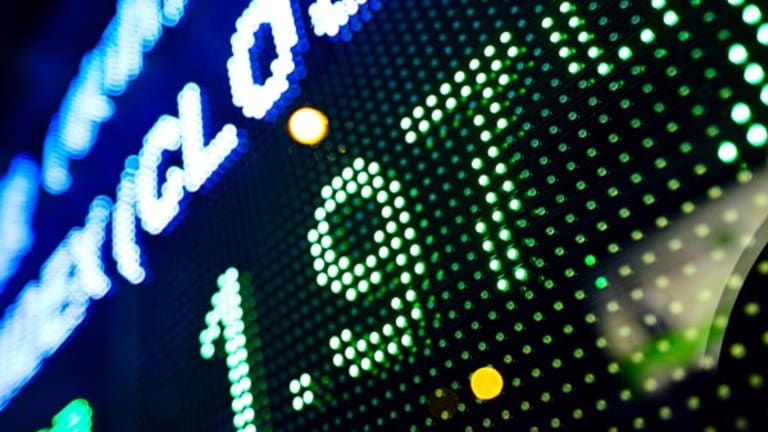 Dow Stumbles Toward Fed
Concerns about tomorrow's Fed meeting rattle blue chips.
Concerns about tomorrow's Fed meeting rattle blue chips.
Updated from 4:08 p.m. EST
Stocks struggled again Monday, with the
Dow
losing more than 60 points and the
Nasdaq
briefly dipping below 2000, as investors worried the
Fed
will drop its commitment to measured interest rate hikes when it meets Tuesday.
The
Dow Jones Industrial Average
fell 64.28 points, or 0.60%, to 10,565.09, and the
S&P 500
lost 5.88 points, or 0.49%, to 1183.77. The Nasdaq ended down 0.28 point, or 0.02%, to 2007.51; earlier it traded as low as 1993.76, just above its 200-day moving average of 1993.05. On Friday, the tech index traded below 2000 for the first time since early November.
Closing volume on the
New York Stock Exchange
was 1.52 billion shares, with decliners beating advancers by a ratio of almost 2.5 to 1. Volume on the Nasdaq was 1.38 billion shares, with decliners slightly outpacing the advancers 9 to 7.
In other markets, the 10-year Treasury note was down 3/32 to yield 4.52%, while the dollar surged to a two-week high against the euro and was also up against the yen. A more-hawkish Fed would be bullish for the U.S. currency.
Oil prices closed lower, having traded above $57 a barrel at one point. The April futures contract lost 10 cents to $56.62 in Nymex floor trading. With the Federal Open Market Committee meeting Tuesday, concerns are growing that the central bank might have to tweak its economic assessment to incorporate more concern about oil's impact on the overall price picture.
"The dollar is rallying on the idea that the Fed will become more hawkish in regards to raising rates," said Peter Cardillo, chief market analyst at S.W. Bach & Co. "We are also next to key support levels for the indices, and this is making some investors jittery. Until the market can fully discount the price of oil and interest rates, the market will be subject to the fixed-income and oil pits."
"Everyone is looking forward to the FOMC meeting tomorrow," said John Hughes, equity strategist at Shields & Co. "Traders are squaring away their positions in case of any surprises in the Fed's statement away from the measured approach."
American International Group
(AIG) - Get Report
shares fell to a new five-month low as concerns grew over a possible accounting restatement, following a
Barron's
report. The stock is off more than 20% since Feb. 15. AIG shares finished down $1.86, or 3.1%, to $57.90.
The
Securities and Exchange Commission
said it has approved
Time Warner's
(TWX)
proposal to pay $300 million to settle charges that the AOL unit overstated online advertising revenue and the subscriber numbers. The stock closed down 28 cents, or 1.4%, to $18.42.
Mergers dominated Monday's news flow, with
Medicis Pharmaceutical
(MRX)
reaching a $2.8 billion deal to acquire
Inamed
(IMDC)
and
IAC/InterActiveCorp
(IACI)
reportedly on the verge of buying
Ask Jeeves
(ASKJ)
for $2 billion.
The Medicis-Inamed deal, announced Monday morning, would create a pharmaceutical and cosmetics company with about $700 million in annual revenue. Medicis will exchange cash and stock worth $75 for each Inamed share. Medicis closed down $2.58, or 8.1%, to $29.10, and Inamed finished up $1.97, or 2.9%, to $68.21.
Barry Diller's IAC acquired Ask Jeeves, the Internet search company, for cash and stock worth $1.85 billion. Ask Jeeves closed up $3.93, or 16.3%, to $28.17, while IAC Interactive closed down 66 cents, or 2.9%, to $21.63.
A phase III trial came up short Monday on a drug aimed at treating colorectal cancer developed by
Novartis
(NVS) - Get Report
and
Schering
(SHR)
. The drug, known as PTK787, is an angiogenesis candidate similar to
Genentech's
(DNA)
Avastin. In combination with chemotherapy, the drug failed to significantly improve the effectiveness of chemo alone in preventing colon cancer from worsening.
The trial is continuing toward its primary endpoint, which is to see if PTK787 does a better job prolonging life. But the companies said Monday's result will delay them from filing for approval in the U.S. Genentech closed up $5.49, or 10.5%, to $58 on the news, while Novartis finished down 91 cents, or 1.8%, to $47.41. Schering plummeted $11.75, or 15%, to $66.
Duke Energy
(DUK) - Get Report
announced that it would buy back 30 million shares. Part of the money being used for the purchase will come from the company's sale of partnership interests. Shares finished up 9 cents, or 0.3%, to $27.55.
Onyx Pharmaceuticals
(ONXX)
and
Bayer Pharmaceuticals
announced on Monday that they will seek accelerated approval from the Food and Drug Administration for their experimental kidney cancer treatment after a successful late-stage clinical trial. Onyx closed up 45 cents, or 1.4%, to $33.25, and Bayer closed down 53 cents, or 1.5%, to $33.65.
In brokerage news, CIBC upgraded
EchoStar Communications
(DISH) - Get Report
to sector perform, saying positive catalysts for the stock are poised to emerge. Shares closed down 6 cents, or 0.2%at $28.94.
Gap
(GPS) - Get Report
was upgraded by Merrill Lynch to buy from neutral, with the broker saying the retailer is taking key steps in the right direction. The stock finished off 15 cents, or 0.7%, to $21.34.
Banc of America reiterated sell ratings on
General Motors
(GM) - Get Report
and
Ford
(F) - Get Report
, saying it will be difficult for the companies to reverse a slide in business fundamentals. GM closed up $1.07, or 3.7%, to $29.69, while Ford closed up 12 cents, or 1%, to $11.51.
Overseas markets closed mixed, with London's FTSE 100 recently adding 0.21% to 4933 and Germany's Xetra DAX down 0.71% to 4296. In Asia, Japan's Nikkei was closed for a holiday, after gaining 0.9% Friday to 11,880, while Hong Kong's Hang Seng was unchanged at 13,834.