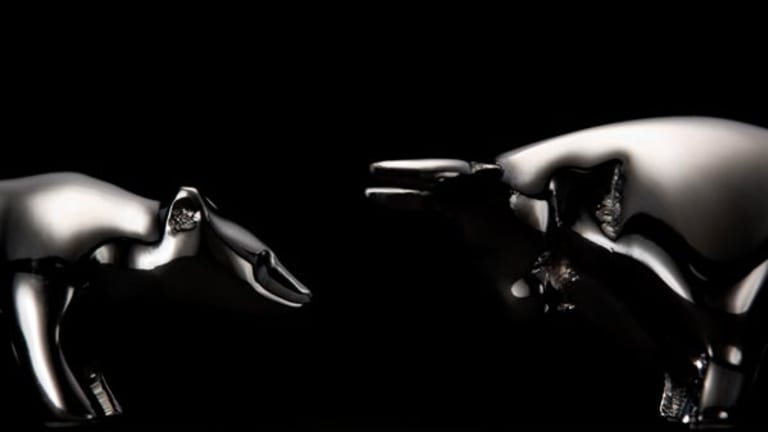 Dow Still Goes Pow
Wall Street ends a dull session with gains. Microsoft jumps nearly 4%.
Updated from 4:17 p.m. EDT
Wall Street endured a lackluster session Friday after a mixed batch of economic data, but the
Dow Jones Industrial Average
ultimately edged up to finish a strong week with yet another all-time closing high.
The Dow advanced roughly 15.44 points, or 0.12%, to 13,120.94. Despite the gain, only 12 of its 30 components finished in positive territory, helping to overcome a 2.7% decline in
General Motors
(GM) - Get General Motors Company Report
.
The
S&P 500
ended lower by 0.18 point, or 0.01%, at 1494.07, while the
Nasdaq Composite
climbed 2.75 points, or 0.11%, at 2557.21.
After setting three consecutive record closing highs, the Dow gained 1.2% over the five sessions. The S&P 500 was ahead by 0.7%, and the Nasdaq added 1.2%.
The major averages pieced together gains amid an earnings torrent of several large-cap names, as well as mixed data that have left many traders still unsure about inflation and economic growth.
Paul Nolte, director of investments with Hinsdale Associates, doesn't especially like what he sees. "The market isn't trading well at all lately," he said "The advance-decline line has been terrible. Volume has been higher on down days, and there's been a persistence of that. At worst, we're setting in a short-term top, so we're going to see the market come down."
Indeed, volume and breadth ended the week worse than Thursday's levels. About 2.73 billion shares changed hands on the
New York Stock Exchange
, with decliners beating advancers by a 9-to-7 margin. Volume on the Nasdaq reached 2.13 billion shares, with losers outpacing winners 3 to 2.
Paul Mendelsohn, chief investment strategist with Windham Financial, said that the market is now at an overbought level after another strong week, which means it has now been on the rise for the fourth week in a row.
"It's a matter of when we pull back and from what point do we start the decline," said Mendelsohn. "The market has been acting so strange. Traders just keep buying, and they have no fear."
The Dow opened lower after new government data showed that the domestic economy grew at a much weaker rate during the first quarter than expected. The Commerce Department said gross domestic product rose 1.3% last quarter, down from a 2.5% annual pace in the fourth quarter.
Economists expected the reading to show a rise of 1.8%. The year-over-year change in inflation remained at 2.2%, a figure that's still a bit outside the
Federal Reserve's
comfort zone.
The advance GDP report is the first of three that will be released on the quarter.
Peter Morici, a professor at the University of Maryland School of Business and former chief economist at the U.S. International Trade Commission, said that the housing sector and the trade deficit were the main reasons for the lower-than-expected number.
"The trade deficit subtracted 0.52
points from growth," he said. "This loss was held down by a dramatic drop in crude oil and refined petroleum product imports in February that cannot be sustained. The trade deficit will subtract from GDP growth for the balance of 2007."
At the same time, the employment cost index rose 0.8%, a bit below the 0.9% forecast. Personal consumption expenditures increased 3.8% in the first quarter, compared with a rise of 4.2% in the fourth.
Meanwhile, the University of Michigan's revised consumer sentiment report for April showed a bigger-than-expected rise to 87.1, up from the preliminary 85.3. Analysts expected a reading of 85.5.
Treasuries were little changed following a volatile morning. After starting lower, the 10-year note was flat in price to yield 4.70%, and the 30-year bond was down 1/32 in price to yield 4.88%. The dollar was weakening against the euro and the yen.
Following the last session, Dow component stock
Microsoft
(MSFT) - Get Microsoft Corporation Report
helped the industrials continue their climb, saying revenue for its third fiscal quarter ended March 31 jumped 32% to $14.4 billion, topping estimates of $13.9 billion.
The software giant also easily exceeded analysts' profit estimates, and its shares finished up $1.02, or 3.5%, to $30.12.
Elsewhere, earnings continued to roll in before the new session got under way. Among them,
ITT Industries
,
Waste Management
(WMI)
and
Burger King
(BKC)
all beat estimates.
Chevron
(CVX) - Get Chevron Corporation Report
posted a first-quarter profit that rose 18% from a year earlier, easily topping Wall Street's targets. Still, Chevron gave back 10 cents, or 0.1%, to end at $78.08.
The chip sector was under pressure following cautious comments from
SanDisk
(SNDK)
. The company swung to a first-quarter loss, compared to a profit from a year ago, and warned that tough market conditions will weigh on margins into the summer.
SanDisk shares lost $1.19, or 2.6%, to $43.83, and the Philadelphia Semiconductor Sector Index slumped 1.5%.
On the research front, UBS upgraded
XM Satellite Radio
(XMSR)
and
Sirius
(SIRI) - Get Sirius XM Holdings, Inc. Report
to buy from neutral. XM added 1.7% to close at $11.98, and Sirius rose 2.7% to $3.04.
At Stifel,
Amazon.com
(AMZN) - Get Amazon.com, Inc. Report
was downgraded to hold in the wake of the big run-up that followed its terrific quarterly report earlier this week. Shares dipped 18 cents, or 0.3%, to end at $62.60.
Elsewhere, commodities ended the day higher. Crude oil retraced early losses and jumped $1.40 to finish at $66.46 a barrel. Among precious metals, gold added $3.80 to $681.80 an ounce, and silver was higher by 12 cents to $13.44 an ounce.
Overseas, markets were lower in Asia, where Tokyo's Nikkei lost 0.2% to 17,400 and Hong Kong's Hang Seng eased 0.7% to 20,526. Europe was generally weaker as well, with London's FTSE losing 0.8% to 6418 and Frankfurt's Xetra DAX off 0.1% at 7378.