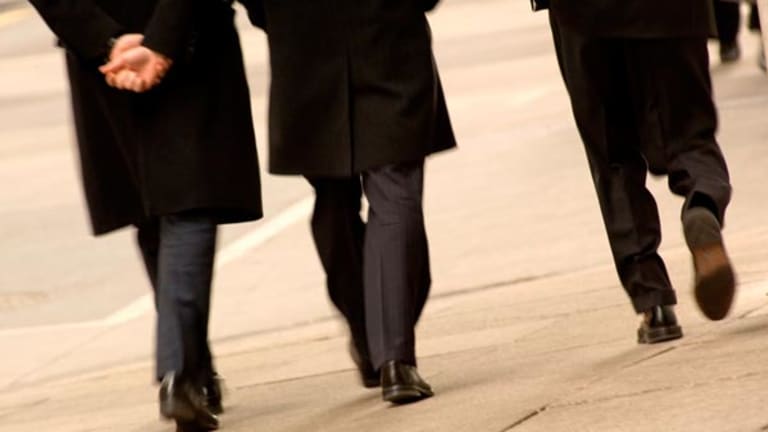 Dow Steps Back
A choppy session ends with the average 17 points lower.
Updated from 4:08 p.m. EST
Stocks listed, tacked and ran Wednesday but ended the day just below their starting point, as a spike in oil offset soothing commentary from Alan Greenspan.
The
Dow Jones Industrial Average
closed down 18.03 points, or 0.17%, to 10,811.97, having traded as high as 10,869 and as low as 10,744. At its Wednesday peak, the average was above its December closing high of 10,854 and higher than any closing level since June 2001. The
S&P 500
fell 0.33 point, or 0.03%, to 1210.08, while the
Nasdaq
fell 3.75 points, or 0.18%, to 2067.50.
In other markets, the 10-year Treasury bond fell 3/32 in price to yield 4.38%, while the dollar posted strong gains against the yen and euro.
Closing volume on the
New York Stock Exchange
was 1.57 billion shares, while volume on the Nasdaq was about 2.0 billion shares. Decliners on the NYSE beat advancers 6 to 5, while on the Nasdaq decliners beat advancers by about 9 to 7.
Oil jumped above $53 a barrel after a government report showed that distillate stocks fell by 1.8 million barrels last week, while crude supplies increased by 2.4 million barrels. A separate report from the American Petroleum Institute said crude inventories increased by 3.3 million barrels while distillate supplies fell by 1.4 million barrels. The April crude contract added $1.37 to close at $53.05.
"It's been a real roller coaster day, with strength off of Alan Greenspan's comments, but weakness as oil approached $53 a barrel," said Larry Perruzi, an equity trader with Boston Company Asset Management. "After the API report came out separately from the Energy Department's report, oil prices spiked up and pulled down markets that Greenspan had helped build up earlier."
Stocks rose after Greenspan said little to suggest a more hawkish bent for the Fed.
"The U.S. economy delivered a solid performance in 2004, and thus far this year, activity appears to be expanding at a reasonably good pace," said Greenspan. "However, the positive short-term economic outlook is playing out against a backdrop of concern about the prospects for the federal budget, especially over the longer run."
The tone of the testimony was little changed from two weeks ago, when Greenspan cited the falling dollar, waning productivity growth and rising oil as possible inflation catalysts. As expected, he spent most of his speech urging lawmakers to practice fiscal discipline.
"The market is reacting to bonds, after we touched 4.40% earlier, which is an important inflection point," said Barry Hyman, equity market strategist with Ehrenkrantz King Nussbaum. "The markets should champion that the long bond is moving higher, even if it hurts valuation. It implies that growth is the story for 2005 and that earnings with growth can be justified."
Chip stocks came under pressure earlier Wednesday on
Novellus'
(NVLS)
earnings report, which called for first-quarter earnings of 20 cents to 22 cents a share on sales of $330 million to $340 million. The company had previously called for earnings of 18 cents to 22 cents a share on sales of $320 million to $330 million.
While the news was far from terrible, investors sold the stock on concerns that Novellus' earnings aren't rising as fast as its sales. CEO Richard Hill said the situation represented a "combination of the configuration
of sales and the timing of revenue recognition." The shares closed down $1.28, or 4.2% to $28.90.
Chip and chip-related stocks rallied Tuesday on a J.P. Morgan upgrade, but slipped on the Novellus news. Shares of
Applied Materials
(AMAT) - Get Report
lost 2.5% to finish at $17.22, while
Motorola's
(MOT)
fell 0.3% to $15.58.
Two software shops were lower after issuing earnings warnings Tuesday night.
Tibco
(TIBX)
put first-quarter pro forma earnings at 4 cents or 5 cents a share, down from its previous estimate of 8 cents. Tibco dropped $1.86, or 20.9%, to $7.04.
Verity
(VRTY)
said pro forma earnings in its third quarter will be 5 cents or 6 cents a share, about half the Wall Street forecast. Verity was cut by brokerage RBC Capital to underperform. Verity shares fell 63 cents, or 5.8%, to $10.26.
Doing better were a handful of specialty retailers, including
Pacific Sunwear
(PSUN)
, which posted fourth-quarter earnings that beat estimates by a penny Tuesday night and February same-store sales growth of 10.4%, also ahead of estimates. Shares added $2.06, or 7.8%, to $28.52.
Before the bell,
American Eagle
(AEOS)
said February comps were up a whopping 32.4% from a year ago, twice the Wall Street estimate. The company also posted higher-than-expected fourth-quarter earnings and guided the second quarter higher. Shares gained $3.57, or 6.5%, to $58.87.
Lear
(LEA) - Get Report
cut its first-quarter earnings forecast late Tuesday, citing falling North American vehicle production and higher costs from its suppliers. The auto interiors builder had expected EPS of 50 cents to 70 cents for the first quarter, but now expects to break even. Analysts were projecting earnings of 64 cents, according to Thomson First Call. Brokerages Prudential and Wachovia both cut their rating on Lear. Shares fell $5.76, or 10.9%, to close at $47.
Costco
(COST) - Get Report
lost 3.6% after it posted quarterly earnings and sales below estimates on Wednesday. Profit for the fiscal second quarter increased to $305.5 million, or 62 cents a share, from $226.8 million, or 48 cents a share a year earlier. Excluding a $52.1 million income tax benefit and a $16 million cumulative charge, Costco said net income would have been $263.3 million, or 54 cents per share, for the fiscal second quarter. Analysts had expected the company to earn 55 cents per share, according to Thomson First Call. Shares finished down $1.69 to $45.02.
Chiron
(CHIR) - Get Report
closed higher after British regulators lifted their ban on the Liverpool factory where the company manufactures its flu vaccine. The decision will allow Chiron to provide its Fluvirin vaccines to the U.S. in hopes of avoiding another winter shortage, pending approval from the Food and Drug Administration. In October, British regulators cited "sterility failures" in barring production from the plant. Shares added $2.27, or 6.4%, to $37.69.
Advanced Micro Devices
(AMD) - Get Report
said in a filing with the
Securities and Exchange Commission
that it now expects its microprocessor business to post flat to slightly lower sales in the current period compared with those in the fourth quarter. The "correction" pushed shares down 31 cents, or 1.7%, to $17.65.
Rambus
(RMBS) - Get Report
shares dropped 10% Wednesday after the company's patent infringement claims against
Infineon
(IFX)
were dismissed in a Virginia federal court retrial on Tuesday. All of Rambus' claims were dismissed, but Judge Robert E. Payne did not dismiss Infineon's monopoly claim against Rambus. Shares of Rambus were down $1.71 to $15.45. Infineon lost 10 cents, or 1%, to finish at $10.39.
In brokerage action, Deutsche Bank upgraded
Federated Department Stores
(FD)
to buy from hold. The brokerage sees accelerating sales from introductions of private brands and Federated's move to more upscale products. Also, Deutsche sees an excess of $450 million from Federated's acquisition of
May Department Stores
(MAY)
, which was announced Monday. Federated gained 54 cents, or 0.9%, to $61.52.
Overseas markets were mixed, with London's FTSE 100 finishing down 0.2% to 4992 and Germany's Xetra DAX adding 0.2% to 4393. In Asia, Japan's Nikkei rose 0.3% overnight to 11,814, while Hong Kong's Hang Seng lost 1.5% to 13,851.