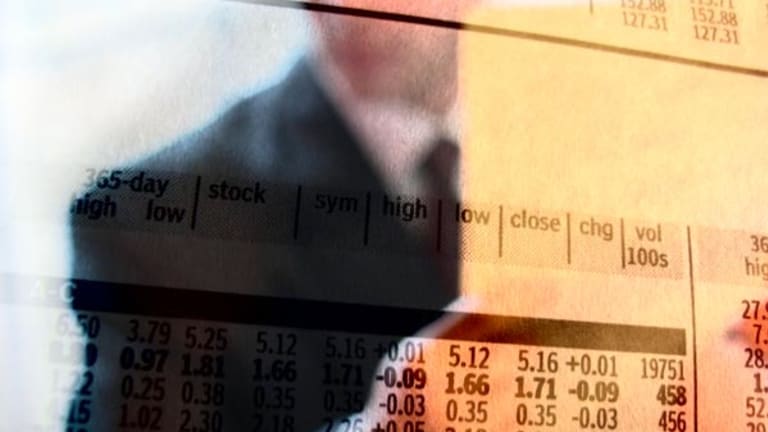 S&P 500 Drops to Mid-December Levels as Crude Drops Below $50
Crude prices continue to plummet, punishing oil stocks and dealing a hefty blow to the broader stock market on Monday.
NEW YORK (TheStreet) -- Traders instigated a fresh wave of selling in Monday's afternoon session as plummeting crude prices shocked Wall Street, punishing oil stocks and dealing a hefty blow to the broader stock market.
The S&P 500 fell 1.8% to mid-December levels. This marks its first four-day losing streak in 13 months. The Dow Jones IndustrialAverage tanked 322 points, or 1.8%, and the Nasdaq dropped 1.5%.
STOCKS TO BUY: TheStreet Quant Ratings has identified a handful of stocks that can potentially TRIPLE in the next 12 months. Learn more.
Crude oil has suffered gaping losses, recently posting its biggest annual decline in six years, with West Texas Intermediate crude more than half its mid-summer peak. Extending losses, Russia reported oil production at a post-Soviet record and Iraq saw its highest oil exports since 1980.
"This is the oil market's version of Newton's third law of market, with a market in motion tending to stay in motion unless acted upon by an outside force," Citi's Timothy Evans wrote in a report.
Oil has been in freefall as supply outpaced global demand and the Organization of the Petroleum Exporting Countries refused to limit future production. On Monday, West Texas Intermediate plummeted 5.1% to $49.98, its lowest point since April 2009.
Also contributing to oil's steep decline was a surge in the U.S. dollar and gold adding 1.5% to $1,203.80 an ounce.
"The price of gold is higher and price of oil is down significantly. That's an unusual combination," said James Abate, chief investment officer of Centre Funds, in a call. "What it signifiies to me is the fact that, contrary to the expected broad-based positive stimulative benefits to the consumer portion of the economy, the continuing sharp collapse in oil prices is indicative of a economic slowdown due to falling demand."
Large-cap oil companies Exxon Mobil (XOM) - Get Exxon Mobil Corporation Report , Royal Dutch Shell (RDS.A) , Chevron (CVX) - Get Chevron Corporation Report and BP (BP) - Get BP Plc Report plummeted, while small-cap oilers including Precision Drilling (PDS) - Get Precision Drilling Corporation Report , Halcon Resources (HK) and Oasis Petroleum (OAS) - Get Oasis Petroleum Inc Report suffered the largest losses. The Energy Select Sector SPDR ETF (XLE) - Get Energy Select Sector SPDR Fund Report tanked 4.2%.
"The old phrase in energy is that the best cure for low prices is low prices. The only question is how it long it takes before the supply boom begins to dissipate," said S&P Capital IQ analyst Stewart Glickman in an email. "All of the capex that went into new wells in the last few years is generating incremental production growth."
Automakers sold off after reporting mixed sales for December. Ford (F) - Get Ford Motor Company Report plummeted 4.1% as December sales increased 1.3%, below consensus that called for a 2.8% jump. General Motors (GM) - Get General Motors Company Report countered fears its massive recalls would undercut sales, posting a 19.3% increase in vehicles sold, higher than a 13% estimate. But shares followed the auto sector lower, losing 1.5%.
Honda (HMC) - Get Honda Motor Co. Ltd. Report reported unit sales up 1.5%, far lower than an expected increase of 5.7%. Shares were down 2%. Fiat Chrysler (FCAU) - Get Stellantis N.V. Report reported a 20% increase in unit sales over December, which though an impressive number fell short of estimates for a gain of 22.4%. Shares were 3.9% lower.
The euro sank to its lowest point in nine years as investors grew more confident the European Central Bank could introduce quantitative easing to address deflationary concerns. The currency fell below $1.20 to its weakest point since March 2006.
Germany's DAX fell 3%, France's CAC 40 was down 3.1%, and London's FTSE 100 tumbled 2%.
"Fears of a Greek exit (Grexit) from the euro stokes uncertainty as markets once again lose confidence in the Greek economy," said Schneider Electric analyst Matt Smith in a note. Greece heads to the polls on Jan. 22 to elect a new president.
Starbucks (SBUX) - Get Starbucks Corporation Report dumped 1.8% after Janney Montgomery downgraded to "neutral," arguing it likely faces difficulty in accelerating comparable-store growth.
Biopharmaceutical company Cempra (CEMP) surged 8.7% on positive clinical trial results for its oral antibiotic treatment solithromycin. Baird analyst Brian Skorney reiterated an "outperform" rating and raised his price target to $32.
STOCKS TO BUY: TheStreet Quant Ratings has identified a handful of stocks that can potentially TRIPLE in the next 12 months. Learn more.
-- Written by Keris Alison Lahiff in New York.