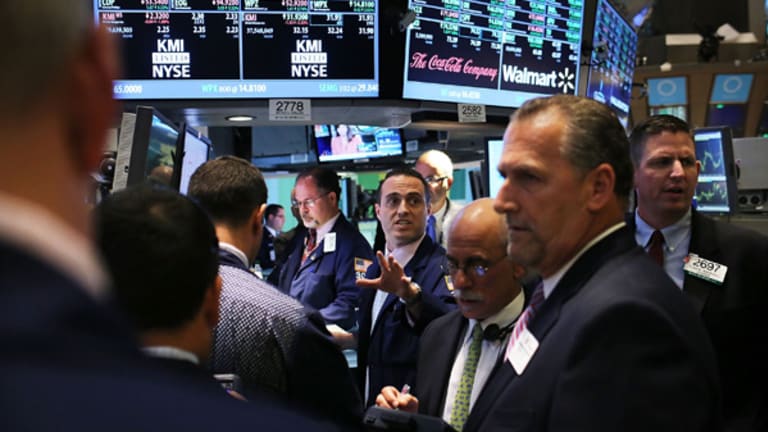 Dow Soars 410 Points on Bad-Debt Relief Talk
Stocks surge late on talk about the creation of a federal entity to deal with the credit menace. Frank Curzio's discusses the day in The Real Story (above).
Updated from 3:32 p.m. EDT
Stocks in New York surged into the close Thursday on late-day reports that the government may jump in to take on many of the securities at the core of the credit crisis.
The
Dow Jones Industrial Average
shot up 410.03 points, or 3.9%, to 11,019.69, and the
S&P 500
rose 49.93 points, or 4.3%, at 1206.32. The
Nasdaq
climbed 100.25 points to 2199.10.
The sharp move to the upside accompanied a report from
CNBC
that Treasury Secretary Henry Paulson was in discussions to initiate a Resolution Trust-like solution to the credit crisis. Following the Savings and Loan crisis in the late 1980s, the government created the trust to manage mortgage-related assets owned by defunct banks.
Ahead of Thursday's session, more news emerged from the struggling financials space.
(WM) - Get Waste Management, Inc. Report
hired
Goldman Sachs
(GS) - Get Goldman Sachs Group, Inc. Report
to help it prepare for a sale, while private equity firm TPG had helped clear the way for a merger by waiving an anti-dilution clause that would make WaMu pay for any dilution related to a capital raise or buyout. WaMu shares skyrocketed 48% to $2.99.
Meanwhile,
The New York Times
and other news outlets reported that
Morgan Stanley
(MS) - Get Morgan Stanley Report
was in discussions to merge with
. The Government of Singapore Investment Corp. said it would take a stake in Morgan if approached, and
CNBC
reported that
HSBC
(HBC)
and China's CITIC Group were also interested. On Wednesday, Morgan Stanley and Goldman Sachs shares both faced pressure as investors wondered if any firm was safe on its own. Morgan Stanley climbed 3.7% to $21.55, and Wachovia jumped 59% to $14.50.
The market staged an early relief rally, said Mark Fightmaster, market analyst at Schaeffer's Investment Research. Historically, mergers in the financial sector have drawn a positive reaction from the markets, he said, but "It's just tough to read the market right now."
Following a government bailout of insurance company
AIG
(AIG) - Get American International Group, Inc. Report
Dow Jones replaced AIG stock with
Kraft
(KFT)
on its 30-stock Industrial Average index, and bankrupt brokerage
Lehman Brothers
(LEH)
ceased trading on the
New York Stock Exchange
and instead took residence on the pink sheets under the ticker LEHMQ.PK. AIG gained 31% to $2.69.
Several money-market funds, generally considered very safe investments, have lately been under pressure following the collapse of Lehman Brothers and other financial institutions.
Bank of New York Mellon's
(BK) - Get Bank of New York Mellon Corporation Report
Institutional Cash Reserves fund fell below $1 a share on Tuesday,
Bloomberg
reported. The fund's losses were tied to investments in debt from Lehman Brothers. Money-market funds generally target their share prices above $1. Below that value, the funds' investors face losses. Bank of New York Mellon dropped 4.7% to $31.53.
Separately,
Putnam Investments
, a segment of insurer
Great-West Lifeco
, shuttered Putnam Prime Money Market Fund, a $12.3 billion institutional fund. The company said it wasn't exposed to Lehman, WaMu or AIG securities.
The
and other central banks, including the Bank of England and European Central Bank, announced Thursday they would coordinate efforts to quell soaring international demand for dollar liquidity. The Fed said it would provide an additional $180 billion for its temporary reciprocal currency arrangements. This added support would provide dollar funding for both term and overnight liquidity operations by other central banks.
Although it's hard to gauge the long-term impact of the Fed's overnight operations, the short-term impact has been relief, followed by a return to credit stresses, said Mike Feroli, economist at JPMorgan. "So far, we're at least getting the first half of that proposition," he said. He said that the Bank of England's involvement may provide additional support, because London money markets show high demand for dollar funding.
Because Europe has no lender of last resort, the best way to provide dollars following a global spike in demand is to have the ECB buy short-term euro-denominated securities in exchange for dollars, said Brian Bethune, director of financial economics for Global Insight. "These are just short-term liquidity operations. The hope is the crisis will die down, and you'll be able to pull the liquidity back in," he said.
Reflecting credit turmoil overseas, British bank
Lloyds TSB
said it would buy British mortgage lender
HBOS
for $21.85 billion. The HBOS takeover was encouraged by the British government in an effort to prevent the company from failing.
Elsewhere, MidAmerican Energy, a subsidiary of
Berkshire Hathaway
(BRKA)
said it would buy
(CEG)
for $4.7 billion, or $26.50 a share in a cash deal. Berkshire Hathaway shares climbed 2.6% to $128,010, while Constellation lost 2.3% to $24.20.
As for earnings, shipping firm
FedEx
(FDX) - Get FedEx Corporation Report
reported first-quarter
of $384 million, or $1.23 a share, vs. $494 million, or $1.58 a share, a year ago. Despite the drop in EPS, the results met Thomson Reuters analyst estimates. The stock rose 3.5% to $91.13.
In the commodities space, crude oil rose 72 cents to settle at $97.88. Gold gained $46.50 to settle at $897 an ounce, after finishing up $70 an ounce on Wednesday, the biggest one-day price jump ever.
Shifting to economic data, the Department of Labor's reported a surprise rise in initial jobless claims to a seasonally adjusted 455,000 for the week ended Sept. 13, up 10,000 from the prior week. Analysts had expected the figure to dip to 440,000, but the report reflects job losses associated with Hurricane Gustav.
Traders got an added boost in confidence from the Philadelphia Federal Reserve's September manufacturing report. The survey showed a reading of 3.8, beating expectations and improving dramatically from -12.7 in August.
On the other hand, the Conference Board's index of leading indicators for August fell 0.5%, suggesting the economy had been headed for a downturn even before the escalation of trouble in the credit markets.
Longer-dated Treasury securities were lower. The 10-year note was down 32/32, yielding 3.53%. The 30-year was 1-16/32 lower to yield 4.16%. The dollar was rising vs. the euro, yen and pound.
Overseas, European indices were mixed. The FTSE in London was down, and the Dax in Frankfurt was marking slight gains. Asian markets, such as the Nikkei in Tokyo and Hong Kong's Hang Seng, finished in the red.