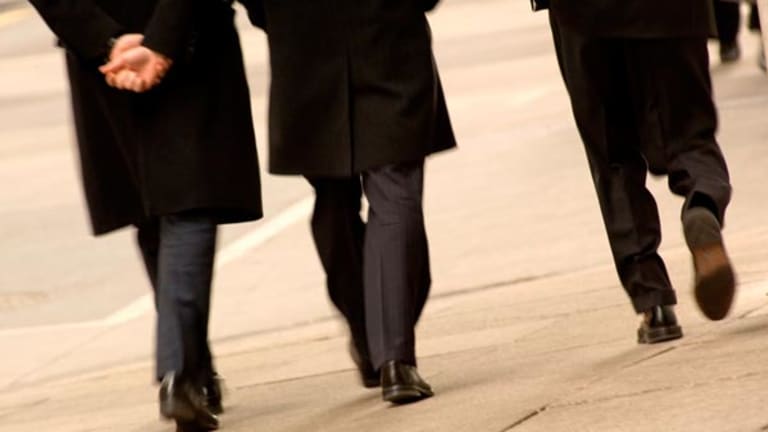 Dow Snaps Losing Streak
The blue-chip index jumps 1.4% after five down sessions.
The blue-chip index jumps 1.4% after five down sessions.
Updated from 4:06 p.m. EDT
Stocks shrugged off higher oil prices Tuesday, with blue chips surging off of an 11-month low on the back of the beaten-down insurance sector.
The
Dow
closed 138.49 points, or 1.42%, higher at 9888.48, as the blue-chip index posted its biggest single-day point gain since June. The Dow was paced by
American International Group
(AIG) - Get Report
, which gained 7.5%. The
S&P 500
was higher by 16.30 points, or 1.49%, to 1111.10. The
Nasdaq
was up 14.75 points, or 0.77%, to 1928.79.
The 10-year Treasury note fell 6/32 to yield 3.99%, while the dollar firmed slightly against the yen and euro but remained near its lows for the year.
Volume was moderate on the
New York Stock Exchange
, where 1.5 billion shares changed hands with advancers ahead of decliners 7 to 3. At the Nasdaq, 1.8 billion shares traded and advancers beat decliners by a margin of 6 to 4.
On Tuesday,
Marsh & McLennan
(MMC) - Get Report
, which last night ousted CEO Jeffrey Greenberg, announced new reforms to its business practices as part of an agreement to avoid criminal prosecution. Among the reforms, the company announced measures to fully disclose revenue streams to clients. The company also said it would stop accepting contingent fees from insurers, which many have considered akin to kickbacks.
Marsh shares climbed $2.45, or 9.3%, after a statement from New York Attorney General Eliot Spitzer that his office wouldn't pursue criminal charges against Marsh.
"Finally we had some news that the market can celebrate," said Barry Hyman, equity market strategist at Ehrenkrantz King Nussbaum, on the agreement. "However, this is most likely a temporary blip in a neutral market that is still awaiting a post-election outcome," added Hyman.
Shares of
The Hartford
(HIG) - Get Report
, which also has been implicated in Spitzer's investigation, rose $3.59, or 6.5%, on the news.
"What is amazing to me is how little attention earnings have gotten vs. how much attention the energy prices have gotten," said Arthur Hogan, chief market analyst at Jefferies. "You would like to see the market focus on the earnings, because corporate America is really putting forward a good performance," Hogan added, noting that S&P 500 profits will probably rise 15% in 2004 over 2003.
Energy prices rose Tuesday, with December crude oil futures closing 63 cents higher at $55.17, matching the record high of last Friday.
"There is a huge gap between what fundamentally should be the price, and what psychologically is the price, of oil," Hogan said.
On the economic front, the Conference Board said that its consumer confidence index fell for the third consecutive month in October, to 92.8, from 96.7 in the prior month. Economists had expected the index to drop to 93.8.
Analysts downplayed the decline, saying it wasn't surprising given the spike in gasoline prices and the slowdown in job creation after a brief burst in the spring. Questions about the economy's direction have taken something of a backseat to the uncertain outcome of the tight presidential election.
"The markets are looking forward to a generic post-election rally," said Hyman. "The market sentiment seemed, above all, to fear a repeat of the legal proceedings in 2000 where the Dow lost over 4% during those 5 weeks that the election was contested."
On the earnings front,
Taiwan Semiconductor
(TSM) - Get Report
said third-quarter earnings nearly doubled to $830 million, driven by a 27% jump in revenue to $2.1 billion. But CEO Morris Chang said fourth-quarter shipments will fall by a single-digit percentage compared with the third quarter. "There has been some near-term softening in customer demand," TSM said in a statement. Shares fell 6 cents to $7.07.
Flextronics
(FLEX) - Get Report
fell as much as 10%, following tepid guidance for its fiscal third and fourth quarters, reflecting the delayed ramp-up of a big outsourcing pact with
Nortel
( NT). The company's second quarter showed operating earnings of 17 cents a share on sales of $4.14 billion, roughly in line with forecasts, reversing a year-ago loss.
For the third quarter, the company sees earnings of 18 cents to 21 cents a share before items, on sales of $4.1 billion to $4.4 billion. Wall Street was expecting earnings of 22 cents a share and revenue of $4.62 billion. For the fourth quarter, the company expects to earn 15 cents to 18 cents a share on sales of $3.8 billion to $4.2 billion. Analysts were projecting a 17-cent profit on sales of $4.25 billion. The stock dropped 87 cents to $11.67.
Graphics chipmaker
Nvidia
(NVDA) - Get Report
raised revenue guidance for its quarter ended Sunday, citing market-share wins. The company put third-quarter revenue at $510 million to $515 million, up from its old guidance of $470 million to $502 million. The stock rose $1.15, nearly 9%, to $14.49.
Oil titan
BP
(BP) - Get Report
said third-quarter earnings were $4.48 billion, or 21 cents a share, up from $2.34 billion, or 11 cents a share, last year. Revenue rose 25% from a year ago to $73.85 billion. While the quarter was swollen by sky-high energy prices, BP warned that its capital spending budget for 2005 could be as high as $14 billion, up from its old estimate of $12.5 billion, reflecting "sector-specific inflationary pressure." BP's stock fell 55 cents to $58.93.
WellPoint
(WLP)
boosted third-quarter results. The HMO said it had earnings of $315 million, or $1.97 a share, up nearly 30% year over year and ahead of Wall Street estimates of $1.91. On Tuesday, Wachovia Securities raised its rating on the stock to outperform, from market perform. Shares ended $4.53 higher at $92.76.
Before the bell Tuesday,
Halliburton
(HAL) - Get Report
announced that increased costs related to its asbestos settlement drove third-quarter results to a loss. The energy services company posted a loss of $44 million, or 9 cents a share, compared with a profit in the prior-year quarter. Despite the loss, revenue rose 16% compared with the same period last year. Halliburton stock rose $1.38 to $35.73.
Defense contractor
Lockheed Martin
(LMT) - Get Report
said higher-than-expected demand for its aircraft helped drive third-quarter earnings. The company reported a profit of $307, or 69 cents a share, up 41% from the year-ago period. Analysts had expected earnings of 65 cents a share, according to Thomson First Call. Shares closed up 88 cents to $54.38.
DuPont
(DD) - Get Report
swung to a third-quarter profit. The company posted earnings of $253 million, or 25 cents a share, beating the consensus estimate by a penny. The company also reaffirmed its full-year earnings guidance of $2.25 to $2.35 a share. DuPont's stock fell 78 cents to $41.40.
Elsewhere,
General Electric
(GE) - Get Report
said it was on track to meet its 2004 guidance of between $1.57 to $1.60 a share, as well as its 2005 forecast for double-digit growth. Shares of GE gained 73 cents to $33.63.
Overseas markets closed higher, with London's FTSE 100 rising 0.4% to 4583.40, while Germany's Xetra DAX added 0.2% to 3862.26. In Asia, Japan's Nikkei rose 0.1% overnight to 10,672, while Hong Kong's Hang Seng added 0.3% to 12,852.