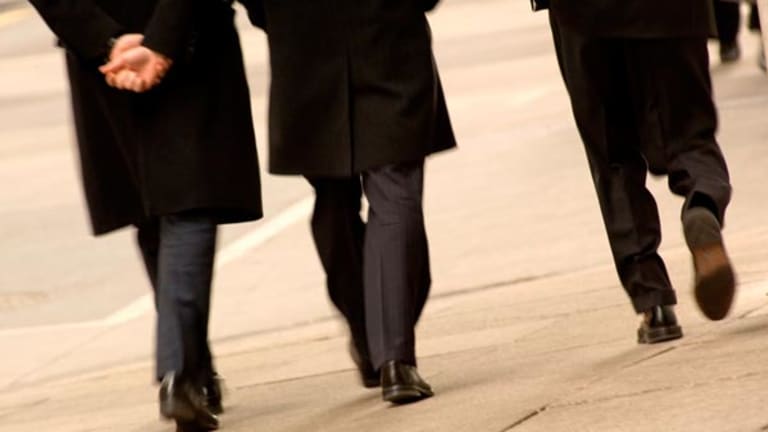 Dow Sinks Below 9000
Stocks in New York have had another choppy session Thursday, but in the afternoon the market turned sharply lower as credit conditions continue to tighten and fears about the economy persist.
Updated from 2:22 p.m. EDT
Stocks in New York were falling sharply again Thursday, and tight credit markets and pessimism about the financial sector sent the
Dow Jones Industrial Average
well below the 9000 mark.
The Dow, earlier up as much as 190 points, was recently down 359 points, or 3.9%, at 8878. It was one year ago today that the Dow closed at an all-time record high of 14,164. The
S&P 500
was losing 46 points, or 4.6%, to 939, and the
Nasdaq
was off 47 points at 1693.
On Wednesday, markets sold off even after the
Federal Reserve
, along with central banks in Europe and Canada, orchestrated a coordinated cut in interest rates to help free up the credit markets.
As Thursday's session got underway, credit markets continued to tighten despite the rate cuts. Three-month Libor, a measure of the rate banks charge one another for large loans, was up 43 basis points to 4.75%. Overnight Libor was up 1.16 percentage points to 5.09%.
Commercial paper wasn't faring much better. The Fed reported that the market for company debt declined by $56.4 billion to $1.55 trillion for the week ended Oct. 8. Paper issued by financial institutions was down $42.4 billion to $641 billion, the Fed said.
Traders were looking ahead to a meeting of the Group of Seven industrial nations in Washington Friday, in hopes of seeing Treasury Secretary Henry Paulson and other finance ministers and central bankers work together to further shore up the financial sector. On Thursday, South Korea and Taiwan cut their interest rates.
In an effort to further prop up the financial system, the
was considering buying equity stakes in U.S. banks to try to bolster their capital levels, according to media reports. Financial firms have been crippled by their exposure to illiquid mortgage-backed securities, and the Treasury's previous plan, known as the Troubled Asset Relief Program, was designed to buy those assets from banks in exchange for fresh capital.
Bloomberg
reported that
BlackRock
(BLK) - Get Report
and
Pimco
, a unit of
Allianz
( AZ), had both proposed to
manage mortgage-backed securities
to be bought by the Treasury as part of its $700 billion financial-sector rescue plan.
Neil Hennessy, manager of Hennessy Funds, said that the assistance package will bring up the value of mortgage-backed assets, which he said are currently undervalued. "We know for a fact that 93% of people are paying their mortgages on time," he said. Even if only 50% were paying, mortgage-backed securities are worth more than their current market value, he said.
Furthermore, Hennessy said, investors have irrationally fled stocks. The total dividend return on the entire Dow Industrials index is currently at 3.5%, and every company in the index but
Citigroup
(C) - Get Report
and
General Motors
(GM) - Get Report
is highly profitable, he said. Over the long term, said Hennessy, stocks are a good value. "Tell people to turn off their TV for the next week," he said.
However, for the day at least, GM was one of the biggest losers on the Dow, plunging 20% to $5.56, its worst print in more than five decades. Partly to blame was a decision by S&P to put the automaker and GMAC on CreditWatch Negative.
"Are we at a bottom or at a point of capitulation or despair? I don't know. It could get worse before it gets better," said Brian Gendreau, investment strategist at ING Investment Management.
Financial stocks were holding the spotlight as a three-week ban on
of stocks in the sector lifted just before midnight. The
Securities and Exchange Commission
had implemented the rule on Sept. 19 as an emergency measure to help stem massive selling in bank stocks.
Morgan Stanley
(MS) - Get Report
shares were lately down 11%, and
Goldman Sachs
(GS) - Get Report
was lately off 4.2%.
Citigroup and
Wells Fargo
(WFC) - Get Report
appeared stuck in their battle over a buyout of
(WB) - Get Report
. Negotiations between Citi and Wells, the potential acquirers were stagnating over how to divide Wachovia's assets.
Meanwhile,
The Wall Street Journal
reported that
( NCC) was in discussions with other banks, perhaps
PNC Bank
(PNC) - Get Report
or
Bank of Nova Scotia
(BNS) - Get Report
about potentially selling itself.
Insurance firms were also facing investor scrutiny after
MetLife
(MET) - Get Report
earlier this week said it wasn't offering earnings guidance and intended to raise capital. Shares of
Prudential Financial
(PRU) - Get Report
dropped as much as 30%.
MetLife, however, was buoyed by a report in the
Journal
that it has recently discussed a potential merger with
Hartford Financial
(HIG) - Get Report
. The report said the discussions didn't lead to a deal, but that they indicate the strain the credit crunch has exacted from insurance firms.
Separately, the Fed said it would grant insurance company
(AIG) - Get Report
up to $37.8 billion in exchange for fixed-income securities. The cash infusion comes on top of the $85 billion already lent out in September to keep the company from going bankrupt.
Suffering in the automotive sector also hindered the major indices.
General Motors
(GM) - Get Report
shares dropped 16%, reaching lows not seen since 1951.
Ford
(F) - Get Report
was also skidding, down 7.9%.
Looking at corporate earnings, Dow component
preannounced its third-quarter results, saying it made a profit that increased year over year and topped analyst estimates.
As for economic data, initial jobless claims for the week ended Oct. 4 came in at 478,000, down from 498,000 the previous week but slightly above economists' estimates for 475,000 jobs lost.
The Commerce Department reported that wholesale inventories for August were up 0.8%, a larger increase than anticipated by economists.
In commodities, crude oil was losing $1.64 at $87.31 a barrel. Gold declined $20 to settle at $886.50 an ounce.
Longer-dated U.S. Treasury securities were declining in price. The 10-year note was down 1-6/32 to yield 3.78%, and the 30-year was down 30/32, yielding 4.1%. The dollar was gaining ground on the yen and pound, but softening and euro.
Overseas, European indices, such as the FTSE in London and the DAX in Frankfurt, were mostly lower. Asia was mixed, as the Nikkei in Japan closed on the downside while the Hang Seng in Hong Kong finished with gains.