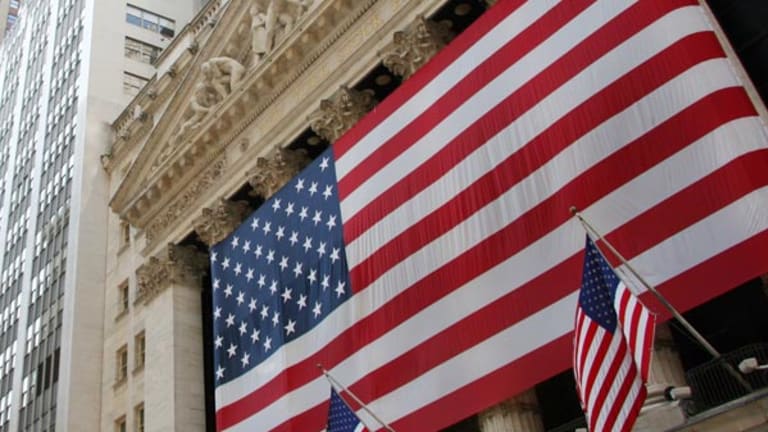 Dow Sheds 159 Points as Goldman Reels
Stocks slumped to session lows at the end of Friday's session as concerns about tightened financial regulations pressured banking stocks.
NEW YORK (
) -- Stocks finished Friday's session and the week in the red but posted gains for April. Investors, reacting to reports of a Goldman Sachs criminal probe and ongoing uncertainty regarding Washington's financial reform bill, chose a cautious stance to wind down the week and the month.
The
Dow Jones Industrial Average
closed down by 159 points, or 1.4%, at 11,009, putting it 1.8% lower for the week but 1.4% higher on the month. The
S&P 500
dropped 20 points, or 1.7%, to close at 1187. It lost 2.5% during the week but finished the month ahead, by 1.5%. The
Nasdaq
lost 51 points, or 2%, to close at 2461. It shed 2.7% on the week but finished April 2.6% higher.
> > Bull or Bear? Vote in Our Poll
"GDP seems to be a bit of a nonevent because
Goldman Sachs
(GS) - Get Goldman Sachs Group, Inc. Report
appears to be taking the day," said Joe Kinahan, chief derivatives strategist for TD Ameritrade. "If it wasn't Goldman Sachs, it would be the bond crisis in Europe."
The U.S. Commerce Department said
gross domestic product grew 3.2% in the first quarter but markets showed little reaction on the news.
The
financial sector was one of the day's weakest with Washington debating financial reform legislation and reports that Goldman Sachs may be facing a criminal investigation over its mortgage security deals. Bank of America/Merrill analysts downgraded Goldman Sachs to neutral from buy, and Standard & Poor's lowered its rating to sell from hold. Goldman's stock lost $15.04, or 9.4%, at $145.20.
TD Ameritrade's Kinahan believes markets are merely taking a breath after the recent run-up but said he is interested to see how the Goldman Sachs charges "spill off onto everyone else."
"If Goldman is found guilty, then I do think there could be a broad selloff on that -- and if financial regulation goes through. I think that trading restrictions could inhibit liquidity, but it depends on how far the government goes," Kinahan said, adding, "I think the market is worried about the law of unintended consequences. There seems to be such a political rush to get reform through so there are concerns that they may not be thinking things through as much as they should."
According to
Reuters
, talks between
Greece, the European Central Bank, the International Monetary Fund and the European Union could conclude as soon as Saturday.
Overseas, Hong Kong's Hang Seng rose 1.6%, and Japan's Nikkei gained 1.2%. The FTSE in London fell by 1.2%, and the DAX in Frankfurt slipped 0.2%.
>>The Economy
>>Company News
>>Commodities and the Dollar
>>Treasuries
The Economy
The U.S. economy grew 3.2% in the first quarter, which was slightly below the 3.3% growth that economists had been forecasting. The expansion compares with previous growth of 5.6%.
"The largest contributions to growth came from personal consumption expenditures, which added 2.6 percentage points to growth, and a rise in inventory investment, which added 1.6 percentage points," said Economic Policy Institute economist Josh Bivens. "Perhaps the most encouraging sign in the report is the second straight quarter of growth in equipment and software investment, adding 0.8 percentage points to overall growth."
However, Bivens cautioned, inventory investment will taper off and government spending has been declining.
"This decline is surely in part a function of the extreme fiscal crisis facing states. Given balanced budget rules at the state-level, this implies that states will be cutting spending and/or raising taxes for years to come and hence exerting a powerful drag on growth."
Chicago's Institute for Supply Management said Chicago PMI rose to 63.8 in April , compared with a March reading of 58.8. April's figure surpassed the level of 59.9 that Wall Street had been expecting.
Consumer sentiment rose to 72.2 in April, according to the University of Michigan's Consumer Sentiment Index for April. The level is better than the reading of 71 that economists had been projecting.
>>Overview
>>Company News
>>Commodities and the Dollar
>>Treasuries
Company News
The financial sector was one of the weakest of the session with
JPMorgan Chase
(JPM) - Get JPMorgan Chase & Co. Report
and
Bank of America
(BAC) - Get Bank of America Corp Report
among stocks putting the most pressure on the Dow, alongside
Caterpillar
(CAT) - Get Caterpillar Inc. Report
and
General Electric
(GE) - Get General Electric Company Report
.
Procter & Gamble
(PG) - Get Procter & Gamble Company Report
,
Wal-Mart
(WMT) - Get Walmart Inc. Report
and
AT&T
, meanwhile, were the Dow's top performers.
Shares of
offshore oil drillers weakened after President Obama's administration called a halt to new offshore drilling until they've determined what caused the oil rig to explode.
Transocean
(RIG) - Get Transocean Ltd. Report
owns the rig being used for
BP's
(BP) - Get BP Plc Report
underwater well. Their stocks lost 7.9% and 0.8%, respectively.
Chevron
(CVX) - Get Chevron Corporation Report
posted a first-quarter adjusted profit of $1.98 a share, which topped the profit of $1.94 a share that Wall Street had been expecting. Sales rose 33.3% to $48.2 billion, which fell short of forecasts for sales of $53.2 billion. Its stock shed 85 cents, or 1%, at $81.44.
Continental Airlines
(CAL) - Get Caleres, Inc. Report
and
UAL's
( UAUA) United Airlines are expected to announce a merger on Monday,
The Wall Street Journal
reports.
Constellation Energy
( CEG) swung to a profit in the first quarter but reduced its 2011 guidance, citing lower commodity prices. Shares lost $2.21, or 5.9%, at $35.35.
DR Horton
(DHI) - Get D.R. Horton, Inc. Report
reported better-than-expected second-quarter earnings but cautioned that market conditions for homebuilders are still challenging. The stock gained 45 cents, or 3.2%, to $14.69.
China Sunergy
(CSUN)
surpassed analysts' estimates with a first-quarter profit of 18 cents a share on sales of $104 million. Shares rose 6%, to $4.80.
Futures exchanges operator
IntercontinentalExchange
(ICE) - Get Intercontinental Exchange, Inc. Report
agreed to buy
Climate Exchange
, which operates the European Climate Exchange, the Chicago Climate Exchange and the Chicago Climate Futures Exchange. The deal values Climate Exchange at roughly 395 million pounds ($604 million).
>>Overview
>>The Economy
>>Commodities and the Dollar
>>Treasuries
Commodities and the Dollar
Crude oil for June delivery added 98 cents, or 1.2%, to settle at $86.15 a barrel.
Elsewhere in commodity markets, the June
gold contract gained $11.90, or 1%, to settle at $1,180.70 an ounce.
The
dollar was trading lower against a basket of currencies, with the
dollar index down by 0.2%.
>>Overview
>>The Economy
>>Company News
>>Treasuries
Treasuries
The benchmark 10-year Treasury strengthened 18/32, lowering the yield to 3.663%.
The two-year note rose 3/32, dropping the yield to 0.964%. The 30-year bond gained 1 3/32, diluting the yield to 4.526%.
--Written by Melinda Peer in New York
.
>>Overview
>>The Economy
>>Company News
>>Commodities and the Dollar