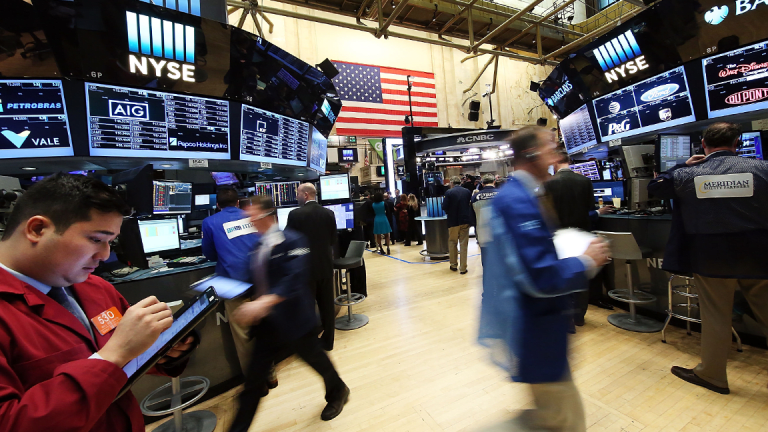 Dow Set to Snap 8-Day Losing Streak as Stocks Recover, But Trade War Lingers
U.S. stocks are set for a solid open Friday, with the Dow poised to snap its 8-day losing streak, but investors are starting to count the costs for the now-escalating trade war between Washington and its biggest economic allies.
U.S. stocks are set for a solid open Friday, with the Dow poised to snap its 8-day losing streak, but investors are starting to count the costs for the now-escalating trade war between Washington and its biggest economic allies.
The Friday Market Minute
Global stocks mixed as investors count trade war costs, await OPEC decision.
Oil grinds higher as reports say Russia and Saudi Arabia back a 1 million bpd output increase.
Wall Street futures point to stronger open as Dow looks to snap 8-day losing streak.
Dollar slips from 11-month highs; pound rises after hawkish Bank of England rate decision.
Global PMI readings signal export and new order weakness as IMF cautions on trade war impact on growth.
Market Snapshot
Global stocks recovered Friday, even as shares in Asia touching a six-month low and investors continue to count the cost of trade war rhetoric between the United States and its biggest economic partners and prep for a key decision on crude oil supply from OPEC members later today in Vienna.
With European tariffs on $3.4 billion in U.S.-made goods kicking in today, and a further $250 billion in tariffs on China-made products teed-up for July 6, investors are beginning to see the impact of the now-escalating trade war on both corporate bottom lines and broader economic growth, in the form of yesterday's profit warning from luxury carmaker Daimler AG  (DMLRY) and a slump in new orders inside the weaker-than-expected Philadelphia Fed index of manufacturing activity. 
"While the tariffs announced thus far are likely to have only a small impact, should the potential new measures get enacted they believe their global growth forecast would have to be cut significantly," Bank of America Merrill Lynch analysts said Friday. "That in turn would threaten the strong profit growth which has underpinned our constructive view on equities for 2018."
Early indications from U.S. equity futures suggest the Dow Jones Industrial Average I:DJI could snap its eight-day losing streak to end the week, with contracts tied to the 30-stock average marked 123 points to the upside while those linked to the S&P 500 pointed to a 13.3 point gain for the broader S&P 500 I:GSPC .
There was weakness in forward-looking data from Japan this morning, as well, as new orders inside a reading of private sector manufacturing activity in the world's third-largest economy fell to the lowest level since August 2016. That reading, as well as a weaker U.S. dollar which boosted the yen and made export-focused stocks less attractive, Japan's Nikkei fell 0.78% to close at 22,516.83 points.
The broader MSCI Asia ex-Japan index, meanwhile, rebounded from a six-month low earlier in the session to trade 0.51% to the upside heading into the close of the session.
European stocks were also on the rise in the early portion of the trading day, with the Stoxx 600 benchmark heading 0.75% into the green by mid-day in Frankfurt after a stronger-than-expected reading for private sector activity in the currency area, where the composite PMI reading for the broader Eurozone rose to 54.8 from 54.1 in the previous month and topping economists' forecasts, but again the forward-looking portion of the report was a concern, with new orders from the manufacturing sector falling to a 22-month low.
Germany's composite reading, however, while slightly stronger-than-expected at 54.2, showed a slowdown in the country's critical manufacturing sector that IHS Markit's chief economist, Chris Williamson, said was mainly linked to "fears that trade disputes could turn into a fully blown trade war."
"We still have not fallen off a cliff by any means. There is a slowdown happening here unless there is dramatic change to the external environment," he added.
In France, the June PMI reading for Europe's second-largest economy topped forecasts at 55.6, well above the 50 mark that separates economic growth from contraction.
The positive readings with respect to activity, however, helped lift the euro to a one-week high of 1.1643 against a weaker U.S. dollar, which slipped 0.3% to 94.44 against a basket of six global currencies.
Britain's FTSE 100, which is heavily-weighted towards bank and basic resource stocks, gained 0.95% in the opening minutes of trading in London, but the advanced was blunted by a stronger pound, which hit a a six-day high of 1.3307 against the greenback following yesterday's hawkish rate decision by the Bank of England, where at least three policy makers appeared to suggest an August rate hike could be on the cards now that the economy looks to have stabilised in the second quarter.
Global oil prices were active in the early session, as well, as investors prepared for today's decision on output from the OPEC cartel meeting in Vienna amid reports that Russia and Saudi Arabia, the world's two biggest producers, were backing a 1 million barrel per day increase, a figure that would equate to about 1% of total global supply.
Brent crude contracts for August delivery, the global pricing benchmark, were seen $1.68 higher from their Thursday close in New York and changing hands at $74.73 per barrel while WTI contracts for July were marked $1.14 higher at $66.68 per barrel.