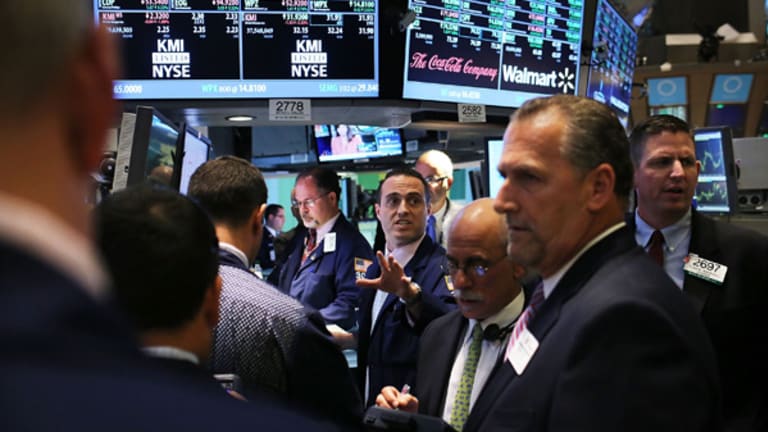 Dow Roars Up by 285 on Global Stability
The Dow recaptures 285, as jobless claims fall and GDP is at 3% and China gives assurances on euro holdings.
The Dow recaptures 285, as jobless claims fall and GDP is at 3% and China gives assurances on euro holdings.
NEW YORK (
) -- U.S. stocks closed near their highs of the session Thursday, holding on to sharp gains throughout the day despite recent sessions marked by extreme volatility near the closing bell. Investors appeared to take their cues from global markets, which rose on
China's assurances that it isn't planning to sell European bonds.
The
Dow Jones Industrial Average
gained 285 points, or 2.9%, to finish at 10,259, a day after the blue-chip average closed below the 10,000 mark. The
S&P 500
added 35 points, or 3.3%, to 1103, and the
Nasdaq
went ahead by 82 points, or 3.7%, at 2278.
"It's nice to have an up day and hold it," said Ryan Detrick, senior technical strategist at Schaeffer's Investment Research. "The fact is that we did hold at those lows from February. Unfortunately, the volume has definitely been light, if you're going to be picky, but that makes sense heading into a three-day weekend. It's not perfect, but hopefully we'll see two up days in a row."
Detrick also noted that today's market upswing broke a recent trend. Each Thursday since the precipitous plunge on May 6, also known as the so-called "flash crash," has found the markets experiencing particularly heavy sell-offs.
But consistent strength has eluded the major indices of late, replaced with heavy volatility and uncertainty, as many maintain that the markets remain fragile.
"It's hard to be optimistic about today's gains with so much downward pressure from recent events," said Bob Enck, chief executive of Equinox Fund Management, earlier in the day.
"The situation in Europe is not going away any time soon. This will be around, and it will be an impactful event for a long time to come," he said, adding, "The unemployment rate in the U.S. is still quite high and until that changes, it's still going to have this dampening effect on the U.S. economy. Add to that, continued uncertainty out of Washington concerning the financial reform bill -- not to mention that you're still hearing about the flash crash, which really spooked individual investors. It all makes for a very volatile trading environment. Until you get some of these larger issues resolved, it's going to be very difficult for equities to have a steady path."
Overseas, Hong Kong's Hang Seng rose 1.2%, and Japan's Nikkei jumped 1.2%. The FTSE in London soared 3.1% higher, as did the DAX in Frankfurt.
>>The Economy
>>Company News
>>Commodities and the Dollar
>>Treasuries
The Economy
Initial weekly jobless claims declined by 14,000 in the week ended May 22 to 460,000. The figure was slightly higher than the 455,000 claims that economists had been expecting.
The Department of Commerce said
gross domestic product grew 3% in the first quarter, which was lower than its original estimate for an increase of 3.2%. It was also lower than the rise of 3.3% that economists had been expecting.
The Energy Information Administration said
natural gas storage levels added 104 billion cubic feet in the week ended May 21, which was larger than the projected injection range of 98 billion cubic feet to 102 billion cubic feet, according to a Platts survey.
>>Overview
>>Company News
>>Commodities and the Dollar
>>Treasuries
Company News
Energy, financial and chip stocks helped lead advancers during Thursday's session. On the Dow,
American Express
(AXP) - Get Report
and
Intel
(INTC) - Get Report
led the blue-chip average higher.
American Express got a boost from a Sandler O'Neill analyst, who upped his rating on the credit card firm to buy from hold.
Microsoft
(MSFT) - Get Report
shares also jumped 3.6% after receiving a buy rating by FBR analysts in the morning.
Johnson & Johnson
(JNJ) - Get Report
was the only Dow component to finish in negative territory.
Blockbuster
( BBI),
Wimm-Bill Dan Foods
( WBD) and
Rex Stores
( RSC) were the
New York Stock Exchange's
best performers, while
Cobalt International Energy
(CIE)
,
Williams Coal
( BGP) and
Borders
( BGP) were the exchange's biggest laggards.
Blockbuster shares rebounded after a heavy late session tumble.
Movado
, another top advancer on the NYSE after shares gained 14.6% today, tracked higher on news that it will close down its boutique outlets.
Borders
( BGP) saw shares fall 6.6% after the bookseller narrowed its first-quarter loss but reported a 16% sales decline.
Costco Wholesale
(COST) - Get Report
reported higher third-quarter earnings. In addition, net sales rose 12%, and quarterly same-store sales were 4% higher. The stock added 4.9%.
Shares of
BP
(BP) - Get Report
gained 7% on an upgrade to outperform from perform at Oppenheimer, and as the company's "top kill" operation appeared to be affective in plugging the oil leak in the Gulf of Mexico.
President Obama spoke of his administration's response to the BP oil spill in an afternoon press conference and also announced a
suspension of offshore exploratory drilling in the Arctic for the remainder of the year.
High-end jeweler
Tiffany
(TIF) - Get Report
reported first-quarter earnings that more than doubled as it raised its full-year profit expectations to a higher-than-expected range of $2.55 to $2.60 a share. Shares soared 7.5%.
Big Lots
(BIG) - Get Report
raised its year-end guidance as it reported higher first-quarter earnings. Same-store sales gained 6%. Shares traded 0.5% higher.
Heinz
(HNZ)
beat analysts' estimates by a penny with an adjusted fourth-quarter profit of 60 cents a share. Sales of $2.72 billion, however, came in just short of expectations, though shares added 1.2%.
>>Overview
>>The Economy
>>Commodities and the Dollar
>>Treasuries
Commodities and the Dollar
Following the EIA data, the July natural gas contract traded nearly 12 cents higher to settle at $4.29 per million British thermal units. Crude oil for July delivery settled at $74.55 a barrel, or $3.04 higher today.
Elsewhere in commodity markets, the June gold contract slipped $1.50 to settle at $1,211.90 an ounce.
The dollar was trading slightly lower against a basket of currencies, with the
dollar index down by 1%.
>>Overview
>>The Economy
>>Company News
>>Treasuries
Treasuries
The Treasury Department sold a block of 7-year notes in the afternoon. The $31 billion auction brought a high yield at 2.815% and a slightly above average bid-to-cover ratio of 2.88, according to
MarketWatch
.
The benchmark 10-year Treasury fell 1 3/32, lifting the yield to 3.318%.
The two-year note decreased 3/32, raising the yield to 0.869%. The 30-year bond dropped 2 5/32, increasing the yield to 4.217%.
--Written by Melinda Peer and Sung Moss in New York
.
>>Overview
>>The Economy
>>Company News
>>Commodities and the Dollar