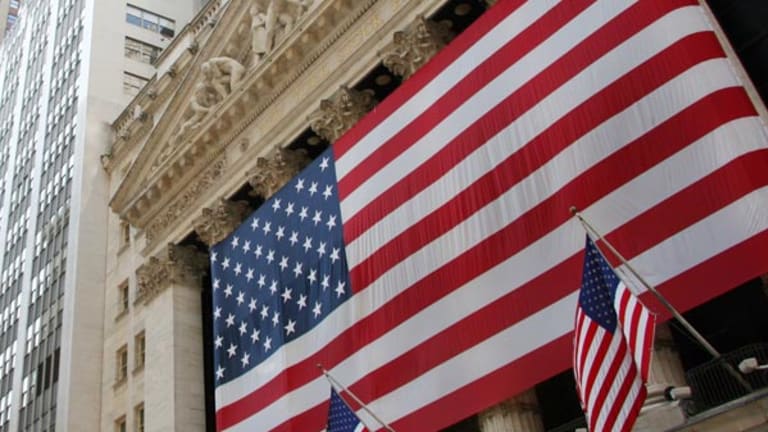 Publish date:
Dow Roars Up 214 Points
Stocks get a boost from the energy, industrial and tech sectors. Gregg Greenberg has The Real Story.
Stocks get a boost from the energy, industrial and tech sectors. Gregg Greenberg has The Real Story.
NEW YORK (
) -- Stocks rallied Tuesday with each of the major averages rising more than 2%. Energy and the industrial technology sectors were leaders, as the market also got a boost from solid economic data and a strengthened euro.
The
Dow Jones Industrial Average
closed 214 points higher, or 2.1%, at 10,405. The
S&P 500
, which surpassed its 200-day moving average, added 26 points, or 2.4%, to 1115 and the
Nasdaq
went ahead by 62 points, or 2.8%, at 2306.
"I think this is a continuation of the re-risking trade," said James Dailey, senior portfolio manager of the Team Asset Strategy Fund.
"We had such a shock coming out of the April highs and it really took the form of a big de-risking trade," Dailey said, pointing to higher prices on gold and U.S. Treasuries while commodities and emerging markets stocks declined. "This looks a lot like short-covering because sentiment did get pretty bearish and we suspect there could be a continuation of a short-covering rally for some time. It could take weeks or months for the market to form a more complicated top."
Overseas on Tuesday, Hong Kong's Hang Seng increased 0.05%, and Japan's Nikkei rose 0.8%. The FTSE in London climbed 0.3% higher, and the DAX in Frankfurt was up by 0.8%.
>>The Economy
>>Company News
>>Commodities and the Dollar
>>Treasuries
The Economy
New York manufacturing activity strengthened in June, with an Empire State Manufacturing index reading of 19.57, which was roughly in line with economists' projections for a reading of 20; that compares with May's level of 19.11.
The Department of Labor said May import prices fell 0.6%, compared with an upwardly revised increase of 1.1% in April. The decline marked the largest monthly drop since July 2009 and was the result of weaker fuel prices. Excluding oil, import prices rose 0.5%. Export prices, meanwhile, rose 0.7% in May, after rising by 1.2% in April. Excluding agriculture, export prices ticked 0.6% higher in May.
The National Association of Home Builders showed that homebuilders' confidence weakened in June as its housing market index lost 5 points to came in at 17.
Late in the day, the American Petroleum Institute said crude oil supplies rose by 579,000 barrels last week, according to
Bloomberg
. Many had expected a drawdown of 1.75 million barrels, according to a survey conducted by Platts.
>>Overview
>>Company News
>>Commodities and the Dollar
>>Treasuries
Company News
All 30 Dow components finished in positive territory, with
Microsoft
(MSFT) - Get Report
,
American Express
(AXP) - Get Report
,
Boeing
(BA) - Get Report
and
Caterpillar
(CAT) - Get Report
leading the blue chip average higher.
Boeing, in particular, added 4.1% after releasing a statement today saying it was
upping the production rate on its 737 program from 34 planes a month to 35 by the beginning of 2012.
Stockpickr Tools Beat the Dow Challenge
Shares of
Best Buy
(BBY) - Get Report
lost 6.1% after the company missed quarterly profit and sales estimates. The first-quarter report showed
weak TV sales and lower demand for games, videos and music although demand for notebook computers, mobile phones and appliances was strong.
Casey's General Stores
(CASY) - Get Report
hiked its quarterly cash dividend by nearly 18%, to 10 cents, from 8.5 cents. The stock, however, traded 0.4% lower at $35.80.
Shares of
Nucor
(NUE) - Get Report
added 0.5% after the company gave cautious second-quarter guidance because of a higher-than-expected LIFO charge.
The Swiss parliament approved a treaty with the U.S. that will turn thousands of files on suspected tax cheats over to U.S. authorities. The government hopes the move will help
UBS
(UBS) - Get Report
avoid prosecution. UBS shares traded 5.7% higher at $13.82.
Credit rating agency Fitch slashed its rating on
BP
(BP) - Get Report
by six notches to triple-B from double-A, citing heftier estimates for the severity of the Gulf of Mexico oil spill and demands from lawmakers to devote $20 billion for an escrow account to cover damages. Meanwhile, executives from
Exxon Mobil
(XOM) - Get Report
,
ConocoPhillips
(COP) - Get Report
,
Royal Dutch Shell
(RDS.A)
and
Chevron
(CVX) - Get Report
attempted to separate themselves from BP's actions in testimony offered on Capitol Hill today, according to
The Associated Press.
President Obama is also scheduled to brief the nation this evening on the Gulf spill relief efforts. After falling early, BP rebounded to finish 2.4% higher at $31.39.
British Sky Broadcasting
( BSY) turned down a buyout offer from
News Corp.
(NWS) - Get Report
, saying the offer undervalues the company.
Capital One Financial
(COF) - Get Report
said its annualized net charge-off rate fell to 9.48% in May, from 9.68% in April, signaling that consumers may be facing less pressure.
JPMorgan Chase
(JPM) - Get Report
also reported a drop in
credit card charge-offs, which helped shares climb 2.5% today.
Shares of
CBOE
(CBOE) - Get Report
soared over 12% higher in their debut after pricing at $29 each.
>>Overview
>>The Economy
>>Commodities and the Dollar
>>Treasuries
Commodities and the Dollar
Crude oil for July delivery added $1.82, to settle at $76.94 a barrel.
Elsewhere in commodity markets, the August
gold contract settled $9.90 higher at $1,234.40 an ounce.
The
dollar was trading lower against a basket of currencies, with the
dollar index down by 0.7%.
>>Overview
>>The Economy
>>Company News
>>Treasuries
Treasuries
The benchmark 10-year Treasury was losing 13/32, raising the yield to 3.308%.
The two-year note was slipping 1/32, increasing the yield to 0.758%. The 30-year bond was down 21/32, strengthening the yield to 4.223%.
--Written by Melinda Peer and Sung Moss in New York
.
>>Overview
>>The Economy
>>Company News
>>Commodities and the Dollar