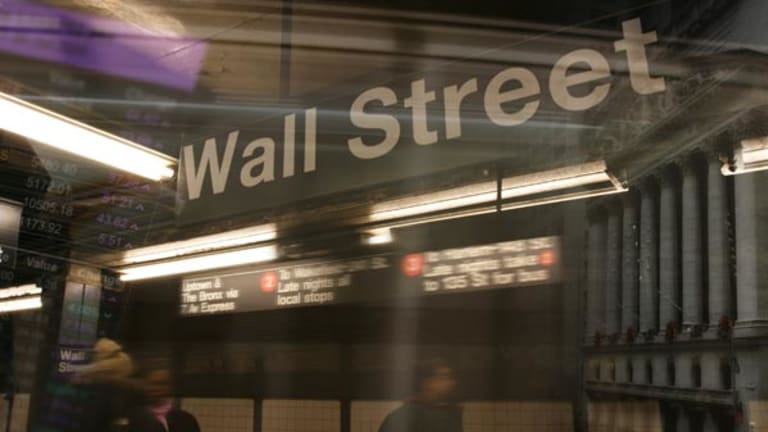 Dow Roars Past 10,000
The S&P 500 touched 1100 for the first time this year, and the Nasdaq also rallied as Wall Street is optimistic on earnings. Crude oil rises again. Gregg Greenberg recaps the day in The Real Story.
Updated with closing prices.
NEW YORK (
) -- Stocks made a strong move Monday as Wall Street is seeing the earnings glass half full.
The
Dow Jones Industrial Average
added 96.28 points to end the trading session at 10,092.19, while the
S&P 500
rose 10.23 points, to finish at 1097.91. The S&P traded above 1100 intraday for the first time this year. The
Nasdaq
closed higher by 19.52 points to 2176.32.
Twenty five of the Dow's 30 components were in positive territory, led by a 6% spike in shares of
(CAT) - Get Caterpillar Inc. Report
, which is scheduled to report earnings before the start of trading Tuesday.
Meanwhile, the Nasdaq's gain was fueled by
eBay
,
Garmin
(GRMN) - Get Garmin Ltd. Report
,
Joy Global
(JOYG)
and
VeriSign
(VRSN) - Get VeriSign, Inc. Report
, which all rose by 3% or more.
Continuing the earnings train, both
Apple
(AAPL) - Get Apple Inc. Report
and
Texas Instruments
(TXN) - Get Texas Instruments Incorporated Report
beat Wall Street expectations with quarterly reports issued after the closing bell Monday afternoon. Apple especially impressed investors with a 46% rise in profit; its shares jumped 4.5% in after-hours trading.
Robert Pavlik, chief market strategist with Banyan Partners, says that the Dow will likely continue to bounce around the 10,000 mark, although he's not as concerned about that psychologically important level. Instead, Pavlik is paying closer attention to the broader-based S&P 500.
"The S&P 500 is up more than 20% year to date, which is amazing," Pavlik said. "That's great for any year, never mind 2009. Remember that earlier this year, some people thought we wouldn't see a quick recovery. It seems now that sentiment is changing and people are trying to catch up."
Pavlik adds that Monday's surge is based on an "optimistic feeling that the positive earnings trend will continue," although "there was no economic data today to help that view." That changes Tuesday when investors will be greeted by housing starts data and the consumer price index for September, both due for release at 8:30 a.m. EDT.
The National Association of Home Builders says its housing market index slipped in October, reflecting the industry's concerns over the looming deadline of a homebuyer tax credit that's helped boost sales this year.
The Washington-based trade association said Monday its index slipped one point to 18, the first dip since June when the index fell to 15.
Readings below 50 indicate negative sentiment about the market. The last time the index was above 50 was in April 2006.
The report reflects a survey of 493 residential developers nationwide.
The reading for current sales conditions slipped one point to 17. Traffic by prospective buyers fell three points to 14. The index for sales expectations over the next six months fell two points to 27.
BB&T
(BBT) - Get BB&T Corporation Report
, one of the 10 largest banks in the U.S., said its third-quarter profit fell 56%, but it still beat estimates by a penny a share. It took a $709 million loan-loss provision in the quarter and added to its overall reserves by $446 million. Its shares ended trading Monday down 4.3%.
On the other hand, manufacturer
Eaton's
(ETN) - Get Eaton Corp. Plc Report
shares rose by 5.7% after the company topped profit expectations on light revenue.
Toy maker
Hasbro
(HAS) - Get Hasbro, Inc. Report
also reported a better-than-expected profit, but both fell short on the top line.
In other news, The Reserve Bank of Australia policy-maker PhilipLowe indicated that "more normal" interest rates may be appropriate,propping up the Australian dollar and other currencies.
Crude oil futures settled up $1.08 to $79.61 a barrel, while December gold futures advanced $6.60 to $1,058.10.
Stocks overseas were mixed. In Europe, London's FTSE 100 ended Monday's session up 1.8% and the DAX in Frankfurt closed higher by 1.9%. In Asia, the Nikkei fell 0.2%, but the Hang Seng in Hong Kong advanced 1.2%.
This article was written by staff members of TheStreet.com. Copyright 2009 TheStreet.com Inc. All rights reserved. This material may not be published, broadcast, rewritten, or redistributed. AP contributed to this report.