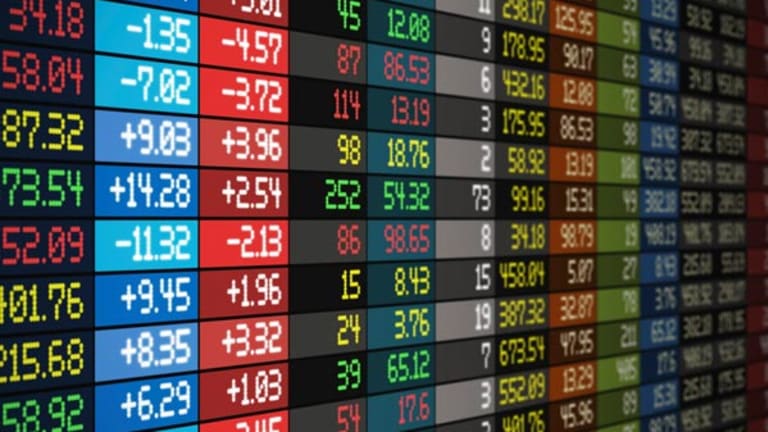 Dow Roars Back, Regains 10,000
The Dow comes back from a huge deficit, finishing up 10 points at 10,012 after dropping as much as 167 points intraday. Gregg Greenberg recaps the wild action on The Real Story.
NEW YORK (
) -- The
Dow
staged a furious reversal and topped 10,000 at Friday's close, overcoming an earlier triple-digit loss.
The Dow Jones Industrial Average added 10 points, or 0.1%, to close at 10,012 after giving up as much as 167 points earlier in the session. The
advanced by 3 points, or 0.3%, to 1066, as the
Nasdaq
closed 16 points higher, or 0.7%, at 2141 after spending much of the afternoon in negative territory.
Despite concerns that stocks would finish the week with steep declines, the late afternoon rally limited losses to below 1% on all three major averages. The Dow lost 0.6%, while the S&P 500 dipped 0.7% for the week. The tech-heavy Nasdaq slid 0.3% since last Friday's close.
> > Bull or Bear? Vote in Our Poll
Fear gripped investors for much of the session, as concerns about soaring deficits throughout Europe weighed on stocks. A flight to safety boosted the greenback to an eight-month high against a basket of currencies at midday. The dollar index has since retreated, but remained 0.3% higher.
"Right now, it's a question of the market being traumatized by euro-land and it's all about the strengthening dollar," said Peter Cardillo, chief market economist at Avalon Partners. "It has nothing to do with economic numbers and corporate earnings, which have all been pretty good. It's really just a fear factor creeping into the market."
But stocks made a dramatic comeback in the last hour of trading, finishing in positive territory by the closing bell. Richard Sparks, senior equities analyst at Schaeffer's Investment Research, said the market looked oversold after losses mounted on top of the Dow's 268-point drop Thursday, prompting "people looking at it as a buying opportunity" ahead of the weekend.
A report from the
released late afternoon may have helped goose the rebound. Though data showed consumer credit fell for the eleventh straight month, credit declined by only $1.7 billion in December, despite forecasts calling for a $10 billion drop.
The strengthening dollar also dragged down commodity prices. The most actively traded April
contract settled at $1,052.80 an ounce after losing $10.20 before turning positive in late trading.
Crude oil for March delivery traded $1.95 lower to settle at $71.19 a barrel, after dipping under $70 earlier in the session. Energy stocks, in turn, became one of the weakest segments among the varying sectors. The NYSE Arca Oil Index dipped 0.3%, as the Philadelphia Oil Service Sector Index declined 0.7%.
The benchmark 10-year Treasury note strengthened 11/32, sending the yield down to 3.567%. The two-year note improved 2/32, lowering the yield to 0.771%. The 30-year bond advanced 15/32, diluting the yield to 4.521%.
Earlier in the day, the government offered a mixed assessment of the labor market. The Labor Department said
nonfarm payrolls declined by 20,000 in January, dashing consensus estimates for job growth of 15,000. December's number was downwardly revised to show a decline of 150,000, from a decrease of 85,000, as previously reported.
But the unemployment rate came in slightly better than expected at 9.7%, vs. the consensus expectation it would hold steady at 10%. The so-called underemployment rate, which also includes part-time and discouraged workers, also fell to 16.5% in January, after rising to 17.3% in December. Average work weeks and hourly earnings also ticked up.
"The disconnect between the household survey, which feeds into the unemployment rate, and the payroll survey, which gauges employment by industry, has been large, and so one-month changes in the unemployment rate need to be viewed from a broader perspective," Stuart Hoffman, chief economist at PNC Financial, wrote in a release.
"What we can say is that the preponderance of evidence suggests that labor market conditions are improving, but only slowly, and that we are not yet in the zone where we can call this a self-sustaining recovery. Significant tailwinds from fiscal stimulus and other fiscal and monetary policy are propelling the economy right now and we have not yet seen evidence that the large private service sector is engaged in a self-sustaining recovery. As the government-sourced tailwinds begin to fade in the second half of this year, we will need to see consistent moderate jobs gains among private service-producing industries in order to believe that the recovery is self-sustaining."
Industrial conglomerates
General Electric
(GE) - Get Free Report
and
Boeing
(BA) - Get Free Report
were leading decliners on the Dow.
But tech shares buoyed the blue-chip average, led by a 2.4% rise in
Intel
(INTC) - Get Free Report
shares.
Cisco
(CSCO) - Get Free Report
followed close behind, advancing 2.3%.
Material stocks also surged in the afternoon. Dow component
Alcoa
(AA) - Get Free Report
finished 2.1% higher after fluttering beneath the flatline for much of the day.
Citigroup
(C) - Get Free Report
,
Bank of America
(BAC) - Get Free Report
and
Ford
(F) - Get Free Report
saw the heaviest volume on the
, as listed volume stood at over 6.4 billion.
In earnings news,
Aetna
(AET)
said fourth-quarter earnings dropped, citing lower commercial underwriting margins and weaker earnings in its group insurance business. Shares improved 1.3%.
Shares of
Tyson Foods
(TSN) - Get Free Report
surged 4.7% to $14.65 after the company said it swung to a profit in the first quarter and expects further improvement in its chicken business this year.
Panasonic
(PC)
swung to a profit in the third quarter and raised its 2010 sales and operating profit guidance.
In other news,
Air Products
(APD) - Get Free Report
made an unsolicited $60 a share offer to buy rival
Airgas
(ARG)
. Airgas finished as the biggest advancer on the S&P 500, soaring 40% to $60.96.
Toyota CEO Akio Toyoda apologized to customers in the aftermath of the automaker's massive recall effort. He also said no decision has been made on braking problems on its Prius hybrid model. After sliding during the week, Toyota rebounded Thursday by 4.1%.
JPMorgan Chase
(JPM) - Get Free Report
disclosed that CEO Jamie Dimon would receive a noncash bonus of around $17 million, according to a regulatory filing Friday. A separate filing after the close showed
Goldman Sachs
(GS) - Get Free Report
awarded CEO Lloyd Blankfein a noncash bonus worth about $9 million.
U.S. Sen. Christopher Dodd (D., Conn.), chairman of the Senate Banking Committee, said talks with Republicans over financial reform legislation hit an impasse. In lieu of a compromise bill, Dodd said he would move ahead with his own, but added senior minority member Richard Shelby (R., Ala.) remains committed to reaching a consensus.
Overseas, Hong Kong's Hang Seng was lower by 3.3%, and Japan's Nikkei was down by 2.9%. The FTSE in London was 1.5% lower, and the DAX in Frankfurt was down 1.8%.
-- Written by Melinda Peer and Sung Moss in New York
.