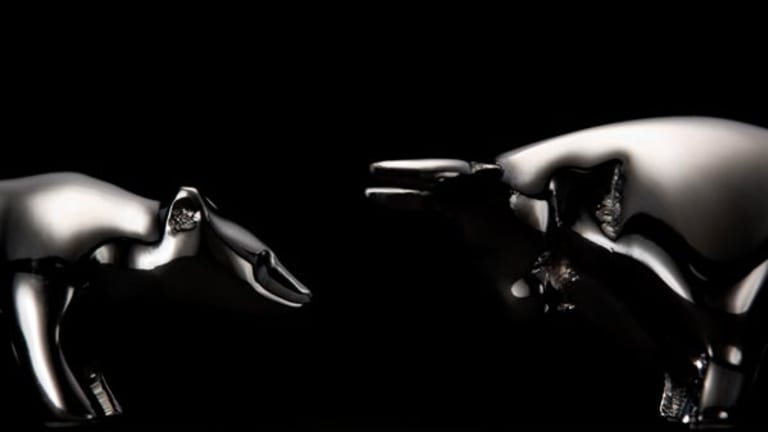 Dow Posts Another Triple-Digit Loss
Jittery investors weigh concerns about Iraq and weak quarterly earnings.
Jittery investors weigh concerns about Iraq and weak quarterly earnings.
Updated from 4:04 p.m. EDT
Stocks ended sharply lower in a choppy session that left the
Dow Jones Industrial Average
and
S&P 500
at their worst levels in five years, as jittery investors registered concerns about third-quarter earnings and a possible confrontation with Iraq.
The market got some early support from news that President Bush will intervene in the West Coast dockworkers lockout with a board of inquiry. That could be a first step toward ordering people back to their jobs. Now in its second week, the lockout is estimated to be costing the economy up to $1 billion a day.
Early-afternoon market gains faded quickly into losses, however. The Dow finished down 106 points, or 1.4%, at 7422.84, its lowest close since November 1997, while the
Nasdaq
ended behind 20.5 points, or 1.8%, at 1119.4. The S&P 500 closed off 15 points, or 1.9%, at 785, a level last seen in April 1997. The Dow is coming off another extremely volatile week in which it lost 173 points.
"I do not think there has been a change in psychology," said Jim Volk, managing director of institutional trading at D.A. Davidson. "We still have earnings and overseas problems. Until we get those things resolved, this market will be going down. And any rally will be an invitation to sell."
Nearly every sector ended the day lower, with losses concentrated in retail, transportation, financial, networking, cyclical, airline and gold stocks. Market breadth was negative, with advancers outpacing decliners by approximately a 3-to-1 margin on the Big Board and the Nasdaq.
Monday's tone was largely influenced by geopolitical considerations before a televised speech by Bush on Iraq this evening and after an explosion aboard an oil tanker off Yemen. The transportation minister of Yemen described the blast, which sent crude oil to its biggest gain in two weeks, as an accident, although French officials say they won't know until an investigation is carried out.
Meanwhile in Baghdad, Iraqi President Saddam Hussein put citizens on a war alert Sunday, reportedly saying, "We can't do like others, give up and allow the enemy to designate who should govern and lead Iraq." The statement comes as the Senate debates a resolution authorizing military action against the country. Passage is expected late this week or early next.
A profit warning from
Sears
(S) - Get Report
and word of another
Securities and Exchange Commission
probe into
AOL Time Warner's
(AOL)
revenue recognition were other negatives for the market.
Sears said third-quarter profit would come in below expectations, as a result of weakness in its credit-card business. The retailer expects to earn 80 cents to 82 cents a share, compared with estimates for 86 cents a share. In recent trading, Sears was off $5.39, or 14.3%, at $32.25.
Separately, the SEC is reportedly investigating AOL Time Warner's investment-and-advertising agreement with Oxygen Media to determine if the media giant booked the same revenue in its Internet and cable units. Shares of AOL were down 61 cents, or 5.2%, to $11.20 on news of the inquiry.
Elsewhere, Intel's chief executive, Craig Barrett, reportedly told a conference in Spain that he expects a recovery in the PC industry in early 2003. And
Oracle
(ORCL) - Get Report
reportedly told the same group that it expects a recovery in European software sales in the second half of 2003. Intel ended up 0.8% at $13.82, while Oracle closed off 6.1% at $7.70.
Cisco
(CSCO) - Get Report
was down 4% at $9.08 and the most actively traded stock on the Nasdaq, after Deutsche Banc Securities cut its fiscal second quarter and 2003 earnings estimate, noting concerns about economic weakness.
FedEx
(FDX) - Get Report
lost 4% at $49.05 and
UPS
(UPS) - Get Report
shed 3.7% to $59.35 after Morgan Stanley downgraded it to "underweight" from "equal weight" on valuation concerns.
With a gloomy preannouncement season finishing up, analysts have reduced expectations for the third quarter. They predict 5.9% earnings growth, vs. estimates for 16.6% growth as recently as July.
As earnings season gets under way,
Abbott Laboratories
(ABT) - Get Report
,
Yahoo!
(YHOO)
,
Yum! Brands
(YUM) - Get Report
,
Accenture
(ACN) - Get Report
and
GE
(GE) - Get Report
will post results this week.
Overseas markets were weaker, with London's FTSE losing 0.7% to 3787 and Germany's Xetra DAX down 0.5% to 2700. Japan's Nikkei fell 3.8% to 8688 and Hong Kong's Hang Seng lost 1.3% to 8931.
Government bonds were firmer, with the 10-year Treasury note gaining 7/32 to yield 3.64%.