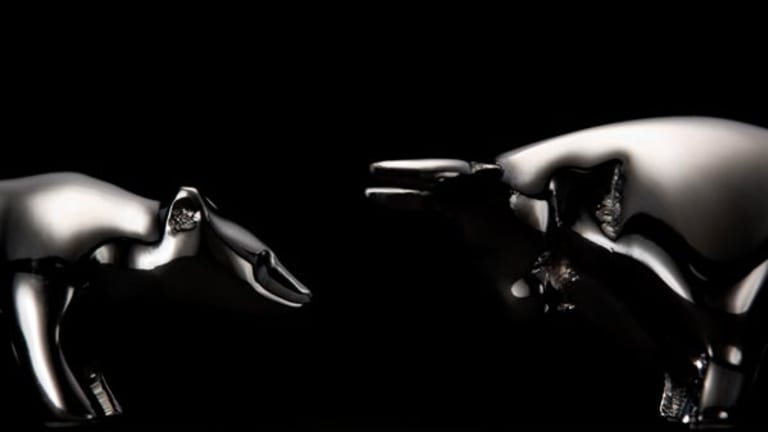 Dow Overcomes Thai Scare
The industrials turn around late and hit a new record closing high.
Updated from 4:19 p.m. EST
Stocks in the U.S. recovered from an early selloff as worries about a new Asian-market meltdown proved short-lived, and the
Dow Jones Industrial Average
surged to a new all-time closing high.
At the end of the day, the Dow had added 30.05 points, or 0.24%, to 12,471.32, supported by gains of 1.7% in
Honeywell
(HON)
and
Exxon Mobil
(XOM)
. The
S&P 500
was up 3.07 points, or 0.22%, at 1425.55.
Meanwhile, the tech-laden
Nasdaq Composite
was off by 6.02 points, or 0.25%, at 2429.55, but it had been lower by more than 20 points before erasing the worst of its losses.
Volume was strong, with more than 2.70 billion shares changing hands on the
New York Stock Exchange
. Advancers beat decliners by a 9-to-8 margin. Volume on the Nasdaq was roughly 2.01 billion shares, and losers outpaced winners 8 to 7.
By sector, stocks related to precious metals were the biggest winners of the session. The Amex Gold Bugs Index rose 3.2% and the Philadelphia Gold & Silver Index climbed 2.5%. Chip stocks were among the hardest hit, with the Philadelphia Semiconductor Sector Index losing 1.4%.
The market stumbled at the open following weakness in emerging markets, which slumped after Thailand put currency controls on foreign investors, rekindling fears of the 1997 blowup in Southeast Asia.
The local benchmark index, the SET, sank nearly 16%, and bourses across the region slid. European shares were also notably sluggish. However, Thailand's government lifted the controls after watching the market tank and seeing subsequent jitters spread across the globe.
Still, that was too late for other Pacific Rim exchanges. Tokyo's Nikkei fell 1.1%, and the Hong Kong Hang Seng surrendered 1.2%. London's FTSE and Frankfurt's Xetra DAX were each lower by 0.7%. The
iShares MSCI Emerging Markets Index
(EEM)
fell 0.6%.
The U.S. market also was spooked by the Labor Department's producer price index for November. The PPI soared 2% last month, the biggest rise in 32 years. Expectations were for an increase of 0.5%.
"We're living from one data point to the next, which is a source of volatility for the market," said Alan Gayle, senior investment strategist with Trusco Capital Management. "Given that the economy is slowing to a level closer to zero, the market is going to be more sensitive. Welcome to the world of a data-dependent market."
The so-called core index, which excludes food and energy prices, advanced 1.3%, while economists expected a 0.2% rise. The core rate saw its biggest increase since July 1980.
Even though the already reported consumer price index is viewed as the more crucial of the two monthly price reports, the data swung the pendulum, at least temporarily, back toward hawks in the debate about the
Federal Reserve's
next interest rate move.
Policymakers have said that incoming economic data are their primary focus in the run-up to the next two-day Fed meeting that commences on Jan. 30, 2007.
Last week, the CPI, a report on consumer-level inflation, showed tame pricing pressure, helping prop up stocks Friday.
"Traders don't know what to trust anymore," said Barry Hyman, equity market strategist with EKN Financial. "The more important number is the CPI. The trend in the market has been consolidation, so I think that will continue and this will accentuate that. We're starting to look at inflation numbers from a month-to-month perspective because they've been so volatile."
Also on the economic docket, the Commerce Department said U.S. housing starts increased 6.7% in November to 1.588 million annualized units, rebounding from a six-year low in October. Economists expected housing starts to rise to a 1.55 million yearly pace from 1.48 million in October.
Meanwhile, building permits fell 3% to 1.506 million, a nine-month low.
Treasuries fell following hawkish comments from Dallas Fed President Richard Fisher, who said that he couldn't say whether or not the country has turned a corner on inflation. However, he warned that inflation risks outweigh the dangers of slowdown.
The 10-year note was down 2/32 in price to yield 4.59%, and the 30-year bond was off 3/32 in price, yielding 4.72%.
In its last day before expiration, the January crude contract was higher by 94 cents to close at $63.15 a barrel in Nymex floor trading. Precious metals prices rose, including a $7.50 uptick for gold to $625.40 an ounce.
Among the names in the news,
Delta
( DALRQ) filed its reorganization plan, saying it expects to exit Chapter 11 in the spring as an independent company. Delta shed 9 cents, or 6.1%, to close at $1.38.
Notably, the bankrupt carrier at the same time rejected an $8 billion takeover bid from
US Airways
(LCC)
. However, a published report said US Air might consider lifting its offering price. US Airways reversed early losses and finished higher by $1.70, or 3.1%, to $57.50.
Elsewhere,
Oracle
(ORCL)
slipped 4.5% after posting quarterly results that were essentially in line with estimates. Revenue was up 26% and profit rose 21%, but new software license growth was a bit disappointing. Oracle was lower by 81 cents to $17.10.
Electronics retailer
Circuit City
(CC)
dropped 16.5% after unexpectedly reporting a third-quarter loss of $16 million, or 9 cents a share, reversing a year-ago profit. Analysts polled by Thomson First Call expected earnings of 5 cents a share. Shares were down $3.75 to $19.01.
Among analyst moves, Citigroup lowered its rating for
Harrah's Entertainment
( HET) to hold from buy, and Wachovia downgraded teen retailer
Hot Topic
( HOTT) to market-perform from outperform.
Harrah's, which has now reached a deal to be acquired, added 12 cents, or 0.2%, at $82.30. Hot Topic lost 44 cents, or 3.2%, to $13.41.