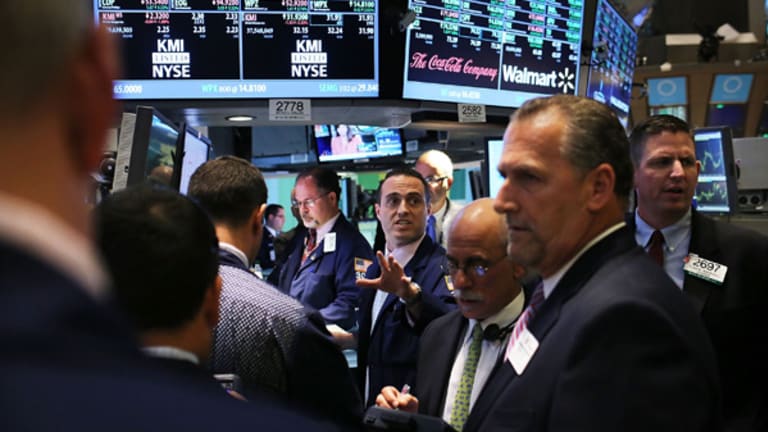 Dow, Nasdaq End Higher After Late Push
The major averages were stuck in negative territory for the bulk of the session.
Updated from 3:35 p.m. EST
Blue-chips and tech stocks rallied late in Wednesday's session to close higher after the major averages were mired in negative territory for most of the trading day.
The
Dow Jones Industrial Average finished up 6.44 points, or 0.07%, to 9894.81. The
Nasdaq added 9.46 points, or 0.47%, to 2011.39, and the
S&P 500 gained less than a point at 1137.07.
A profit warning Tuesday from
Merck
(MRK) - Get Report
hung over the Dow for much of the session, eclipsing the Fed's 11th rate cut of the year. Merck's shares ended down $2.18, or 3.6%, at $58.52.
Pulling in the other direction was
Procter & Gamble
(PG) - Get Report
, which predicted second-quarter sales and earnings would come in above estimates. The consumer products giant reported especially strong sales of health care and cosmetic goods. P&G was up $3.25, or 4.2%, at $79.95.
American Express
(AXP) - Get Report
, a company hit hard by the Sept. 11 attacks on the World Trade Center, lowered its fourth-quarter outlook to 34 cents to 36 cents a share. In addition, the company will cut an additional 5,500 to 6,500 jobs with 50% of the layoffs coming from its travel businesses. The company expects to take a pretax charge of $240 million to $280 million in the fourth quarter. The stock was lost 84 cents, or 2.5%, at $33.42.
Comverse Technology
(CMVT)
posted third-quarter earnings of 11 cents a share Tuesday, in line with analysts' expectations, but lowered its guidance for next year. The company also set plans to cut 900 jobs, or 15% of its workforce, and take a fourth-quarter restructuring charge of about $60 million. Merrill Lynch downgraded the stock to a near-term reduce/sell, but Morgan Stanley issued an upgrade. A couple of other firms reiterated their ratings. Shares of Comverse traded down 89 cents, or 4.1%, to $21.05.
Veritas
(VRTS) - Get Report
was active following news of a software sales agreement with
IBM
(IBM) - Get Report
. Veritas climbed $1.77, or 4.2%, to $44.42.
Ciena's
(CIEN) - Get Report
shares are under pressure on fears that the company will issue a profit warning Thursday. Shares of the optical equipment maker fell 96 cents, or 5.1%, to $17.97.
Shares of
Taiwan Semiconductor
(TSM) - Get Report
received a boost following positive comments from Prudential Securities. The firm said in a research note that the chipmaker is upgrading its Fab 4 chip and lifting a construction freeze to fill new orders. The stock rose 54 cents, or 2.9%, to $18.95.
Oakley
(OO)
lowered its guidance for the fourth quarter to 4 cents a share from a previous estimate of 9 cents, citing a challenging global retail environment. But in light of an agreement with
Sunglass Hut
, the company raised its 2002 revenue and earnings forecasts. Oakley now expects 2002 revenue between $500 million to $550 million, with income of 77 cents to 85 cents a share. The company's shares gained $2.25, or 16%, to $16.30.
The dollar was falling against the euro and yen following Tuesday's interest rate cut as traders focused on the tentative wording of the Fed statement. Comments in the statement accompanying the quarter-point rate cut that an early pickup in U.S. demand was "preliminary and tentative" were blamed.
Stocks were mixed overseas, with London's FTSE 100 down 0.8% to 5120 and Germany's Xetra DAX losing 1.6% to 5063. Japan's Nikkei gained 3.1% to 10,802, while Hong Kong's Hang Seng was up 1.3% to 11,847.
Treasuries moved higher on the Fed's cautious comments. Around 4 p.m. EST, the 10-year Treasury was gaining 14/32 to 100 2/32, yielding 4.99%. The long bond was climbing 1 1/32 to 98 21/32, yielding 5.47%.
Meanwhile, U.S. warplanes tightened the noose on Taliban troops in Afghanistan, dropping a 15,000-pound bomb on Tora Bora, where Osama bin Laden is suspected to be hiding. Subsequently, U.S. special forces and commandos stormed their mountain hideouts and gave the terrorists a surrender-or-die ultimatum.