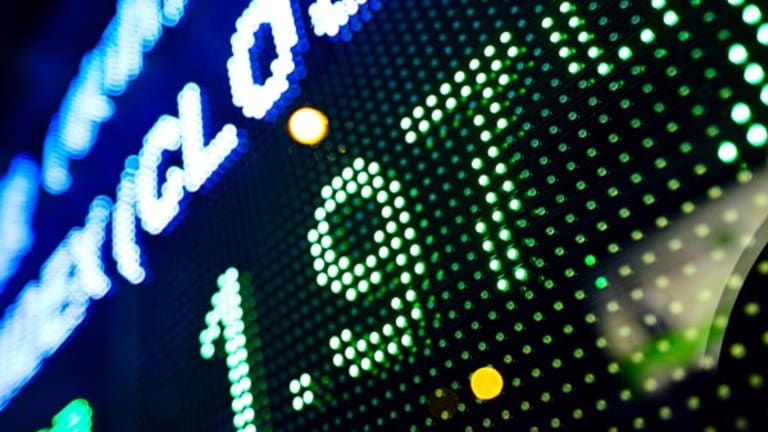 Dow, Nasdaq Close With Gains
Housing starts are lower than expected. Oil climbs again.
Updated from 4:21 p.m. EDT
Stocks closed modestly higher Thursday, overcoming another increase in crude prices and disappointing regional economic data from the Philadelphia Federal Reserve Bank.
The
Dow Jones Industrial Average
gained 12.28 points, or 0.12%, to 10,578.65, and the
S&P 500
rose 4.35 points, or 0.36%, to 1210.93. The
Nasdaq Composite
added 14.23 points, or 0.69%, to 2089.15. The 10-year Treasury note was up 11/32 in price to yield 4.06%, while the dollar firmed against the yen and the euro.
About 1.73 billion shares changed hands on the
New York Stock Exchange
, with advancers beating decliners by a 2-to-1 margin. Trading volume on the Nasdaq was 1.79 billion shares, with advancers outpacing decliners almost 2 to 1.
"This wasn't too terribly different than yesterday's action," said Paul Nolte, director of investment with Hinsdale Associates. "The market is spooked by the higher oil numbers and the economic numbers were just OK. The market is only trading marginal at best, and it needs more direction and something more definitive than what we've gotten so far. Even though the market is trading a bit higher for the week, it sure doesn't feel it."
The Dow had turned negative after the Philly Fed reported a drop in the manufacturing index, which fell to minus 2.2 in June from May's reading of 7.3. Economists expected the index to rise to 9.4, but instead the survey produced its first negative reading since May 2003.
"We had some decent numbers this morning, but the Philly Fed took what wind we may have had out of our sails," said Robert Pavlik, portfolio manager with Oaktree Asset Management. "It adds another dimension of toughness to this market now, keeping us in this trading range."
"Pay special attention to the Nasdaq's ability, or lack thereof, to penetrate its downtrending 10-day moving average," said Ken Tower, chief market strategist with CyberTrader. "If there is no follow-through to yesterday's rally, it will be a sign that the broad market phase of the post-April 20 upswing is over and a more narrow advance, led again by energy and basic materials, has begun."
Oil futures traded higher Thursday. The July crude contract finished $1.01 higher at $56.58 a barrel, less than $2 below the all-time high of $58.28 touched on April 4.
Also on the economic front, the Commerce Department said U.S. housing starts rose 0.2% to a seasonally adjusted 2.009 million units, up from April's revised 2.005 million units. Economists expected housing starts in May to increase to 2.050 million units.
"Housing starts remain extremely strong; these declines are not significant," said Ian Shepherdson, chief economist with High Frequency Economics. "Indeed, until and unless there is a meaningful decline in new-home sales, starts will simply hover around these levels, or perhaps even a bit higher. Note, however, that housing starts are no longer adding much, if anything, to GDP growth; they are at a very high level, but the trend is now flat rather than clearly upward."
Separately, the Labor Department said initial jobless claims rose 1,000 to 333,000 for the week ended June 11. The rise was slightly higher than economists' expectations. The four-week moving average climbed 2,750 to 335,000.
"In recent years, claims for the week after Memorial Day have been quite erratic, so we are relieved at these numbers," added Shepherdson. "The seasonals appear to have been just about dead right."
Stronger sectors Thursday included energy, technology, financials, semiconductors, transportation and retail. Utilities, drugs and autos were among the weaker areas.
Before the bell,
Goldman Sachs
(GS) - Get Report
reported second-quarter net income of $865 million, or $1.71 a share, down from $1.19 billion, or $2.31 a share, a year ago. Results missed the Thomson First Call average consensus of $1.87 a share. Net revenue for the quarter fell to $4.81 billion from $5.51 billion a year ago, also below expectations, as the company cited weaker trading results for the quarter. Still, Goldman Sachs added $3.46, or 3.5%, to $102.65.
General Motors
(GM) - Get Report
fell 2% after
The Wall Street Journal
reported that the United Auto Workers said the company's current goal to cut health care costs is not realistic. The stock was down 72 cents to close at $35.62.
In corporate news,
Pfizer
(PFE) - Get Report
announced Thursday that it agreed to acquire
Vicuron Pharmaceuticals
( MICU) for $1.9 billion. Pfizer will pay $29.10 a share in cash for Vicuron and expects the deal to close in the third quarter. Pfizer was up 17 cents, or 0.6%, to $28.60. Vicuron was higher by $12.41, or 78.5%, to $28.21.
In other M&A activity, semiconductor makers
Integrated Device Technology
(IDTI) - Get Report
and
Integrated Circuit Systems
( ICST) signed a definitive agreement to merge. The pact values Integrated Circuit at about $1.7 billion, or $23.54 a share. Integrated Device fell $1.02, or 8.1%, to $11.51, while Integrated Circuit was 10.3% higher to finish at $21.77.
Additionally,
Omnicare
(OCR)
said Thursday that it will raise its offer for rival
NeighborCare
( NCRX) to about $1.7 billion, including the assumption of debt. Omnicare is now offering $32 a share in cash, up from its prior offer of $30. NeighborCare gained $1.54, or 4.8%, to $33.70. Omnicare was also higher, adding $2.85, or 7.3%, at $41.66.
Fast-food company
Yum! Brands
(YUM) - Get Report
said U.S. same-store sales rose 6% in the latest month. Analysts expected sales to rise by 4%. Yum also reaffirmed its second-quarter earnings forecast of 56 cents a share, in line with the Thomson First Call average analyst projection. The stock rose 52 cents, or 1%, to $52.94.
In brokerage moves, Deutsche Bank upgraded
Ford
(F) - Get Report
to hold from sell, citing the belief that the IPO in auto rental company Hertz could help shareholder value. Ford was up 21 cents, or 1.9%, to close at $11.37.
The transportation sector received a boost Thursday after brokerage BB&T Capital Markets initiated coverage of several companies.
JB Hunt
(JBHT) - Get Report
,
Yellow Roadway
( YELL),
USA Truck
(USAK) - Get Report
,
Swift Transportation
(SWFT)
and
Marten Transport
(MRTN) - Get Report
were all initiated as buys, while the firm started
Covenant Transport
(CVTI) - Get Report
as a hold.
Bear Stearns started coverage of
Sears Holding
(SHLD)
at a rating of outperform, assigning the stock a price target of $169. The firm stated that the company's portfolio of assets and strong cash flow make Sears an intriguing investment. The stock rose $3.90, or 2.6%, to $151.35.
Lehman Brothers on Thursday lowered its 2005 and 2006 earnings forecasts for
Altria
(MO) - Get Report
, based on lower expectations for foreign currency and smaller profit growth from Philip Morris. The firm cut its 2005 earnings estimate to $5.18 a share from $5.30, and its 2006 estimate to $5.59 a share from $5.72. Separately, Credit Suisse First Boston cut its rating of the tobacco sector to neutral from overweight, citing concerns about valuations. Altria still managed to gain 14 cents, or 0.2%, at $66.62.
Retailer
Abercrombie & Fitch
(ANF) - Get Report
added 2.1% after the company was upgraded to buy from hold at A.G. Edwards. The firm cited continued strong growth in same-store sales and earnings, assigning the stock a price target of $97. Abercrombie was up $1.43 to close at $69.81.
Overseas markets finished Thursday's session mixed, with London's FTSE 100 up 0.5% to 5045 and Germany's Xetra DAX adding 0.7% to 4579. In Asia, Japan's Nikkei was unchanged at 11,416, while Hong Kong's Hang Seng was 0.6% lower at 13,833.
To view Gregg Greenberg's video take on today's market, click here
.