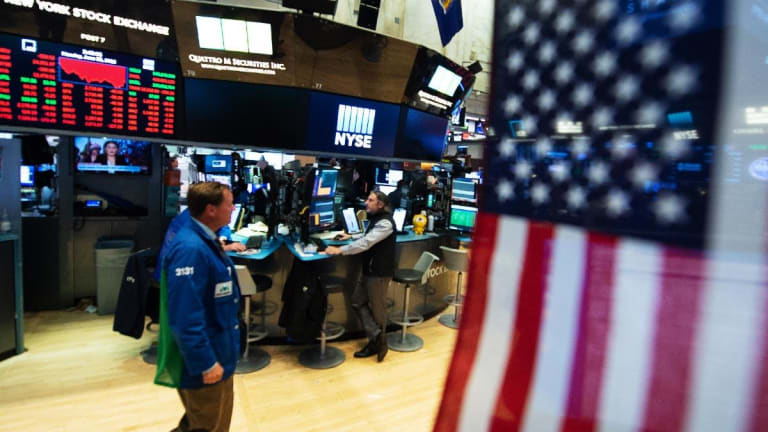 Dow Down Triple Digits; Stocks End Near Day's Lows
U.S. stocks end near the day's lows amid concern Turkey's financial crisis could spread.
Monday Roundup
The Turkish lira pulled back from record lows against the dollar as the central bank offered more liquidity to combat outflows sparked by the U.S. doubling metal tariffs on the country. 
Tesla rose after Elon Musk said that the Saudi Arabian sovereign wealth fund has expressed support for funding the company's efforts to go private.
Bayer is falling after a California jury orders Monsanto to pay $289 million to a person who claimed the company's weed killer gave him cancer. Bayer bought Monsanto for $60 billion in June.
Market Overview
U.S. stock indexes ended near the day's lows amid worries over pressure on banks from a falling Turkish lira and after markets in Asia and Europe slumped. 
The Dow Jones Industrial Average I:DJI   declined 126 points, or 0.5%, to 25,187, while the S&P 500 I:GSPC  fell 0.4% to 2,822. The Nasdaq  I:IXIC slipped 0.25% to 7,820.
Shares of Tesla Inc. (TSLA) - Get Report   rose 0.26% Monday after CEO Elon Musk said that the Saudi Arabian sovereign wealth fund has expressed support for funding a deal to take the company private. The comments came in the wake of a shareholder lawsuit against the electric car maker.  The lawsuit alleges that Musk lied when he tweeted that he already had funding secured for his plan to take the company private.
Shares of Netflix Inc. (NFLX) - Get Report  fell 1.3% Monday after the company announced that David Wells will be leaving the company after nearly 8 years as CFO. Wells first joined the company in 2004. Netflix said that it will consider both internal and external candidates to replace Wells. 
Shares of Bayer AG (BAYRY) - Get Report  fell 11% after the German company's recently acquired Monsanto Co. was ordered to pay $289.2 million by a California jury which ruled in favor of a plaintiff who claimed that exposure to two of the company's weedkillers, including its widely used Roundup product, gave him cancer. Bayer closed its more than $60 billion acquisition of Monsanto in June. 
V.F. Corp. (VFC) - Get Report CEO Steve Rendles tells TheStreet's Executive Editor Brian Sozzi why he is splitting up the company. V.F.  shares are down 3.6% on the news. 
Shares of Harley-Davidson Inc. (HOG) - Get Report  fell more than 4% after President Donald Trump backed a boycott of the motorcycle maker following its plans to move some of its production facilities overseas. 
Asian markets were routed Monday, led by the Nikkei dropping 1.98%, the Hang Seng falling 1.52% and the Shanghai Composite declined 0.34%. The MSCI world equity index, which tracks shares in 47 countries, fell 0.6% this morning to a one-month low.
Meanwhile, in Europe, the FTSE 100 declined 0.55%, the DAX fell 0.64%, and the CAC 40 fell 0.18%.
Crude prices are falling with international benchmark Brent Crude down 0.29% to $72.60 per barrel while West Texas crude fell 0.5% to $67.27.