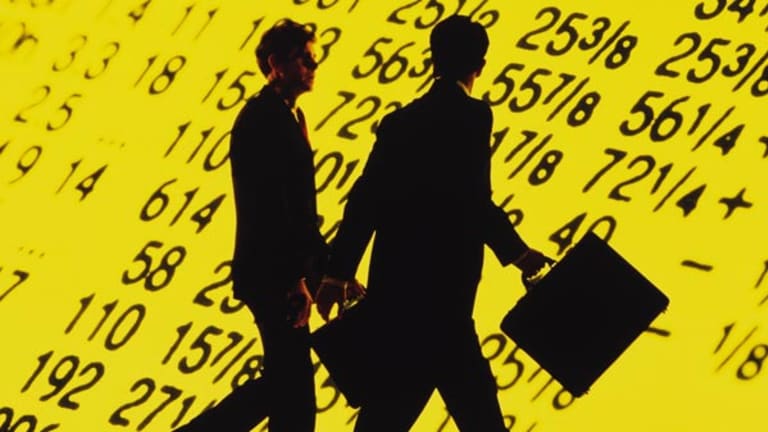 Dow Gives Up 10,000, but Stocks Higher for the Week
The Dow fell below the psychologically important 10,000 level Friday, but stocks made gains over the earnings-heavy week. Alix Steel has The Real Story.
(Updated with stock prices.)
NEW YORK (
) -- The Dow closed the week just under the phsychologically important 10,000 level Friday, as the major averages slumped after a reading on consumer sentiment and underwhelming quarterly reports from three Dow components.
"I do think there's probably a bit too much hope in that initial batch of earnings, and that's causing some things to pull back," says Charles Rotblut, senior market analyst at Zacks. "But we haven't had strong volume either way, so there's not a lot of conviction."
For the week, the
Dow Jones Industrial Average
added 1.3%, the
S&P 500
gained 1.5%, and the
Nasdaq
tacked on 0.8%.
But GE and Bank of America traded down 4.2% and 4.6%, respectively, on Friday, and
IBM
(IBM) - Get International Business Machines Corporation Report
lost 5% a day after its better-than-expected report, pulling the Dow lower by 67.03 points, or 0.7%, to 9,995.91.
The S&P 500 declined 8.88 points, or 0.8%, to 1087.68, and the Nasdaq gave up 16.49 points, or 0.8%, to 2156.8 for the session.
reported a third-quarter profit that topped analysts' estimates. But the bottom line was aided mainly by cost cutting and tax credits, while revenue, which fell 20%, undercut expectations.
GE's finance arm in particular, which saw earnings fall 90%, had investors wincing. CEO Jeff Immelt said the declines were due in part to a faster-than-planned downsizing of the unit.
"GE is a hybrid, and one of those businesses is improving and one is not," says Lawrence Creatura, equity market strategist and portfolio manager from Federated Clover Capital Advisors. "On the industrial side, it looks as if the sun might be rising again, on the financial side, perhaps not yet."
posted a third-quarter loss wider than analysts were expecting on high credit costs and dividend payments.
Google
(GOOG) - Get Alphabet Inc. Class C Report
, on the other hand, rose 3.8% after beating on the top and bottom lines.
Despite the string of high-profile earnings this week, it's too early to call any trends, says Rotblut, as next week we have 135 members of the S&P 500 reporting and about 10 or so dow components.
Wall Street will have an eye out for reports from the smaller cap companies, which often report later, adds Lawrence Creatura, portfolio manager from Federated Clover Capital Advisors. "If we are stabilizing or improving, the impact should be more pronounced in the smaller companies as there's more operating leverage; they feel the pain more acutely when things are contracting, and that reverses when times get better."
Losses accelerated after the preliminary reading on the University of Michigan's consumer confidence index came in below expectations. The index was at 69.4 for October, compared with a reading of 73.5 the prior month and expectations for 73.3.
"It's not shocking that the consumer is still feeling a little unsettled with unemployment being stubbornly high and certain necessities of life just beginning to creep higher in price," says Creatura. "So the consumer is nervous and uncertain and that's a headwind for discretionary consumer expenditures."
Meanwhile, the
Federal Reserve
said capacity utilization rose slightly more than expected in September, to 70.5% from 69.9%. Industrial production increased by 0.7%, better than an anticipated 0.2% increase, but less than the 1.2% uptick the month prior.
In other earnings, Sony Ericsson, the joint venture of Japan's
Sony
and Sweden's
Ericsson
(ERIC) - Get Telefonaktiebolaget LM Ericsson Report
, reported a widerthird-quarter loss but said it was seeing deceleration in the declinein the global handset market.
Also,
Southwest
(LUV) - Get Southwest Airlines Co. Report
exceeded third-quarter expectations,but CEO Gary Kelly predicted that "the economy will continue to bumpalong," on an earnings conference call. "I don't believe the worst isbehind us," he said.
Crude oil futures added 95 cents to $78.53 a barrel, whilegold rose $1.30 to $1051.50.
Stocks overseas were mixed. In Europe, London's FTSE 100 and DAX in Frankfurt fell by 1.4% and 1.5%, respectively. In Asia,the Nikkei advanced 0.2%, while the Hang Seng in Hong Kong declined0.3%.
Trading
at 1:36 EDT on Friday at the Philadelphia Stock Exchange, owned by the
Nasdaq OMX Group
, after its trading platform stopped functioning.
-- Written by Elizabeth Trotta in New York.