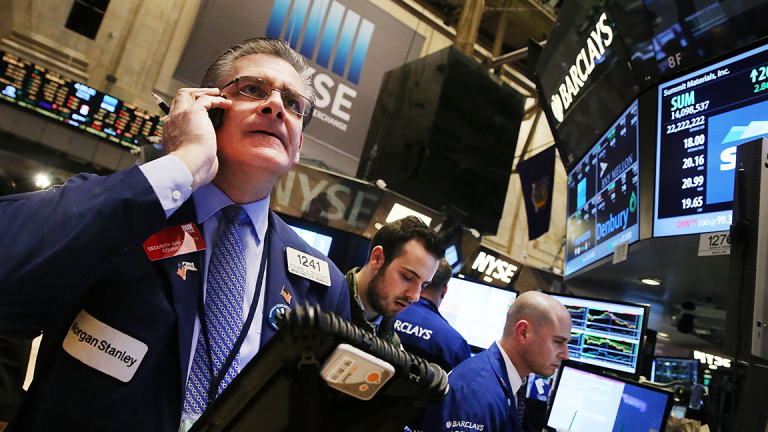 Dow Futures Tumble After China Treasury Report Hammers Bull Market Sentiment
Wall Street futures fell sharply Wednesday amid reports that China, the world's biggest holder of U.S. government bonds, may halt new Treasury purchases.
Stock futures fell sharply Wednesday, while the dollar slumped and bond yields spiked to a 10-month high following reports that China may be reconsidering its investment in U.S,. government debt.
Contracts tied to the Dow Jones Industrial Average fell 110 points from their Tuesday close while those linked to the broader S&P 500 tumbled 10.5 points, or 0.38%, from yesterday's record high and its best start to a year since 1987 after Bloomberg news reported that officials managing China's massive $3.14 trillion in foreign reserves -- which touched a September 2016 high last month -- are considering slowing or even halting their investments in U.S. Treasuries, citing trade tensions between Beijing and Washington as well as the lure of other global asset classes.
"If the reports turn out to be true and China no longer sees Treasuries as an attractive option, the repercussions could be significant as the country is one of the biggest holders of US debt," said foreign exchange strategist Craig Erlam of Oranda. "A significant change in policy could put considerable upside pressure on US yields, the result of which would be an effective tightening for the US. US 10-year yields spiked on the reports but have since settled and are up around three basis points on the day, having already risen in line with other countries yields on Tuesday."
Benchmark 10-year Treasury bond yields spiked to 2.592% in European trading, the highest in ten months, extending a 10 basis point rise that reflected a growing chorus in the financial community that a "bear market" in bonds may have begun. U.S. 2-year Treasury yields also rose to a financial crisis peak of 1.985%. 
The dollar index, a measure of the greenback's strength against a basket of six global currencies, fell 0.47% to 92.09 thanks to a surge in the yen, which rose to a six-week high of 111.5 following the Bloomberg report amid bets that Japanese government bonds could become increasingly attractive to Chinese buyers. Gold prices rose 0.75% to $1,323.40 an ounce.
China is the world's biggest foreign investor in U.S. government debt, according to the latest available Treasury Department data from the month of October, with $1.189 trillion on its balance sheet.
Essentially, China uses the Treasury market to exchange the dollars they gain from trade with the U.S. -- which provide no interest -- to securities which can generate ongoing income. It scooped up more than $130 billion over the first 10 months of 2017, according to the TIC data tables, as China's trade surplus with the U.S. topped $28.8 billion in November and swelled 12.7% over the first 11 months of 2017 to $251.26 billion.
The correction pushed European markets deeper into the red, with the Stoxx 600 benchmark, the region's broadest measure of share prices, falling 0.44% after breaching a two-and-a-half year high Tuesday following stronger-than-expected industrial data from Germany and the fastest decline on record for Eurozone unemployment.
Germany's DAX performance index fell 0.82% by mid-day while Britain's FTSE 100 clawed its way into positive territory, rising 0.03% thanks to solid gains for oil majors and financials after crude prices touched a three-year high in Asia trading.
Overnight in Asia, investors used the lull in equity market sentiment to books profits in market that has hovered around 10-year and all-time highs for several weeks, with the MSCI Asia ex-Japan index falling 0.43%, pulled lower by notable downside moves in the tech sector following Tuesday's disappointing earnings guidance from Samsung Electronics Co. (SSNLF) Japan's Nikkei 225 was also in retreat mode, falling 0.3% from its 1991 highs to end the session at 23,78.20 points.
Global oil prices extended gains in both Asian and European trading after data from the American Petroleum Institute Tuesday showed that domestic U.S. crude inventories fell by a much larger-than-expected 11.2 million barrels last week. Alongside a modest decline in U.S. drilling installations and ongoing discipline from OPEC members on production cuts, the moves have pushed oil to the highest levels since 2014.
Brent future contracts for March delivery were marked 0.4% higher from their Tuesday close at $69.13 while WTI contracts for the same month were seen 0.6% higher at $63.32 per barrel.
More of What's Trending on TheStreet: