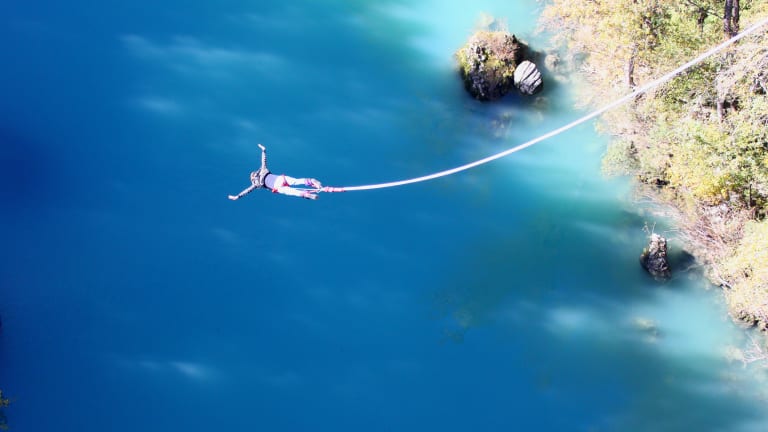 Publish date:
Dow Futures Plunge, Global Markets Rocked as Trump Takes Trade War to Next Level
President Donald Trump's latest trade war threat has global stocks on the ropes Tuesday and Wall Street looking at a 400 point opening bell decline.
President Donald Trump's latest trade war threat has global stocks on the ropes Tuesday and Wall Street looking at a 400 point opening bell decline.
The Tuesday Market Minute
Global stocks plunge as US/China trade was escalates following latest Trump tariff threat.
President vows to target an additional $200 billion in China-made goods for fresh 10% levies.
China shares hit two-year low; Asia markets tumble, dollar trades at 11-month high as risk appetite vanishes.
European shares open sharply lower, with export-focused benchmarks in Germany and France leading decliners.
Dow futures point to 300-point opening bell decline as investors fear trade war will snuff out second-half rally.
Market Snapshot
U.S. equity futures plunged Tuesday, while stock markets around the world were left nursing heavy losses, after President Donald Trump threatened to unleash a fresh round of tariffs on $200 billion worth of goods from China in the latest escalation of trade war rhetoric between the world's two biggest economies.
Trump said the 10% levy would apply "after the legal process is complete" if China "refuses to change its practices, and also if it insists on going forward with the new tariffs that it has recently announced", a reference to Beijing's intent to match a list of $50 billion worth of goods now subject to tariffs from Washington. China called Trump's latest salvo "blackmail" and said trade wars would harm "not just the people of China and the U.S. but all over the world."
"Given the position that the two sides in the showdown have staked out, it is difficult to see how either side will back down from its position," said Saxo Bank currency strategist John Hardy. "China because it wouldn't want to be seen as bullied by Trump and Trump because his position taps into popular sentiment and is likely to remain a popular theme in the election cycle."
Global stocks fell hard in the Tuesday session, taking the MSCI Asia ex-Japan index 1.95% lower by the end of the trading day while Japan's Nikkei 225 slumped 1.77% to close at 22,278.48 points. China's CSI 300 fell 3.55% to a near two-year low of 3,620.05 points while the Hang Seng Index in Hong Kong was marked 2.76% lower by the end of the trading session. The tech-focused Shenzen Composite plunged 5.77% to 1,594.045 points while South Korea's KOSPI 200 ended the day 1.31% lower at 301.35 points.
European stocks, too, were looking at heavy opening bell losses, with the Stoxx 600 index falling 0.75% by mid-day in Frankfurt while benchmarks in Germany (-1.35%) and France (-1.1%) traded sharply lower. Britain's FTSE 100 was down 0.55%, with stocks getting some support from a weaker sterling, which fell to a seven-month low of 1.3173 against the dollar following a notable defeat for Prime Minister Theresa May in the upper house of Parliament last night that could further weaken her fragile grip on government as the nation prepares to leave the European Union next year.
Auto stocks were one of the standout declining sectors Tuesday, with the region-wide Stoxx 600 Automobiles & Parts index falling 1.61% to a year-to-date low of 597 points, although tech stocks were also sharply on the back foot, with steep declines for chipmaker Infineon AG (IFNNY) (-3.22%) and Apple Inc. (AAPL) - Get Report suppliers AMS AG  (AMSSY) (-3.05%) and ASM International NV  (ASMIY) (-3.21%.)
Early indications from U.S. equity futures point to even deeper selling on Wall Street, with contracts tied to the Dow Jones Industrial Average I:DJI  -- which is already staggering through a five-day losing streak -- suggesting a 363 point opening bell decline for the 30 stock average and a 31.8 decline for the broader S&P 500. I:GSPC . The tech-focused Nasdaq Composite I:IXIC is set for an 84 point decline. 
With risk appetite disappearing in the overnight session, the U.S. dollar index, which tracks the greenback against a basket of six global currencies, traded at an 11-month high of 95.15. The yen, too, was a notable recipient of safe-haven flows, owing to Japan's significant holdings of U.S. Treasury bonds, with the currency jumping to 109.77 against the greenback.
TheStreet argues a big down day for the markets are coming soon. 
Benchmark U.S. Treasury bond yields fell 5 basis points to 2.87%. Benchmark 10-year German bunds were marked 4 basis points lower at 0.36% while the euro gave back most of yesterday's gains to trade at 1.1544 in the London session following another dovish assessment of currency area monetary policy from European Central Bank President Mario Draghi at a forum in Sintra, Portugal.
Global oil prices were also weaker, with investors factoring in both a reduction in global trade and a slowdown in China imports on top of yesterday's reports that OPEC members are likely to agree to a smaller-than-expected increase in production at their semi-annual meeting this week in Vienna.
Brent crude contracts for August delivery, the global benchmark, were seen 57 cents lower from last night's New York close at $74.77 per barrel while WTI contracts for July were marked $1.05 lower at $64.80 per barrel.