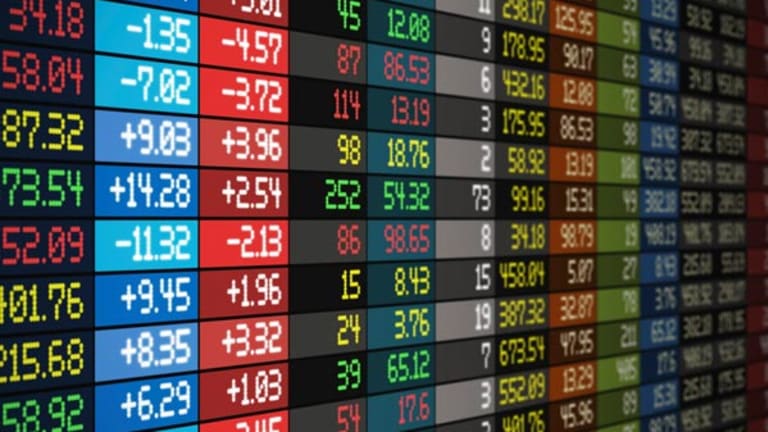 Publish date:
Dow Finishes Up 226 as Home Sales Surge
U.S. stocks finished sharply higher Wednesday as April pending home sales rose more than expected.
U.S. stocks finished sharply higher Wednesday as April pending home sales rose more than expected.
NEW YORK (
) -- The
Dow
rallied to a sharp, triple-digit gain and stocks finished near their highs of Wednesday session, reversing a recent trend that's found the pace of stock losses picking up near the closing bell, after a stronger-than-expected read on April pending-home sales lifted market sentiment for much of the day.
The Dow Jones Industrial Average rebounded from Tuesday's 113-point slump to finish higher by 226 points today, or 2.3%, to 10,250. The
S&P 500
gained 28 points, or 2.6%, to 1098 and the
Nasdaq
went ahead by 59 points, or 2.6%, at 2281.
Phil Orlando, chief equity market strategist at Federated Investors, attributed the session's gains to the favorable combination of a snap-back from Tuesday's late selloff plus a strong data point with pending home sales since both April's and March's upwardly-revised gains were stronger than expected. Additionally, Orlando said, the market's focus is already shifting to the May jobs number.
"Because of the short week, the ADP
Automatic Data Processing number was moved to tomorrow -- normally we would have gotten that today -- so you've got a ton of important jobs data that's going to be coming out in the next 24 hours."
"There is the potential for a huge headline number on Friday," Orlando said, citing expectations for strong job growth from temporary Census hiring.
Economists project that the private sector added 56,000 jobs in May, while May nonfarm payrolls are expected to show growth of 500,000, according to
Briefing.com
.
The chief executive of
Moody's
(MCO) - Get Report
and Warren Buffet, the rating agency's largest shareholder, are testifying before the Financial Crisis Inquiry Commission on the
role ratings agencies played in the financial crisis. Shares of Moody's were trading up by 2.8% at $19.84.
Germany's Cabinet approved legislation that would expand a
ban on naked short-selling of stocks and eurozone government debt, according to the
Associated Press
.
In Japan,
Prime Minister Yukio Hatoyama resigned Wednesday to improve his party's chances in an election next month. Hatoyama's popularity suffered over a broken campaign promise to move a U.S. Marine base.
Overseas on Wednesday, Hong Kong's Hang Seng dipped 0.1%, and Japan's Nikkei fell 1.1%. The FTSE in London declined by 0.2%, while the DAX in Frankfurt finished flat.
The Economy
Pending home sales rose by 6% in April, which was milder than the previous month's growth of 7.1%, according to the National Association of Realtors. The surge in contracts signed during the month was stronger than economists had been expecting with forecasts for growth of 4.3%, according to
Briefing.com
.
Mortgage purchasing applications fell 4.1% week over week, putting them at lows not seen in more than 13 years, according to the Mortgage Bankers Association's market composite index. Refinancing applications, meanwhile, increased 2.4%.
The American Petroleum Institute said oil inventories dropped by 1.42 million barrels last week, according to
Bloomberg
. Analysts projected that oil stockpiles shed 1 million barrels in the week ending May 28, according to a Platts poll. The report was delayed by a day because of the Memorial Day holiday. The government's Energy Information Administration is scheduled to report its stockpile data Thursday morning.
Company News
The energy sector, which led the major averages to the downside Tuesday, bounced back to show the strongest gains during Wednesday's broad rally. All Dow components finished in positive territory, with
American Express
(AXP) - Get Report
,
Walt Disney
(DIS) - Get Report
and
Hewlett-Packard
(HPQ) - Get Report
as the Dow's best performing stocks.
On the
New York Stock Exchange
, shares of
Gerdau Ameristeel
( GNA),
USEC
(USU)
and
Metrogas
(MBS)
made the greatest gains.
BP
(BP) - Get Report
is now pursuing a lower marine rise pipe containment approach after its last "top kill" attempt to plug the Gulf of Mexico oil spill failed. Late Tuesday, U.S. Attorney General Eric Holder announced the launch of a criminal probe into the spill. The stock gained back 3.1% to $37.66, a day after plunging 15%.
Amgen
(AMGN) - Get Report
shares rose 10.5% after U.S. regulators approved the company's injectable osteoporosis drug, Prolia, faster than expected.
Canadian Solar's
(CSIQ) - Get Report
stock plunged 14.3% after announcing that it would delay its first-quarter earnings because of a Securities and Exchange Commission investigation into its sales.
Sonic Solutions
( SNIC) agreed to acquire digital media company
DivX
( DIVX).
The U.K.'s
Prudential
(PUK) - Get Report
said it is in talks with
AIG
(AIG) - Get Report
to terminate the agreement to buy AIG's Asian life insurance unit.
A mix of car sales numbers were also coming in today.
Toyota
(TM) - Get Report
said sales rose at a tepid 6.7% last month, while
Ford
(F) - Get Report
sales tracked up a more robust 22% in May, despite declines in its Lincoln and Mercury segments.
General Motors
also said its sales tracked up 17%.
Commodities and the Dollar
Crude oil for July delivery gained settled at $72.86 a barrel after gaining 28 cents.
Elsewhere in commodity markets, the August gold contract settled $4.30 lower, at $1,222.60 an ounce.
The dollar was trading lower against a basket of currencies, with the
dollar index down by over 0.1%.
Treasuries
The benchmark 10-year Treasury fell 22/32, increasing the yield to 3.342%.
The two-year note slipped 3/32, lifting the yield to 0.817%. The 30-year bond declined 1 2/32, boosting the yield to 4.243%.
--Written by Melinda Peer and Sung Moss in New York
.