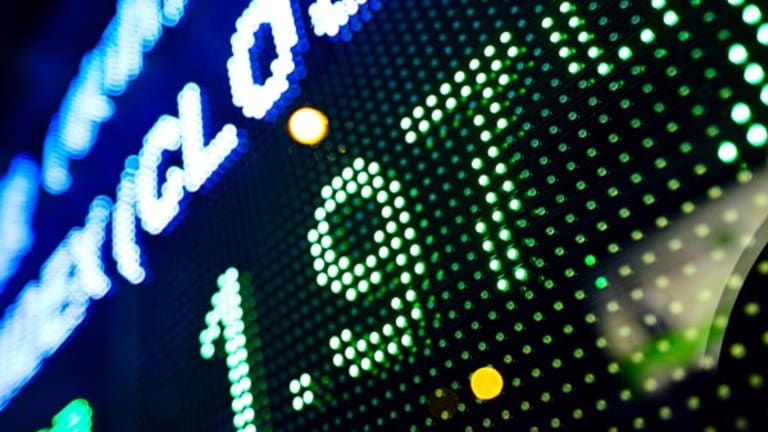 Dow Falls Below 10,000
Stocks lose ground as earnings from Microsoft and Amazon aren't enough to prop up the major indices.
Bull or Bear? Vote in Our Poll(Updated with commentary, stock prices.)
NEW YORK (
) -- The Dow fell below 10,000, and the major averages retreated Friday, as better than expected data and earnings from
Microsoft
(MSFT) - Get Microsoft Corporation Report
and
Amazon
(AMZN) - Get Amazon.com, Inc. Report
did little for other stocks in a "sell the news" environment.
The
Dow Jones Industrial Average
fell 109.13 points, or 1.1%, to 9,972.18, while the
S&P 500
gave up 13.31 points, or 1.2%, to 1079.60. The
Nasdaq
edged down 10.82 points, or 0.5%, to 2154.47.
That was just enough to erase gains for the week, as the Dow edged down 0.2%, the S&P 500 gave up 0.7%, and the Nasdsaq lost 0.1% for the five day session.
Microsoft and Amazon shares were higher by 5.4% and 26.8%, respectively, after
topping estimates
and after
to the latter -- but it had little effect on the broader markets.
"We're getting to the end of the biggest week of earnings so far this earnings season, and with the exception of a few stellar performers, people are selling the good news," says Michael James, managing director at Wedbush Morgan Securities. "The prevailing theme is that people were expecting good numbers this quarter, and as we've been getting them people are selling into the strength."
This has been particularly true for semiconductor stocks, he says, and at the same time, retailers aren't seeing any follow through from the Amazon surge.
Last, the dollar, which has had an inverse relationship with equities, was gaining ground against the pound, euro and yen.
"I think partially what you're seeing is a certain amount of nervousness," says Doug Roberts, chief investment strategist at ChannelCapitalResearch.com, adding that it's in part because the S&P is near a technical resistance level of 1,100.
"Earnings seem to be good, but people want to hesitate to see if there are any land mines out there," says Roberts. "We did have quite a large run without any correction, and you might see that things are settling and will not play out until we get more clarity."
Stocks were briefly lifted by report a from the National Association of Realtors that showed existing-home sales rose more than expected in September, to 5.57 million, from 5.09 million the month prior and vs. expectations for 5.35 million.
In other earnings,
Honeywell
(HON) - Get Honeywell International Inc. Report
a drop in third-quarter profit, but still outdid estimates and gave a 2009 profit forecast above analysts' view.
Elsewhere,
Federal Reserve
Chairman Ben Bernanke addressed Congress early Friday, urging it to act on legislation to revamp the financial regulatory system to reduce the likelihood and magnitude of any future crises.
Meanwhile,
CIT Group
(CIT) - Get CIT Group Inc. Report
has reached a tentative deal -- which could be finalized in the next 24 hours -- with
Goldman Sachs
(GS) - Get Goldman Sachs Group, Inc. Report
over a $3 billion loan Goldman extended to the troubledcommercial lender last year,
The Wall Street Journal
reports.
Stocks overseas rose while the pound lost ground after Britain's Office for National Statistics said gross domestic product unexpectedly shrank 0.4% in the third quarter.
Crude oil futures fell 69 cents, to $80.50, while gold gave up $2.20, to $1,056.40.
Stocks overseas were mixed. In Europe, the FTSE in London rose 0.7%, while the Dax in Frankfurt edged down 0.4%. In Asia, Japan's Nikkei and Hong Kong's Hang Seng gained 0.2% and 1.7%, respectively.
-- Written by Elizabeth Trotta in New York.