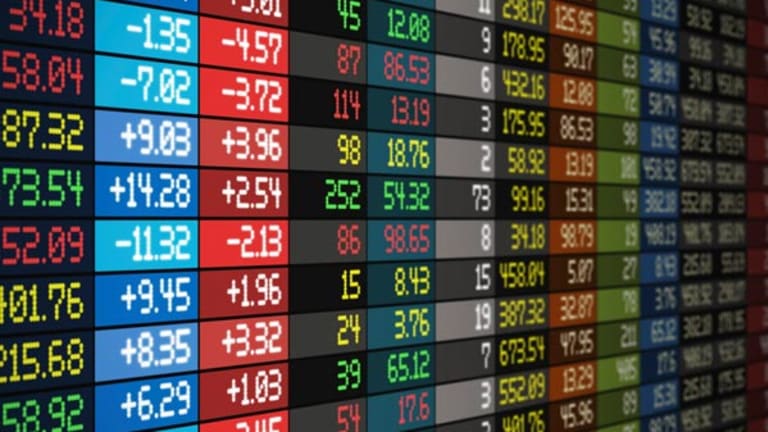 Dow Ends With Triple-Digit Loss
The major averages close near their lows of the day. Bonds are also weaker.
Updated from 4:09 p.m. EDT
Stocks posted sizeable declines Tuesday, including a triple-digit loss for the
Dow Jones Industrial Average
, after mixed economic reports and some worrisome guidance from corporate America.
The Dow lost almost 150 points, or 1.6%, to 9036. The
Nasdaq
shed 40 points, or 2.4%, to 1673, and the
S&P 500
fell 17 points, or 1.8%, to 965.
In the Treasury market, the 10-year note lost 30/32 point to 93 27/32, yielding 4.41%. The government sold $24 billion of three-year notes today as part of a $60 billion sale this week. The notes were priced much lower than markets were expecting, in light of weak demand for the issue.
The government's three-year note lost 15/32 to 99 9/32, yielding 2.27%. The five-year was off 20/32 to yield 3.24%, and the 30-year bond was losing 1 22/32 to 100 2/32, yielding 5.37%.
Equity markets reacted negatively to a report by outplacement firm Challenger Gray & Christmas, which said the number of planned job cuts rose 43% in July to more than 85,000.
Upbeat data from the Institute for Supply Management weren't enough to get investors out of their funk. The ISM's nonmanufacturing index unexpectedly rose in July to 65.1, contradicting economists' projections of a decline to 58, from 60.6 the prior month.
"Investors ignored the positive numbers and focused on the negative jobs report," said Art Hogan, chief market analyst at Jefferies. "The fact is that it's impossible to have a jobless recovery, and this doesn't bode well for the markets. Investors will now be focusing on the next economic announcements, but we'll need to get some better numbers to get out of this trading range."
Richard Berner, chief U.S. economist at Morgan Stanley, said that even with the economy growing at an annual 4% rate, it "wouldn't assure that the unfolding recovery is sustainable. The recovery can last a while longer in that state, but ultimately, a jobless recovery cannot last," he wrote on a research note to clients.
Two stocks fell for every one that rose at the
New York Stock Exchange
and the Nasdaq. About 1.3 billion shares traded on the Big Board and about 1.7 billion on the Nasdaq.
Reports that a terrorist's car bomb killed at least 10 people in Jakarta, Indonesia, also left markets jittery. Most of the dead were in a ground-floor restaurant when the blast hit. The hotel is popular with expatriate businesspeople.
Meanwhile, second-quarter financial reports continued to trickle in as earnings season wound down.
Cisco
(CSCO)
shares fell 47 cents, or 2.4%, to $18.79 ahead of its results after the closing bell.
Gillette
(G)
posted a 15% rise in net income, surpassing Wall Street expectations as new product sales offset an increase in expenses related to pensions and a cost-cutting program. Gillette lost 5 cents, or 0.2%, to $30.32.
Warehouse retailer
Costco
(COST)
reduced its earnings forecast for the fourth quarter and fiscal year after reporting an increase in July same-store sales. Shares shed $6.76, or 18.3%, to $30.20.
Cablevision Systems
(CVC)
said revenue and cash flow rose in the second quarter and affirmed its full-year guidance for the overall company, but again lowered its outlook for its telecommunications segment. The shares fell $1.78, or 8.5%, to $19.22.
Oxford Health
( OHP) posted quarterly earnings that topped the market's expectations and reaffirmed its guidance for a full-year profit. Shares slid $3.27, or 7.7%, to $39.05.
After the close Monday, insurer
MetLife
(MET)
said its profit rose from a year earlier, topping analysts' estimates. Merrill Lynch reiterated its buy recommendation on the stock and increased its 2003 and 2004 earnings outlook. MetLife finished up 63 cents, or 2.3%, at $27.99.
General Electric
(GE)
continues to do its part to keep investment bankers in fees. One day after selling its bond-insurance operation for about $2 billion, the conglomerate agreed to pay $5.4 billion to buy the commercial finance units of
Aegon's
(AEG)
Transamerica. GE fell 68 cents, or 2.4%, to $27.80, while Aegon lost 20 cents, or 1.6%, to $12.55.
Overseas markets were mixed Tuesday, with London's FTSE 100 up 0.5% at 4121 and Germany's Xetra DAX gaining 1.1% to 3441. In Asia, Japan's Nikkei closed 0.7% lower at 9382, while Hong Kong's Hang Seng fell 0.1% to 10,177.
Crude oil futures rose in New York, and the dollar was slightly stronger against the euro but weaker vs. the yen.
On Monday the Dow finished with a gain of 32 points, or 0.4%, to 9186. The S&P 500 climbed 2 points, or 0.2%, to 983. The Nasdaq, which had fallen about 1.6% earlier, ended down just 1 point, or 0.1%, to 1714.