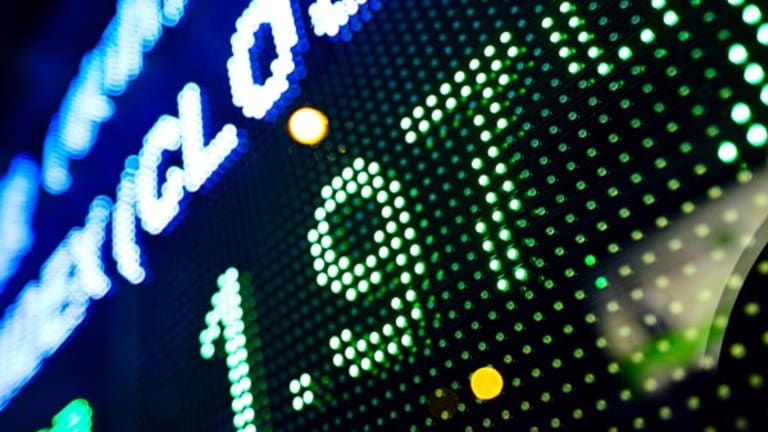 Dow Ends With Triple-Digit Loss
The Nasdaq closes down 2.3%, and the S&P falls 1.3%.
The Nasdaq closes down 2.3%, and the S&P falls 1.3%.
Updated from 4:04 p.m. EDT
Last week's rally ran out of steam, and stocks closed lower Monday as investors reacted to new concerns over potential terrorist activity and heightened accounting scrutiny by U.S. regulators.
The
Dow Jones Industrial Average finished with a loss of 123.58 points, or 1.2%, to 10,229.50. The
Nasdaq fell 39.80 points, or 2.3%, to 1701.59, and the
S&P 500 was off 14.71 points, or 1.3%, to 1091.88.
Vice President Dick Cheney put the nation on notice Sunday by saying he is "almost certain" the U.S. will again be attacked by terrorists. Reports cited recent intelligence information involving suspected al Qaeda operatives. Cheney said the risk of another terrorist strike on American soil is just as high as it was on Sept. 12.
A couple of retailers were atop the earnings docket this morning. Home improvement retailer
Lowe's
(LOW) - Get Report
posted a 54% increase in first-quarter earnings, easily beating analysts' expectations. Same-store sales for the quarter rose 7.5%. Lowe's also said it plans to open 23 new stores in the second quarter and 123 stores in 2002. Shares of Lowe's rose 5% at $46.80.
Toys R Us
(TOY)
reported a narrower-than-expected first-quarter loss thanks to increased sales at its newly renovated stores and cost-cutting measures at its Internet business. Shares of the toy seller fell 3% to $17.31.
Beleaguered telecommunications company
WorldCom
(WCOM)
traded up 10.4% to $1.49 after putting the finishing touches on a $1.5 billion financing agreement. The deal will afford the company additional liquidity while it irons out a larger credit pact.
The drug and biotech sectors were producing a raft of news, including an announcement from Israeli company
Teva Pharmaceutical
(TEVA) - Get Report
, which said the Food and Drug Administration tentatively approved its Pravastatin drug, a treatment for arterial inflammation that causes heart failure and strokes. Teva advanced 4%.
Elsewhere in the drug sector,
Protein Design Labs
(PDLI) - Get Report
said it won't seek regulatory approval for its experimental leukemia drug Zamyl after the treatment failed to significantly affect remission rates. The company's shares tacked on a penny to $12.28.
ImClone Systems
(IMCL)
was roughed up after announcing that its experimental cancer treatment Erbitux failed a late-stage clinical trial. The stock dropped 17% to $11.12.
Separately, British biotech company
Celltech
(CLL)
announced that it has a deal with industry leader
Amgen
(AMGN) - Get Report
to develop a treatment for osteoporosis using Celltech's antibody technology.
Managed health care services firm
MIM Corp.
(MIMS)
was rebounding after a rough finish last week. The stock surged 26% to $12.46after the company raised its 2002 earnings forecast, citing a change in tax rates and operational improvements.
The biggest percentage winner on the
New York Stock Exchange was energy trader
Dynegy
(DYN)
as investors viewed the recent pounding the stock has taken as a good buying opportunity. A report in
The Wall Street Journal
said the energy company tapped a large credit line for a unit and disclosed plans to increase its liquidity by as much as $1 billion, possibly by selling assets. The stock rallied up 23% to $8.60.
Meanwhile, the Justice Department and the
Securities and Exchange Commission
are investigating whether software maker
Computer Associates
(CA) - Get Report
wrongly booked $500 million in revenue in 1998 and 1999 to inflate its share price and boost compensation for its senior management team, according to the
Journal
. CA fell 2%.
In the latest economic report, the Conference Board said
leading indicators fell 0.4% in April, compared with a 0.1% rise in March, suggesting the recovery is progressing at a slower pace than previously anticipated.
U.S. Treasury issues were higher, with the 10-year note up 13/32 to 97 18/32, yielding 5.20%. The 30-year bond was the strongest issue.
European markets were mixed, although volume was thin because of a holiday. London's FTSE 100 fell 0.2% to 5208, and Germany's Xetra DAX slipped 0.7% to 4999. Japan's Nikkei 225 rose 0.1% to 11,857, and Hong Kong's Hang Seng was closed for a holiday.