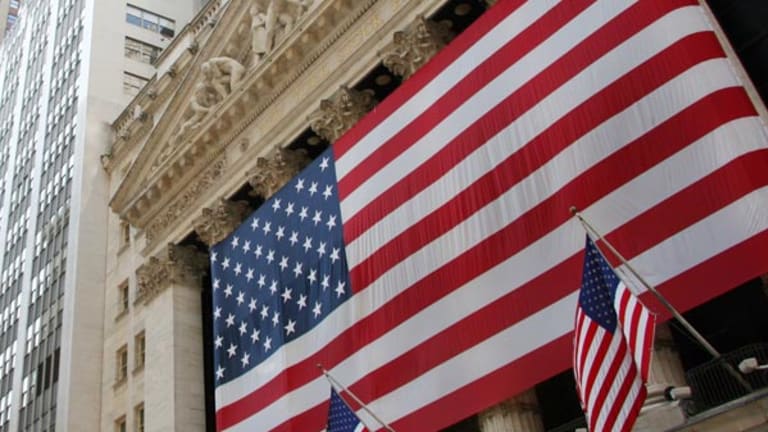 Dow Ends With Gain, Nasdaq Ticks Lower
Blue-chips rally to close higher, and tech stocks erase most of their earlier losses.
Updated from 4:08 p.m. EDT
After spending much of the day in negative territory, stocks clawed their way back Monday to end mostly higher.
The
Dow Jones Industrial Average
, after having been as low as 9048, finished with a gain of 32 points, or 0.4%, to 9186. The
S&P 500
climbed 2 points, or 0.2%, to 983. The
Nasdaq
, which had fallen about 1.6% earlier, ended down just 1 point, or 0.1%, to 1714.
Traders said a large firm was actively buying S&P futures in the afternoon, which could have helped lift the market late in the day. But they also said it's easy for stocks to make big moves in either direction when volume is so light, and many experts are still cautious.
"We're in a downward trend pattern that will probably take us back to where we started," said Robert Pavlik, portfolio manager at Oaktree Asset Management. He sees support for the Dow at 9050, at 965 for the S&P 500 and at 1700 for the Nasdaq. Meanwhile, he said, "bonds keep heading down, and this could derail the rebound we're seeing in the overall economy. Businesses will say interest rates are too high and they can't borrow to grow."
TrimTabs, a research firm that tracks equity flows, reported that some $350 billion went into the stock market since the end of the second quarter.
But, "now that earnings release season is over, we are not sure where the new cash inflows will come from to stop the market from cracking," wrote TrimTabs President Charles Biderman.
Decliners were ahead of advancers by a margin of 2-to-1 at the
Big Board
, with 1.3 billion shares changing hands. Losers were also ahead of gainers at the Nasdaq by a 3-to-2 margin, and 1.56 billion shares were traded.
The financial-services sector was pressured on concerns that higher interest rates will hurt profits. Positive earnings at
HSBC
(HBC)
weren't enough to stem the sector's declines. The bank reported a jump in first-half earnings, handily beating analysts' estimates. Shares gained $1.62, or 2.6%, to $62.98.
Other financial firms recovered from earlier losses. Shares of
J.P. Morgan Chase
(JPM)
moved up 37 cents, or 1%, to $33.73.
Citigroup
(C)
rose 42 cents, or 1%, to $43.87. But
Merrill Lynch
(MER)
fell 51 cents, or 1%, to $52.94.
Second-quarter earnings have risen an average 9.7% for the more than 400 companies in the S&P 500 that have reported so far. Earlier expectations had been for a 5.2% gain, according to Thomson First Call.
Shares of tech-sector bellwether
Cisco
(CSCO)
, which reports quarterly earnings Tuesday, advanced 8 cents, or 0.4%, to $19.26. S.G. Cowen analysts upgraded the stock to strong buy from outperform on expectations the company's revenue growth will accelerate to between 10% and 15%, resulting in stronger earnings.
Also in research action, chip-equipment maker
Novellus
undefined
was upgraded to outperform from in-line at Goldman Sachs. The research firm said Novellus had a low valuation, good business prospects and positive earnings prospects. Novellus shares ended up $1.03, or 2.8%, at $36.77.
In corporate news,
GE
(GE)
agreed to sell its bond-insurance division for $1.9 billion to a consortium led by mortgage insurer
PMI Group
(PMI)
, according to published reports. GE shares rose 2 cents, or 0.07%, to $28.48.
Merger plans were disclosed in the biotech arena, where
Genzyme
(GENZ)
said it's purchasing
SangStat Medical
(SANG)
for $600 million in an all-cash deal. Genzyme shares fell $1.60, or 3.2%, to $47.62, while SangStat shares surged $6.80, or 44%, to $22.23.
In the telecom group,
Qwest Communications
undefined
said it will use
Sprint's
(PCS)
network to provide wireless phone services in the U.S. Qwest gained 34 cents, or 9%, to $4.13, while Sprint fell 1 cent, or 0.1%, to $6.04.
Phone company
Verizon
(VZ)
said workers stayed on the job while union negotiations continued after a three-year contract expired over the weekend. Verizon rose $1.46, or 4.25%, to $35.84.
MCI
, formerly
WorldCom
, said it found no signs of improper call-routing after conducting an internal probe,
The Wall Street Journal
reported Monday. The company had been accused by competitors of using other carriers' networks without paying proper fees.
Among Monday's economic data, June factory orders rose 1.7%, above economists' expectations of a 1.5% increase. This is the second consecutive month of gains, following a 0.3% advance in May.
Treasuries were slightly higher, with the yield on the 10-year note at 4.31%. Crude oil prices for future delivery fell in London. The dollar was higher against the yen but lower vs. the euro.
Overseas markets were mixed, with London's FTSE 100 up 2 points, or 0.04%, at 4100, and Germany's Xetra DAX moving lower by 40 points, or 1.2%, to 3398. In Asia, Japan's Nikkei closed down 158 points, or 1.7%, at 9452, while Hong Kong's Hang Seng lost 65 points, or 0.6%, to 10,183.
On Friday, stocks fell, with the Dow losing 79 points, or 0.9%, to 9153. The S&P fell 10 points, or 1%, to 980, and the Nasdaq shed 19 points, or 1.1%, to 1715. All three indices fell for the week.