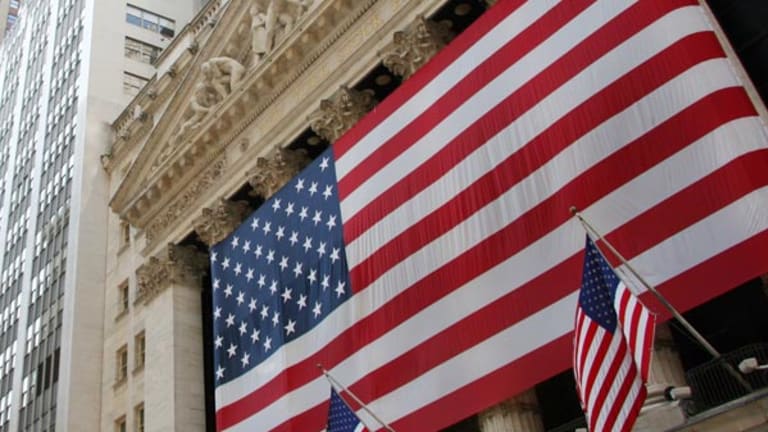 Dow Dumped for 376-Point Loss; 'FinReg' Piles On
Eurozone uncertainties, a jump in initial jobless claims and now movement on financial regulation batter stocks. Gregg Greenberg has The Real Story.
NEW YORK (
) -- Stocks sold off sharply Thursday in a violent session as fears about the eurozone intensified,
weekly initial jobless claims rose, and the
Senate inched closer to passing a financial regulatory overhaul.
The Dow finished at 10,068, plunging 376 points, or 3.6%. The tumble on the blue-chip average marks the Dow's largest point drop since February 2009. The
S&P 500
lost 43 points or 3.9% to 1072, and the
Nasdaq
finished 94 points lower to 2204, or down 4.1%.
Peter Tuz, president of Chase Investment Counsel, said the combination of Europe being on edge, a jobless claims number that wasn't as robust as hoped and cautious outlooks from retailers were all contributing to Thursday's broad selloff.
"You're seeing bond yields lower across maturities. Lower yields are generally good for equities, but it's also indicative of a flight to safety, and in this case, I think people are saying 'get me into something safe,' " Tuz said. "We had a great run in the stock market from March to mid-April, and now people are taking money off of the table. There's weakness in Europe, and the U.S. economy is still sending mixed signals. There's talk of deflation now instead of inflation, and I think that has people feeling uncertain."
Overseas, Hong Kong's Hang Seng slipped 0.2%, and Japan's Nikkei fell 1.5%. The FTSE in London was lost 1.7%, and the DAX in Frankfurt shed 2%.
>>The Economy
>>Company News
>>Commodities and the Dollar
>>Treasuries
The Economy
The Labor Department said initial weekly jobless claims increased by 3,000 to 471,000 in the week ended May 15, up from last week's upwardly revised claims of 446,000. Economists had expected claims to fall to 439,000, from last week's initially reported figure of 444,000 claims.
The Conference Board said leading indicators unexpectedly slipped 0.1% in April, after rising 1.3% in March. Economists had been projecting an increase of 0.2%.
The Philadelphia Federal Reserve Bank reported a better-than-expected increase in regional manufacturing activity in May. The May
Philly Fed Index came in at 21.4, exceeding expectations for a reading of 20.7.
The
U.S. banking sector appears to be making improvements as profits rose to $18 billion in 2010's first quarter, from $5.6 billion a year ago, according to the
Federal Deposit Insurance Corp.'s
quarterly industry report. Earnings, however, are historically weak as underperforming loans continue to trip up gains.
The Energy Information Administration said natural gas storage levels rose by 76 billion cubic feet in the week ended May 14. The increase was on the low end of analysts' projected injection range of 76 billion to 80 billion cubic feet, according to a Platts survey.
In the afternoon, Democrats in the U.S.
Senate cobbled together the 60 votes necessary to cut off debate on financial regulatory reform legislation, clearing the way for a conclusive vote on the package sometime soon.
>>Overview
>>Company News
>>Commodities and the Dollar
>>Treasuries
Company News
After the closing bell,
Dell
(DELL)
reported a first-quarter adjusted profit of 30 cents a share, which topped forecasts. But shares, which fell 4.4% during the regular session, continued selling off in extended trading.
Stocks finished significantly weaker across a broad cross-section of sectors. On the Dow,
Bank of America
(BAC)
,
Alcoa
(AA)
,
General Electric
(GE)
and
Boeing
(BA)
and were the session's worst performers, while
Hewlett-Packard
(HPQ)
,
AT&T
(T)
,
Merck
(MRK)
and
McDonalds
(MCD)
saw the mildest losses.
The
New York Stock Exchange
also saw strong performance in a pharmaceutical company with
K-V Pharmaceutical
(KV.B)
showing one of the strongest gains at 4%, behind
Advance Auto Parts
(AAP)
, which improved 6.3%.
Millennium India Acquisition
(SMCGU)
and
Bank of Florida
( BOFL) led on the Nasdaq.
Meanwhile, the biggest drags on the NYSE were
New York & Co
(NWY)
,
Bank of Ireland
(IRE)
and
Wabash National
(WNC)
. On the Nasdaq,
Stewardship Financial
(SSFN)
and
Antigenics
(AGEN)
exerted the most pressure.
In earnings news,
Staples
(SPLS)
reported adjusted earnings of 28 cents a share, which topped analysts' estimates by a penny.
Sears
(SHLD)
said first-quarter earnings dropped 38% on lower margin rates, but the company reported a better-than-expected adjusted profit of 16 cents.
MF Global
( MF) posted an adjusted fourth-quarter loss of 17 cents a share, which was lower than the profit of a penny a share that analysts had been expecting. The company also said it plans to cut its work force by 10% to 15% in the first quarter.
Video game retailer
GameStop
(GME)
surpassed analysts' estimates with first-quarter earnings of 49 cents a share but issued second-quarter guidance that fell short of Wall Street's expectations.
Wal-Mart
(WMT)
said it will pull 900,000
General Electric
(GE)
12-cup coffee makers from its shelves because of a fire hazard.
>>Overview
>>The Economy
>>Commodities and the Dollar
>>Treasuries
Commodities and the Dollar
Following the EIA report, the June natural gas contract shed 5 cents to settle near $4.11 per million British thermal units. Meanwhile, crude oil for June delivery, which expires today, lost $1.86, to finish at $68.01 a barrel, and the more actively traded July contract fell $1.68 to settle at $70.80.
Elsewhere in commodity markets, the June
gold contract lost $4.50 to settle at $1,188.60 an ounce.
After moving higher earlier, the dollar was recently trading lower against a basket of currencies, with the
dollar index losing 0.4%.
>>Overview
>>The Economy
>>Company News
>>Treasuries
Treasuries
The benchmark 10-year Treasury rose 1 3/32, lowering the yield to 3.242%.
The two-year note increased 3/32, weakening the yield to 0.724%. The 30-year bond gained 2 9/32, diluting the yield to 4.115%.
--Written by Melinda Peer and Sung Moss in New York
.
>>Overview
>>The Economy
>>Company News
>>Commodities and the Dollar