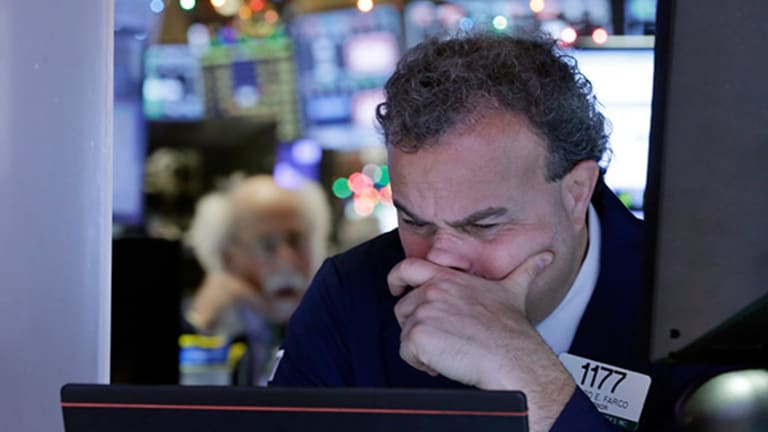 Dow Drops More Than 600 Points as 'Brexit' Shocker Slams Markets
A 'Brexit' shocker sent global equities, oil prices and currency markets into chaos Friday.
A 'Brexit' shocker sent global equities, oil prices and currency markets into chaos Friday.
A "Brexit" shocker sent global equities, oil prices and currency markets into chaos Friday. 
U.S. stocks entered panic mode after the pro-exit vote sparked worries over political and economic instability across the pond. The S&P 500 was down 3.6%, the Dow JonesIndustrial Average fell 3.4%, and the Nasdaq declined 4.1%. The Volatility Index, otherwise known as the "fear" index, spiked 40%, to 24.14.
A vote for a "Brexit" blindsided world markets Friday morning after days of growing confidence that the United Kingdom would opt to remain in the European Union. The U.K. referendum resulted in victory for the "leave" campaign with 51.8% support. The results could have major political and economic implications for the region over the next two years and beyond as the country negotiates how exactly it will separate from the 28-nation bloc.
"The Brexit victory is a victory for uncertainty across international financial markets," said Nigel Green, founder and CEO of financial consultancy deVere Group. "Brexit-triggered volatility is now only just beginning; we can expect it to potentially last up to two years... The world's currencies, equities and bonds are now on a magical mystery tour -- at least in the short term."
Those arguing to leave the European Union said unelected EU officials held too much power over Great Britain, particularly in key issues such as immigration. Those wanting to remain believed staying in the EU would provide greater protection, more political power in global events and greater economic strength.
Prime Minister David Cameron, a supporter of the "Remain" camp, has announced his resignation. His successor will determine how to extricate the U.K. from the EU over the next two years.
"We believe that 'Brexit' is a macro shock to the global economy and the ramifications to the U.S. are unambiguously negative," TD Securities wrote in a note. "We expect the [Federal Reserve] to take the tightening in financial conditions into account and that should push the trajectory of hikes further out."
European stock markets closed with heavy losses. Germany's DAX tanked nearly 7%, the CAC 40 in France fell 6.1% and the FTSE 100 in London declined 3.1%.
Crude oil prices sold off on the "Brexit" results, primarily due to large fluctuations in the currency markets. Prices briefly found some support in the afternoon session after the number of active oil rigs in the U.S. fell for the first time in a month. Baker Hughes data showed the number of active rigs fell by three to 421. West Texas Intermediate crude oil was down 4.9% to $47.64 a barrel.
"For energy prices, the most significant impact of the vote is through currency," said Daniel Holder, commodity analyst at Schneider Electric. "The euro, and especially the pound, have fallen sharply, while the U.S. dollar has strengthened. That's bearish for dollar-denominated prices like crude oil, while supportive for pound-denominated prices like U.K. NBP gas."
Traders rushed from risky investments such as equities to safe-haven assets including gold. That benefited those in the industry, including Barrick Gold (ABX) , Newmont Mining Corp (NEM) - Get Report  and Eldorado Gold (EGO) - Get Report , which all ended higher.
Major banking stocks were hit hard by the news as a number of major financial institutions looked down the barrel of two years of renegotiations of operations across Europe. Regulations for the finance industry, particularly regarding cross-border transactions among EU countries, will likely be altered as the U.K. prepares its EU exit.
Major banks including UBS (UBS) - Get Report , HSBC (HSBC) - Get Report , Deutsche Bank (DB) - Get Report , Royal Bank of Scotland (RBS) - Get Report , Bank of America (BAC) - Get Report  and JPMorgan Chase (JPM) - Get Report were sharply lower.
Durable goods orders in the U.S. declined 2.2% in May, far wider than an expected 0.7% decline. The measure increased 3.4% in April. Core capital goods orders dropped 0.7%.