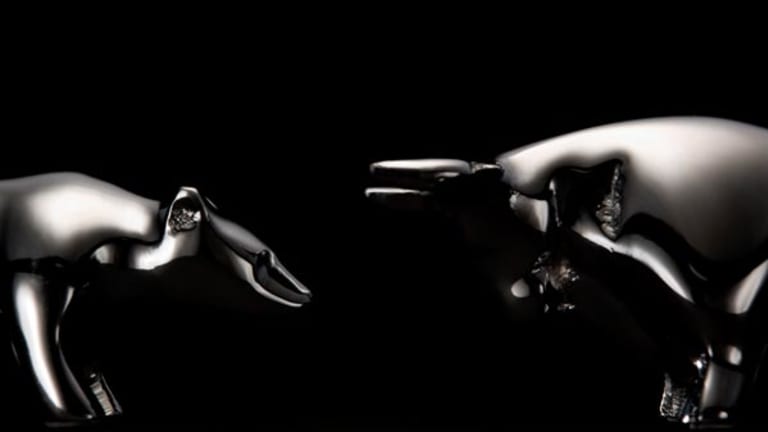 Dow Drops 250 as Super Committee Goes Splat
Stocks close down sharply as political gridlock on U.S. deficit cuts raises new concerns for Wall Street. In the video, Chao Deng recaps the trading action.
NEW YORK (
) -- Stocks closed down sharply on Monday as political gridlock on U.S. deficit cuts raised a new set of concerns for Wall Street.
Losses were mitigated late in the session when Sen. Max Baucus (D., Mont.), chairman of the Senate Finance Committee, stoked hopes the congressional super committee would be able to reach a compromise but that possibility proved fleeting as the committee issued a
after the close claiming an agreement was "not possible."
Skepticism that an agreement would be reached ruled the day, although ongoing European debt contagion fears also added to the market's edginess. The committee's failure now has investors worried about the potential for more damage to the U.S.'s credit rating or the confidence of consumers and businesses being shook at a time when the slow recovery in the U.S. economy remains fragile.
The
Dow Jones Industrial Average
dropped 249 points, or 2.1%, to finish at 11,547. Its session low was 11,454. The weakest blue-chip performers were
Bank of America
(BAC) - Get Bank of America Corp Report
,
Walt Disney Company
(DIS) - Get Walt Disney Company Report
and
Hewlett-Packard
.
The
S&P 500
, dipping below 1200 for the first time since late October, lost 23 points, or 1.9%, to close at 1193. Technical analysts were looking for the S&P 500 to hold the 1180 level after breaking through several key technical levels in the prior week. Industrial and financial stocks led the index lower. The tech-heavy
Nasdaq
shed 49 points, or 1.9%, to settle at 2523.
"Technically, the S&P is close to a 50% retracement of the entire move from the October low to high," said Marc Pado, strategist with Cantor Fitzgerald. "We are looking for indications that the market is willing to bounce from these levels."
"In times of great uncertainty traders tend to focus more on charts and technicals," said Lou Brien, a market strategist at DRW Trading. "The S&P has fallen under more technical support and the charts seem to suggest that 1183 is the next key level to the downside."
The inability of U.S. lawmakers to come to a compromise on deficit cuts of more than $1 trillion over the next decade was the main force pressuring stocks but lingering fears of sovereign debt contagion in Europe were an issue as well. Volume had been moderate with about 4.15 billion shares trading on the
New York Stock Exchange
and 2.05 billion shares changing hands on the
Nasdaq
.
"There was no great news from Europe over the weekend. The fact that the budget committee is throwing in the towel already suggests lawmakers weren't even close," said Uri Landesman, president of New York-based hedge fund Platinum Partners. Landesman added that consumer confidence and hope for possible stimulus from the Federal Reserve are some of the "last weapons" for the market.
The super committee's impasse set a downbeat tone for the shortened Thanksgiving week, although the news was hardly a surprise as many investors had low expectations for cooperation.
"The key issue for the U.S. public finances is the plunge and subsequent weak recovery in tax revenues," according to Ian Shepherdson, economist with High Frequency Economics. "Stronger growth would change that picture quite quickly regardless of what the Super Committee does or does not do."
Investors have continued to seek safety in the greenback with the perception that the U.S. will make good on its debt payments. According to
Bloomberg
, foreign banks doubled their dollar deposits at the Federal Reserve so far this year and the greenback has appreciated 7.2% since the U.S. lost its triple A credit rating from Standard & Poor's in early August.
"Until the European Union comes up with a plan that can address the debt crisis, the U.S. remains the beneficiary of money leaving the EU to the largest economy in the world," said Pado of Cantor Fitzgerald. "We don't see this changing short-term."
"There are few alternatives for international investors other than the Treasuries. This is both a safe haven trade in case of a near term fiasco in Europe, but it is also a matter of the last man standing for those accounts, such as Pension Funds, Insurance Companies, etc, who are natural buyers of fixed income," said DRW Trading's Brien.
Credit Suisse issued a research note saying the euro is likely facing its "last day" as debt fears spread to larger nations.
European stocks fell sharply overnight. London's FTSE fell 2.6% and Germany's DAX lost 3.4%. Overnight, Asian stocks closed down as Japanese exports fell for the first time in three months, and economic growth in Singapore was projected to slow. Japan's Nikkei Average was down 0.3%, and Hong Kong's Hang Seng was down 1.4%.
The threat of unsustainable borrowing costs in Italy, Spain and France already put investors on heightened alert last week. Stocks put in their worst week in about two months, with the Dow losing almost 3% and the S&P falling almost 4%. On the bright side, eurozone officials may be considering ways to fund their emergency rescue fund by allowing the European Central Bank to take on an expanded role.
In corporate news,
Gilead Sciences
(GILD) - Get Gilead Sciences, Inc. Report
Pharmasset
(VRUS)
in a deal worth $11 billion. The transaction price of $137 a share in cash is an 89% premium to Pharmasset's closing price Friday of $72.67. Pharmasset jumped 84.6%.
Insurance company
Alleghany
(Y) - Get Alleghany Corporation Report
is buying
Transatlantic Holdings
( TRH) for $3.4 billion. Under the deal, Transatlantic shareholders will receive a per share amount of $14.22 in cash and 0.145 Alleghany shares for a total value of $59.79 a share. The deal will help Transatlantic ward off rival
Validus Holdings
(VR)
, which has launched a hostile bid for Transatlantic. Shares of Transatlantic rose 0.8%.
Western Digital
(WDC) - Get Western Digital Corporation Report
, the Irvine, Calif.-based producer of computer-storage technology, said an arbitrator in Minnesota has ruled against the company in a dispute with
Seagate Technology
(STX) - Get Seagate Technology Holdings PLC Report
, and awarded Seagate $525 million plus interest. Western Digital shares were up 0.3%.
Pfizer
(PFE) - Get Pfizer Inc. Report
lost 2.9%. The drug company will pay more than $60 million to settle federal probes into whether it paid bribes to win business outside the U.S., according to
The Wall Street Journal
. The
settlements are expected to be made public by the end of the year,
according to sources in the report.
Dow component
Hewlett-Packard
reported above-consensus earnings for its fiscal fourth quarter after the close but reined in expectations for fiscal 2012, and the stock fell in after-hours action. The report iss the first since Meg Whitman took over as CEO.
Meat processing company
Tyson Foods
(TSN) - Get Tyson Foods, Inc. Class A Report
reported fourth-quarter earnings of 26 cents a share, sharply lower than last year's earnings of 57 cents a share, and below the average analyst estimate of 32 cents a share. Shares ended flat.
A report on Monday showed improvement in the nation's overall economic activity. The Chicago Fed National Activity Index for October rose to a reading of -0.13 from -0.2 in September, according to the Federal Reserve Bank of Chicago.
Existing home sales rose 1.4% in October, after a 3.2% loss in September, according to the National Association of Realtors. Sales came in at an annual rate of 4.97 million, better than economists expected, following 4.9 million in September.
The January crude oil contract fell 75 cents to settle at $96.92 a barrel. Gold for December delivery fell $46.50 to settle at $1,678.60 an ounce.
The euro slipped 0.2% against the dollar, which compared with a basket of currencies was up 0.3%. In the bond market, 10-year Treasuries gained 13/32, diluting the yield to 1.969%.
-- Written by Andrea Tse and Chao Deng in New York
.