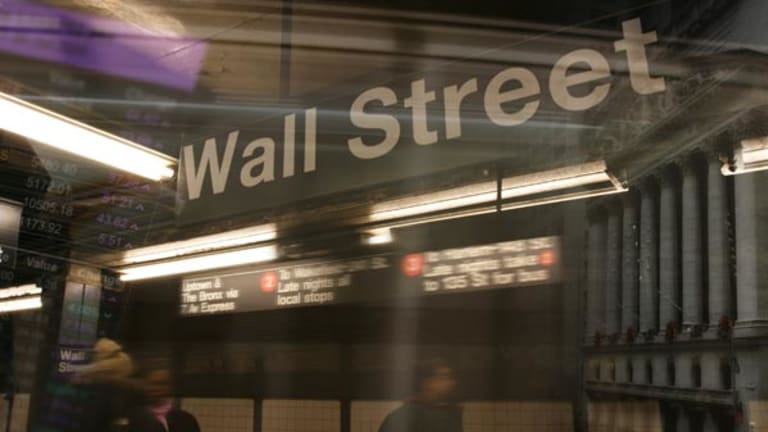 Updated with closing stock prices and major averages.
Stocks in New York suffered sharp, broad-based declines Monday as commodities retreated and the market absorbed a dimmer view of the global economic situation.
The
Dow Jones Industrial Average
fell 200.72 points, or 2.4%, to 8339.01, while the
S&P 500
lost 28.19 points, or 3.1%, to 893.04. The
Nasdaq Composite
gave up 61.28 points, or 3.4%, to 1766.19.
Losses were broad-based, with industrials, financials and energy among those sagging.
Alcoa
and
Bank of America
(BAC) - Get Bank of America Corp Report
lost 8.9% and 9.7% -- the worst performers on the Dow. The KBW Bank Index tumbled 6.7%.
Integrated oil stocks were also hard hit, with
Chesapeake Energy
(CHK) - Get Chesapeake Energy Corporation Report
falling 7.6%,
BP
(BP) - Get BP p.l.c. Sponsored ADR Report
losing 4.1%, and
Conoco Phillips
(COP) - Get ConocoPhillips Report
shedding 5.9% as crude oil prices slumped $2.62 to $66.93 a barrel.
The Dow fell 3% last week as selling interrupted the multiweek rally, and those losses extended into Monday after news that the World Bank cut its 2009 global growth forecast. It now anticipates the world economy will shrink by 2.9%, compared to the 1.9% contraction predicted in March.
"The way we've looked at is the markets and many analysts are getting too optimistic too quickly," says Paul Nolte, director of investments at Hinsdale Associates. "This is going to be a slow, grinding type of economy that is still contracting and deleveraging, and unfortunately it takes time before we start to see true improvement. So as a result of that we could see wide swings in the equity markets during that time."
The stock market demands better economic news in order to rise now, says Bill Stone, chief investment strategist at PNC Wealth Management. "You can see it play out in the sense that there's an interesting tug of war between days when you get negative economic news and positive economic news; the macroeconomic outlook is really driving the bus."
The World Bank's report warned that a decrease in investment in developing countries will increase poverty and unemployment and said that while the global economy should start to grow again in late 2009, "the expected recovery is projected to be much less vigorous than normal."
Not adding to market optimism, economist Nouriel Roubini, known in some circles as "Dr. Doom," told
CNBC
that rising oil prices and interest rates will stifle an economic recovery and predicted a "significant market correction for equities, for commodities and even for credit."
Investors are awaiting the
Federal Reserve
meeting Tuesday and Wednesday. "With their last statement they were buying into the 'green shoots' theory, and I would be interested to see how many more green shoots they're seeing now vs. a month ago," says Hinsdale's Nolte.
While expectations are that the Fed won't alter its key interest rate, the commentary will be closely watched for any reference to withdraw or change in stimulus.
"I suspect that it will be more of the same," says PNC's Stone. "You can't necessarily make the case that you've seen a whole lot of positive data, but we keep getting less bad data, or stabilization, so they're likely to point to 'things have continued to stabilize.'"
Commodities pulled back with gold falling $15.20 to settle at $921.00 an ounce, while the dollar was weaker against the yen, but stronger vs. the pound and euro.
Longer-dated Treasuries were rising, with the 10-year gaining 20/32 to yield 3.70%, while the 30-year was adding 29/32, yielding 4.45%.
In corporate news,
Apple
(AAPL) - Get Apple Inc. (AAPL) Report
sold more than 1 million of its latest iPhone model in the first three days it was on sale. CEO Steve Jobs, who's expected to return to the company in the next week or two, reportedly went through a liver transplant in late March. Shares were down 1.5%.
T-Mobile USA
plans to launch the myTouch 3G in early August. The device is the follow-up to the T-Mobile G1, the first phone powered by
Google's
(GOOG) - Get Alphabet Inc. Class C Report
Android software.
Elsewhere,
Marvell Technology
(MRVL) - Get Marvell Technology Group Ltd. Report
upped its estimate for second-quarter revenue to $600 million to $630 million, which would represent an increase of 15% to 21% over the first quarter. Shares fell 4.4% to $11.48.
In other news, German industrial conglomerate
Siemens
(SI) - Get SILVERGATE CAPITAL CORP. Report
said it expects to receive new orders of about $21 billion from global stimulus programs in the next three fiscal years. Siemens CEO and President Peter Loscher said the programs should have "a stabilizing effect on our business." Shares declined 4.5% to $67.58.
Taking a look at stocks abroad, in Europe, London's FTSE 100 and the Dax in Frankfurt fell 2.3% and 2.5%, respectively. In Asia, the Nikkei in Japan and the Hang Seng in Hong Kong had closed higher by 0.4% and 0.8%, respectively.