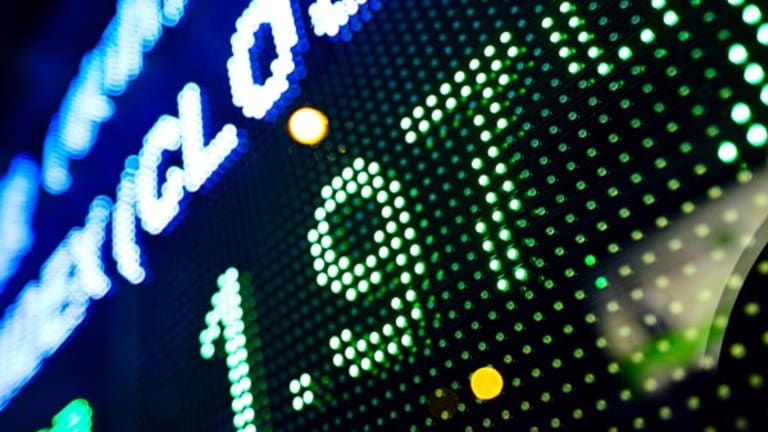 Dow Down on Recovery Doubts
Only the Nasdaq finishes hgher -- by a point -- despite service sector growth and fewer private sector job losses than expected in January. Gregg Greenberg recaps the action on The Real Story.
NEW YORK (
) -- A two-day stock rally stalled Wednesday as mildly positive economic data failed to offset uncertainty regarding the strength of economic recovery amid a weak job environment.
The
Dow Jones Industrial Average
finished off session lows but still lost 26 points, or 0.3%, to 10,271. The
shed 6 points, or 0.6%, to 1097, though the
Nasdaq
improved by nearly 1 point, or 0.04%, at 2191.
After tech stocks turned into a winner on the otherwise downbeat day,
Cisco Systems
(CSCO)
said it earned 40 cents a share after the closing bell, beating profit forecasts by a nickel in the second quarter. Net sales also jumped 8% in the year-over period. Shares jumped 3% in extended-hours trading on particularly upbeat sentiments shared during the company's conference call.
>>Five Large-Cap Stocks Poised to Rally
Investors also heard earnings news from
Visa
(V)
late Wednesday, which said its profit picture improved to $1.02 a share during the first quarter from 78 cents a share in the year-ago period.
Earlier, nonmanufacturing activity, as measured by the
Institute for Supply Management's services index rose to 50.5 in January, marking the first time the service sector grew since October. January's level met market expectations for a reading of 51 and rose from December's level of 49.8.
"The January ISM Non-Manufacturing Index shows only a small gain to 50.5%, edging back into expansion territory, but by no means indicative of robust growth," said Stuart Hoffman, PNC chief economist. "The employment sub-index for the non-manufacturing report improved to a still-weak 44.6%, showing a slower rate of job loss. Ongoing losses in construction employment will remain a drag on the index, but other industries reported slack labor conditions as well," he said, pointing to hotels, restaurants, wholesale trade, as well as information and financial services.
Automatic Data Processing's employment report, which is monitored by traders for a hint of what to expect from the Labor Department's closely watched nonfarm payrolls report due on Friday, said the private sector lost 22,000 jobs in January. ADP also lessened the amount of reported jobs lost for December to 61,000. January's losses represent the lowest decline in private-sector job losses since February 2008 and were less than the projected 30,000 losses economists had been expecting. Economists expect a rise of 13,000 jobs in Friday's nonfarm payrolls report.
"A lot of this data of late that seems to suggest that the future is bright is somewhat unsustainable," said Aaron Kennon, CEO of Clear Harbor Asset Management, pointing to recent strength stemming from inventory rebuilding. Kennon sees the lack of job creation as very troubling for the market.
"Considering that the underemployment rate is well over 17% -- we're far from seeing positive economic outcomes in the future," he said.
Earnings, which have taken a backseat to uncertainty
about Washington politics, failed to lift stocks.
Pfizer
(PFE)
was the Dow's biggest drag after it missed analysts' estimates by a penny and issued disappointing guidance. The stock shed 44 cents, or 2.3%, to $18.62 and was seeing heavy volume on the
New York Stock Exchange
, after
Citigroup
(C)
and
Bank of America
(BAC)
. Listed volume on the NYSE stood at nearly 4.3 billion.
Cable operator
Comcast
(CMCSA)
posted higher earnings and sales for the fourth quarter. Shares lost 32 cents, or 2%, to $15.97.
Time Warner
(TWX)
swung to a profit in the fourth quarter and surpassed analysts' estimates with adjusted earnings of 55 cents a share. The stock shed 2.1%, to $27.90.
Shares of
Walgreen
(WAG)
lost 5.9% after the company reported a 1.1% decline in January same-store sales, while rival
Rite Aid
(RAD)
said comparable sales fell 2.1%.
After the close, fast food operator
Yum! Brands
(YUM)
beat fourth quarter forecasts, saying better overseas sales lifted earnings to an adjusted 50 cents a share.
In other news,
Home Diagnostics
( HDIX) will be acquired by Japan's
Nipro
for $215 million. Shares of Home Diagnostics soared 89.3%, adding $5.40, to close at $11.45.
Shares of
Toyota
(TM)
continued to get battered as U.S. safety regulators begin their investigation of the company's gas pedal problems. The stock plunged after Transportation Secretary Ray LaHood said Toyota owners should stop driving recalled cars and take them to a dealer for repairs, though he later called that a misstatement. Shares fell by 6% to finish at $73.49.
Crude oil for March delivery traded 25 cents lower
to settle at $76.98 a barrel after the Energy Information Administration reported an increase of 2.3 million barrels in crude oil inventories for the week ended Jan. 29. The build was less than the 4.7 million-barrel increase reported by the American Petroleum Institute late Tuesday but dashed analysts expectations for a drawdown of 1 million barrels.
According to the EIA report, gasoline inventories fell by 1.3 million barrels and distillates supplies also declined, by 1 million barrels. Analysts polled by Platts had been expecting gasoline stocks to add 1.5 million barrels and distillates to shed 1.2 million barrels.
The U.S. dollar strengthened against a basket of currencies, with the dollar index higher by over 0.5%; the most actively traded April
gold contract shed $6 to settle at $1,112 an ounce.
The benchmark 10-year Treasury note weakened 17/32, strengthening the yield to 3.703%.
Overseas, Hong Kong's Hang Seng was up 2.2%, and Japan's Nikkei was ahead by 0.3%. The FTSE in London was lower by 0.6%, and the DAX in Frankfurt was down by 0.7%.
-- Written by Sung Moss and Melinda Peer in New York
.