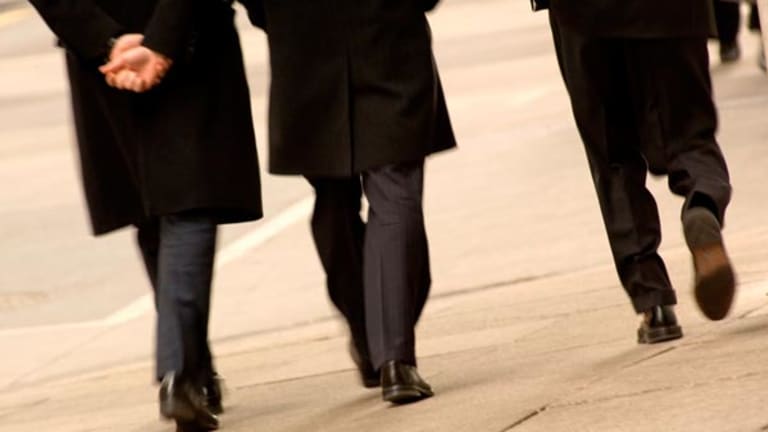 Dow Dives 268 Points, Flops Around 10,000
Stocks sell off sharply after initial jobless claims unexpectedly rose in January and over concerns a global debt crisis is brewing.
NEW YORK (
) -- Stocks nosedived and closed near their lows Thursday, pressured by global debt fears and labor market uncertainty ahead of Friday's government
.
The
Dow Jones Industrial Average
plunged 268 points, or 2.6%, to 10,002. The
S&P 500
lost 34 points, or 3.1%, to 1063 and the
Nasdaq
stumbled by 65 points, or 3%, at 2125.
The blue-chip average experienced its biggest one-day point drop since last April and hit an intraday low just under 10,000 a few seconds before the close.
Fears about how struggling Portugal, Spain and several Eastern European countries will cover deficits weighed on global markets, lifting the U.S. dollar, which strengthened against a basket of currencies. The dollar index rose 0.6%.
>>Five Mid-Cap Stocks Ready to Break Out
Prices on commodities and related stocks nose-dived as a stronger greenback on sovereign debt fears diminished the appeal of dollar-priced assets to foreign buyers.
The most actively traded April
contract shed $49 to settle at $1,063 an ounce.
Crude oil for March delivery settled at $73.14 a barrel, plunging $3.84 a day after EIA inventory data surprised with both a build of 2.3 million barrels in crude oil when a million-barrel decline was expected and a steeper-than-expected drop in gasoline stocks, which shed 1.3 million barrels.
The March natural gas contract shed a fraction of a penny to $5.42 per million British thermal units after the Energy Information Administration reported a storage withdrawal of 115 billion cubic feet for the week ended Jan. 29. Analysts polled by Platts had been expecting a withdrawal in the range of 121 billion to 125 billion cubic feet.
Prices on U.S. Treasuries lifted across the maturity spectrum as investors sought safety from riskier assets. The short-dated two-year note strengthened 5/32, weakening yields to 0.804%, and the benchmark 10-year note gained 27/32, lowering the yield to 3.602%. The 30-year bond rose 1 16/32, diluting the yield to 4.544%.
Earlier, the Labor Department said
initial jobless claims rose by 8,000 to 480,000 in the final week of January. The market, which views the report with added interest because it comes a day before the government's nonfarm payrolls report for January, had expected initial claims to drop to 454,000, according to consensus estimates.
Bearish sentiment rose 6.4 percentage points to a three-month high of 43.1%, as measured by a weekly sentiment survey from the American Association of Individual Investors.
Key issues of concern cited by survey respondents included: the pace of the economic recovery, unemployment, the threat of long-term inflation and government policies -- no tightening actions by China or sovereign debt problems in Europe, the survey noted.
Charles Rotblut, vice president and AAII journal editor said global concerns largely register as background noise to individual investors.
"Being that it's Portugal and Greece and not really countries that register in people's minds as centers of the global financial universe, it's still a little abstract for individual investors. People are just really focused on what's going on the U.S. --mainly, the pace of recovery and jobs," Rotblut said. "I think a lot of this current bearish sentiment is stemming from what happened in the second half of January with that minicorrection. Even with the rebound earlier this week, it wasn't enough to bring stocks up to where they were at the beginning of the year."
In other economic news, the Labor Department also said U.S. nonfarm productivity in the fourth quarter rose at a swifter-than-expected pace of 6.2%. Economists had been anticipating 6% growth, after 7.2% expansion in the previous quarter. Unit labor costs, meanwhile, fell 4.4% in the fourth quarter. The figure, which is watched as a measure of inflation and profit margins, was expected to decline only 2.5%.
Factory orders grew 1% in December, according to the Census Bureau, surpassing expectations for a mild 0.6% uptick.
"Global concerns and job fears are overshadowing same-store sales," said Kenny Landgraf, president and founder of Kenjol Capital Management. "Retailers managed to get their numbers up but the debt scare out of Europe and fears ahead of tomorrow's nonfarm payrolls report, are giving people reasons to err on the conservative side."
Shares of
Cisco
(CSCO) - Get Cisco Systems Inc. Report
were seeing heavy volume on the Nasdaq and were the Dow's only positive performer after posting strong results late Wednesday and upping its sales-growth guidance for the fiscal third quarter ending in April. The stock finished higher by 9 cents, or 0.4%, to $23.16.
Bank of America
(BAC) - Get Bank of America Corporation Report
was the Dow's weakest performer and saw swift volume on the
New York Stock Exchange
, which had a listed volume of nearly 5.9 billion.
Bank of America settled a regulatory complaint with the Securities and Exchange Commission Thursday. But New York Attorney General Andrew Cuomo filed fraud charges against the bank. Cuomo alleges that former CEO Ken Lewis and former Chief Financial Officer Joe Price led shareholders astray regarding the bank's merger with Merrill Lynch.
Cigna
(CI) - Get Cigna Corporation Report
swung to a profit in the fourth quarter and surpassed analysts' estimates as it reaffirmed its 2010 earnings guidance. Shares, however, went lower by $1.24, or 3.6%, to $33.52.
Shares of
MasterCard
(MA) - Get Mastercard Incorporated Report
were getting battered, down by $25.47, or 10.3%, at $222.11, after the company missed expectations. Rival
Visa
, meanwhile, posted fourth-quarter results that were better than expected. The shares fell 47 cents, at $83.05.
Europe's second-largest oil company,
Royal Dutch Shell
(RDS.A)
, said fourth-quarter adjusted earnings fell to $2.8 billion from $3.9 billion a year ago and described its outlook for 2010 as "uncertain." The stock slumped 4.1%, to $54.42.
Investors continued to punish
Toyota
(TM) - Get Toyota Motor Corporation Report
, down 2.3%, as the car manufacturer revealed that its recent wave of recalls because of gas pedal issues will cost $2 billion.
After the closing bell,
Sunoco
(SUN) - Get Sunoco LP representing limited partner interests Report
reported a loss excluding items at 27 cents a share, a penny worse than estimates. Like it's brethren, the oil refiner cited weak demand for products and continued to expect the market to remain challenging.
--Written by Melinda Peer and Sung Moss in New York
.