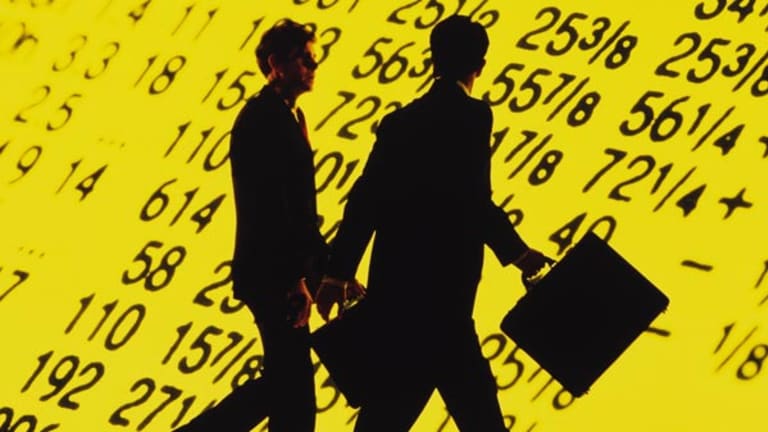 Dow Closes Up 122 as Greece Fears Ebb
Stocks held robust gains throughout Thursday's session amid lower initial weekly jobless claims and confidence in an imminent Greece bailout plan. Gregg Greenberg has The Real Story.
NEW YORK (
) -- The Dow advanced 22 points Thursday as stocks refused to give up solid gains made on declining initial jobless claims, strong earnings results and a better outlook on the eurozone's ability to contain Greece's debt crisis.
The
Dow Jones Industrial Average
gained 122 points, or 1.1%, to 11,167. The
S&P 500
added 15 points, or 1.3%, to 1207, and the
Nasdaq
rose by 40 points, or 1.6%, to 2512.
Michael Pento, senior market strategist at Delta Global Advisors, attributed the session's strength to the ongoing yo-yo between optimism and pessimism regarding Greece's rescue plan.
"Today's prevailing feeling is that Greece's bailout is coming, so you're seeing an unwinding of safe haven plays with the dollar down and gold lower. Rather than selling the U.S. equity market, people are buying U.S. equities."
"It's my personal opinion that any bailout will be temporary because of contagion pressures," Pento added. "There's still a lot of systemic risk."
Greece contagion fears abated Thursday as that nation pledged to move forward on strict austerity measures, bringing it steps closer to finalization of a financial rescue plan.
Overseas, Hong Kong's Hang Seng lost 0.8%. Japan's markets were closed. The FTSE in London gained 0.6% and the DAX in Frankfurt rose 1%.
The
oil spill caused by an explosion on the offshore rig operated by
Transocean
(RIG) - Get Transocean Ltd. Report
and owned by
BP
(BP) - Get BP Plc Report
was 15 miles off the coast of Louisiana. Officials believe it could reach the shoreline in parts of the Mississippi River delta as early as Friday evening. Shares of Transocean and BP fell by 7.5% and 8.3%, respectively.
>>The Economy
>>Company News
>>Commodities and the Dollar
>>Treasuries
The Economy
Initial weekly jobless claims fell by 11,000 to 448,000 from 459,000 a week ago. The level met economists' expectations for claims of 445,000.
The Energy Information Administration said natural gas storage levels rose by 83 billion cubic feet in the week ended April 23, which was much higher than analysts' forecasts for an injection in the range of 72 billion to 76 billion cubic feet, according to Platts.
President Obama
nominated San Francisco Federal Reserve Bank President Janet Yellen as vice chairwoman of the central bank, replacing Donald Kohn, who plans to retire in June. The president also nominated Sarah Raskin, a Maryland commissioner of financial regulation, and Peter Diamond, a Michigan Institute of Technology economist, to board positions. The nominations all require confirmation by the Senate.
Late Wednesday, Democrats gained enough votes from Republicans after three previous attempts to allow debate to begin on financial reform legislation.
>>Overview
>>Company News
>>Commodities and the Dollar
>>Treasuries
Company News
Procter & Gamble
(PG) - Get Procter & Gamble Company Report
surpassed analysts' expectations with an adjusted profit of 89 cents a share and said it expects year-end earnings to grow 4% to 6% from a year ago. Shares, however, lost 1.5%, making it the Dow's biggest decliner, followed by
Exxon Mobil
(XOM) - Get Exxon Mobil Corporation Report
. The oil company missed analysts' estimates for a profit of $1.41 a share despite a 38% earnings increase. Exxon's stock shed 0.8%, to $68.66.
Hewlett-Packard's
stock also dragged on the Dow, losing 0.8% to close at $52.88. H-P agreed to acquire ailing handset maker
Palm
( PALM) for $1.2 billion. Palm shares, meanwhile, jumped 26% to $5.84.
American Express
(AXP) - Get American Express Company Report
,
Bank of America
(BAC) - Get Bank of America Corp Report
and
DuPont
(DD) - Get DuPont de Nemours, Inc. Report
were the Dow's best performers.
Dendreon
(DNDN)
shares finished nearly 27% higher at $50.18 after being halted following news that it won approval from the U.S. Food and Drug Administration for its prostate cancer vaccine, Provenge.
Motorola
( MOT) swung to a profit in the first quarter, beating expectations and lifting shares by 3.5% to $7.16.
First-quarter earnings at
Burger King
(BKC)
slipped 13%, but the company managed to top Wall Street estimates by a penny. Burger King also said sales fell by 1% to $596.9 million and same-store sales dropped 3.7%. Its stock rose 3.5%, to $21.42.
Unilever
(UL) - Get Unilever Plc Report
reported a 31% increase in first-quarter earnings and sales growth of 6.7%. Shares gained 4% to $30.44.
ArcelorMittal
(MT) - Get ArcelorMittal SA Report
said improved output and shipments helped it swing to a profit of $679 million in the first quarter. The stock shed 81 cents, or 2%, to $40.14.
>>Overview
>>The Economy
>>Commodities and the Dollar
>>Treasuries
Commodities and the Dollar
The June natural gas contract lost 37 cents, or 8.5%, to settle at $3.98 per million British thermal units after government data showed a higher-than-expected increase in natural gas storage levels. Crude oil for June delivery, meanwhile, gained $1.95, or 2.3%, to settle at $85.17 a barrel.
Elsewhere in commodity markets, the June
gold contract lost $3 to settle at $1,168.80 an ounce.
The
dollar was trading lower against a basket of currencies with the
dollar index down by 0.4%.
>>Overview
>>The Economy
>>Company News
>>Treasuries
Treasuries
The benchmark 10-year Treasury rose 8/32, lowering the yield to 3.738%.
The two-year note increased 1/32, dropping the yield to 1.012%. The 30-year bond strengthened 16/32, diluting the yield to 4.601%.
--Written by Melinda Peer in New York
.
>>Overview
>>The Economy
>>Company News
>>Commodities and the Dollar