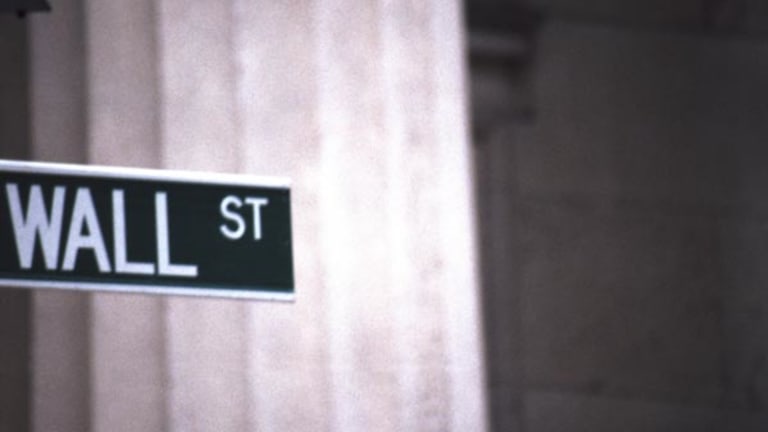 Dow Closes Higher, Nasdaq Ends Flat
Solid economic data and retail sales help lift blue-chips.
Updated from 4:06 p.m. EDT
Solid retail sales and positive economic data helped blue-chips end the session higher Thursday, but tech stocks hovered around the flatline all day and closed essentially unchanged.
The
Dow Jones Industrial Average
finished with a gain of 65 points, or 0.7%, at 9126. The
Nasdaq
fell less than a point to 1652, and the
S&P 500
rose 7 points, or 0.7%, to 974.
"To put things into perspective, just in recent weeks have we been seeing signs of a positive economic environment in the second half," said John Davidson, president and chief executive of PartnerRe Asset Management.
Almost 1.4 billion shares traded at the
New York Stock Exchange
, where advancers were ahead of decliners by a 2-to-1 margin. At the Nasdaq, 1.6 billion shares changed hands, while gainers and losers were basically even.
Davidson added that "even though the economic numbers today should've been very positive for the market, it's hard to expect a run-up as strong as what we had in the second quarter. Investors will need to see the actual signs of economic recovery being confirmed."
Charles Ryan, equities analyst at BB&T Asset Management, said: "Lots of people are on vacation, it's a slow sloppy market, and unfortunately this will be the trend for the rest of week, maybe even for the rest of the month. Things will only get a little more exciting in September, with everyone back in the office and some real news going on."
Market watchers were satisfied with July same-store sales for the largest U.S. retailers.
Wal-Mart
(WMT) - Get Walmart Inc. Report
said its sales rose above expectations in July with the help of warm-weather goods. Wal-Mart also raised its earnings outlook for the second quarter. Shares gained $1.34, or 2.4%, to $57.08.
Best Buy
(BBY) - Get Best Buy Co. Inc. Report
also gave investors some good news. The electronics chain raised its profit outlook for the fiscal second quarter, lifting its shares $5.56, or 13.7%, to $46.24.
Sales also grew more than analysts expected at
J.C. Penney
(JCP) - Get J. C. Penney Company, Inc. Report
,
Target
(TGT) - Get Target Corporation Report
and
Kohl's
(KSS) - Get Kohl's Corporation Report
, while
Sears
(S) - Get SentinelOne Inc. Class A Report
and
Federated
undefined
reported a decline in sales, although their results were also better than Wall Street had forecast.
Analysts were keying on some well-known tech stocks. J.P. Morgan reiterated its underweight rating on
Intel
(INTC) - Get Intel Corporation Report
, citing worries about the stock's valuation and a possible tax adjustment that could reduce past earnings. Intel lost 15 cents, or 0.6%, to $23.99.
Shares of
Hewlett-Packard
shed 66 cents, or 3.3%, to $19.23 after Goldman Sachs reduced its estimates for the company's third quarter, citing concerns about sales and pricing.
Elsewhere, Bear Stearns upgraded data-storage maker
EMC
(EMC)
to outperform from peer perform after the company said it will be profitable in 2003. Wachovia analysts upgraded EMC to outperform from market perform, pointing to improving IT spending conditions. Shares climbed 31 cents, or 2.9%, to $11.16.
The banking sector was also in the spotlight Thursday, following a published report that at least 10 large U.S. banks, including
Bank of America
(BAC) - Get Bank of America Corporation Report
, sheltered more than $17 billion in investment funds to avoid paying state taxes.
The Wall Street Journal
reported that the banks say the funds were legitimate methods for raising capital. Bank of America shares finished unchanged at $80.61.
From the economic front, a preliminary report showed U.S. productivity rose 5.7% in the second quarter, from a revised 2.1% gain the previous period. The figure was above economists' expectations of a 4% advance, indicating U.S. companies were able to improve output while keeping costs down.
Meanwhile, weekly initial jobless claims fell to 390,000 in the week ended Aug. 2 from a revised 393,000, the lowest level in six months. This was the third-straight week below the critical 400,000 level and the fourth consecutive week of declines. Economists had expected the number to rise to 395,000.
"That's the one area where we need to continue seeing growth. The biggest complaint we've had is that it's been a jobless recovery," said Ryan of BB&T.
Wholesale inventories were unchanged in June, after a revised 0.4% drop the previous month, in line with economists' projections. Consumer credit fell by $400 million in June, following a revised $8.1 billion rise the prior month. Economists had expected the figure to increase by $6 billion.
Treasuries were higher, with the yield on the 10-year note falling to 4.23% after the government sold $18 billion in 10-year notes Thursday. More than $40 billion of government debt had already been sold this week, bringing the total to $60 billion.
Overseas markets were micrf. London's FTSE 100 was up 0.7% at 4096, and Germany's Xetra DAX was down 1.3% to 3332. In Asia, Japan's Nikkei closed 0.6% lower at 9266, while Hong Kong's Hang Seng fell 0.3% to 9958.
On Wednesday, the Dow closed up 25 points, or 0.3%, at 9061, while the Nasdaq fell 20 points, or 1.3%, to 1652. The S&P 500 advanced almost 2 points, or 0.2%, to 967.