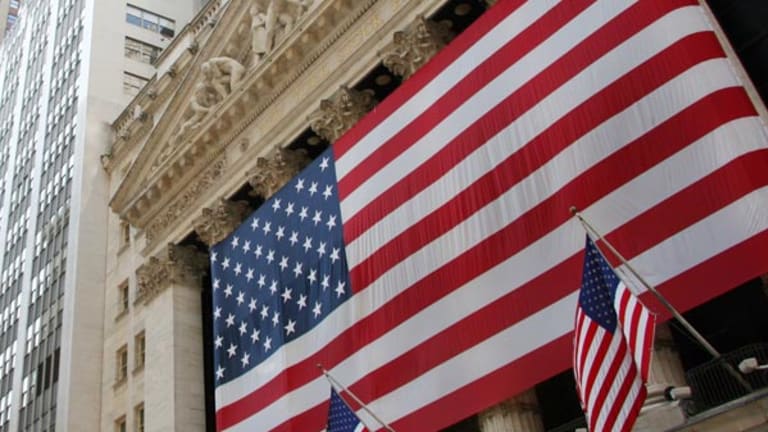 Publish date:
Dow Closes Above 11,000 for First Time Since the Fall of '08
Stocks edged higher Monday as Greece got a boost and China had a trade deficit. But Alcoa's quarter was so-so.
Stocks edged higher Monday as Greece got a boost and China had a trade deficit. But Alcoa's quarter was so-so.
NEW YORK (
) -- The
Dow closed above 11,000 for the first time since September 2008 as details on eurozone Greece aid and expectations for a strong earnings season lifted market confidence.
The
Dow Jones Industrial Average
gained 9 points to close 0.08% higher at 11,006. The S&P 500 added 2 points, or 0.2%, to finish at 1197, and the
Nasdaq
advanced by 4 points, or 0.2%, to close at 2458.
After the closing bell,
Alcoa
(AA) - Get Report
reported first-quarter earnings that met analysts' estimates for 10 cents a share, which excludes one-time items. Sales of $4.9 billion rose roughly 18% from a year-ago but missed analysts' estimates for sales of $5.2 billion. The aluminum company blamed weaker-than-expected sales on weak demand, which offset stronger aluminum prices. Shares closed the trading session 1.3% higher at $14.57 but were losing 0.7% in after-hours trading.
Helping lift shares early in the day's session was weekend news that
eurozone ministers pledged 30 billion euros in backstop aid to help Greece. A report also says the International Monetary Fund is prepared to help with another 10 billion euros.
"I guess we came in with somewhat of an upward bias on the resolution of this Greek debacle," said Jack Ablin, chief investment officer at Harris Private Bank. "But besides that, it looks like we're trading higher on anticipation of better than-expected profits this quarter."
Ablin, however, didn't have high expectations for Alcoa.
"Their stock has done pretty poorly," he said, noting that shares are trading lower since the beginning of the year. "I think, unfortunately, we're going to start off on the wrong foot with Alcoa."
China reported its
first monthly trade deficit in nearly 6 years in March, landing at a reported $7.24 billion.
Overseas, Hong Kong's Hang Seng lost 0.3%, and Japan's Nikkei rose 0.4%. The FTSE in London went ahead by 0.1%, while the DAX in Frankfurt added 0.02%.
>>TheEconomy
>>Companies News
>>Commodities and the Dollar
>>Treasuries
The Economy
Late Monday, the U.S. Treasury said it intends to sell warrants from banks such as
Wells Fargo
(WFC) - Get Report
,
PNC Financial
(PNC) - Get Report
and
Comerica
(CMA) - Get Report
that it acquired as part of the bank bailout plan, enacted to stabilize financial markets during the economic crisis. The warrant auctions will take place over the next six weeks.
Earlier, the U.S. government reported a deficit of $65.4 billion in its March federal budget report, which was narrower than the deficit of $67.5 billion that economists had been expecting and down from a year ago, when it reached $191.6 billion.
Company News
Shares of
Caterpillar
(CAT) - Get Report
and
General Electric
(GE) - Get Report
were also leading advancers on the blue-chip average, while shares of
Walt Disney
(DIS) - Get Report
,
DuPont
(DD) - Get Report
and
Travelers
(TRV) - Get Report
were declining the most.
Ahead of its earnings announcement next month, Swiss bank
UBS
(UBS) - Get Report
said it expects a
first quarter pretax profit of about $2.35 billion,
Bloomberg News
reported.
Mirant
( MIR) and
RRI Energy
(RRI)
will
merge in a deal valued at $1.61 billion. Shares closed 18.2% and 14.7% higher, respectively.
According to a
Wall Street Journal
report,
American International Group's
(AIG) - Get Report
financial products unit
has unwound a chunk of credit default swaps with
Goldman Sachs
(GS) - Get Report
insuring a mortgage asset pool of about $3 billion. The report says AIG took a loss between $1.5 billion to $2 billion last year, but is no longer exposed to steeper losses. Shares of AIG gained $3.08, or 8.1%, to close at $41.22.
Palm
( PALM), which saw shares soar on buyout rumors last week, is
putting itself up for sale with the help of Goldman Sachs and
Qatalyst Partners
,
Bloomberg
reported. Palm surged 17.1%, to $6.04.
Similarly, a
Reuters
report says
California Pizza Kitchen
( CPKI) is
mulling its own sale, which helped lift shares by 1.6%, to close at $21.07.
MasterCard
(MA) - Get Report
said chief operating officer Ajay Banga will become the credit card firm's next CEO in July. He will succeed current chief Robert Selander, who's held the top spot since March 1997.
Private equity firm Cerberus Capital Management has reached an agreement to buy
DynCorp
(DCP) - Get Report
, a security contractor, in a total deal valued at $1.5 billion, according to a release. DynCorp shares soared 48.2%, or $5.66, to $17.41.
It is believed
Microsoft
(MSFT) - Get Report
will
unveil two, new color-splashed mobile phones later today, skewed towards younger consumers focused on social networking. The phones, christened Turtle and Pure, are part of a development venture code-named Project Pink.
Commodities and the Dollar
The May crude
oil contract shed 58 cents, or 0/7%, to settle at $84.34 a barrel. The June
gold contract, meanwhile, lost 30 cents, or 0.03%, to settle at $1,162.20 an ounce.
The dollar was trading lower against a basket of currencies, with the dollar index down by 0.4%.
Treasuries
The benchmark 10-year Treasury improved 11/32, diluting the yield to 3.840%.
The two-year note added 2/32, pushing the yield down at 1.036%. The 30-year bond gained 21/32, diluting the yield to 4.697%.
--Written by Sung Moss and Melinda Peer in New York
.