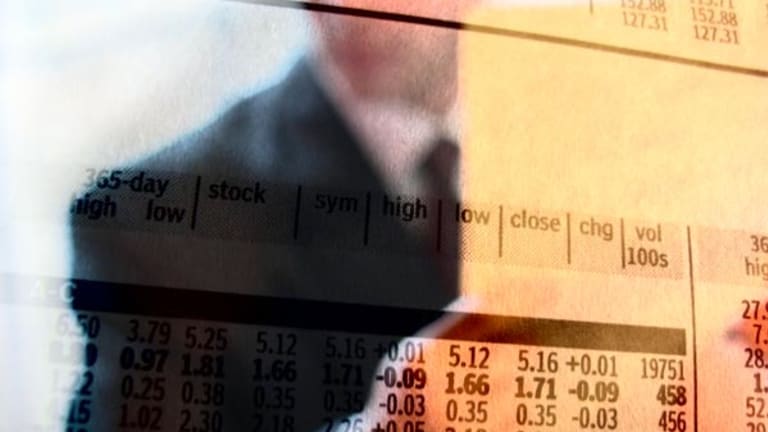 Dow Closes Above 11,000
GM's gain leads the index to its highest level since June 2001.
Updated from 4:09 p.m. EST
The
Dow Jones Industrial Average
closed above 11,000 for the first time in four and a half years Monday, as a 7.8% jump in shares of
General Motors
(GM) - Get General Motors Company Report
helped extend a five-session rally.
The Dow ended at 11,011.90, up 52.59 points, or 0.48%, bringing its 2006 gain to about 3%. GM, which was the average's biggest loser by far in 2005, rose $1.62 to $22.42 after Goldman Sachs upgraded the stock to neutral and said the automaker doesn't face an imminent bankruptcy filing.
The Dow closed at its highest level since June 7, 2001.
The
S&P 500
gained 4.70 points, or 0.37%, to 1290.15, while the
Nasdaq Composite
rose 13.07 points, or 0.57%, to 2318.69.
"It's starting to seem like the markets have found a path of least resistance to the upside," said Art Hogan, chief market analyst with Jefferies. "General Motors was the big mover today and it's nice to say again that GM led the Dow higher, since we haven't seen that in a while."
Other Dow gainers included
Hewlett-Packard
, up 1.3%;
McDonald's
(MCD) - Get McDonald's Corporation Report
, up 1.9%;
J.P. Morgan
(JPM) - Get JPMorgan Chase & Co. Report
, up 1.6%; and
American Express
(AXP) - Get American Express Company Report
, up 2.5%.
IBM
(IBM) - Get International Business Machines Corporation Report
fell 1.4% after J.P. Morgan downgraded the stock, citing risks to its hardware and service businesses.
"It looks like everyone got back into the game today," said James Park, managing director with Rodman & Renshaw. "With the beginning of the new year we've had a lot of upbeat buying. We're seeing a lot of groups acting well in general rather than action being stock-specific."
The advance-decline line was solidly positive. About 1.66 billion shares traded on the
New York Stock Exchange
, with advancers beating decliners by a 2-to-1 margin. Trading volume on the Nasdaq was 1.99 billion shares, with advancers outpacing decliners 3 to 2.
The 10-year Treasury was flat in price to yield 4.38%, and is just 3 basis points above the two-year yield, while the dollar fell against the yen and rose against the euro.
February crude, which jumped more than 5% last week as hedge funds put fresh money to work in commodity markets, finished down 71 cents to $63.50 a barrel. Natural gas fell 27 cents to $9.36 per million British thermal units, its lowest close since July.
To view Kara Wetzel's video take on today's market, click here
.
In addition to IBM, J.P. Morgan downgraded
Amazon.com
(AMZN) - Get Amazon.com, Inc. Report
to underweight from neutral, saying the company's U.S. growth rate could trail the broader e-commerce market. Amazon dropped 79 cents, or 1.7%, to $47.08.
Two potential corporate transactions were making news in the health sector on Monday. According to
The Wall Street Journal
,
Tyco
(TYC)
is studying a plan to spin off its health care and electronics units in an effort to simplify its sprawling conglomerate structure. The stripped-down surviving company would focus on security and fire-detection equipment, pumps and valves. Tyco climbed $1.06, or 3.5%, to $31.04.
Boston Scientific
(BSX) - Get Boston Scientific Corporation Report
, meanwhile, has added some detail to its $25 billion takeover offer for medical device company
Guidant
(GDT)
. Under a definitive offer outlined last night, Boston Scientific said it has a deal to divest some of Guidant's coronary stent businesses to
Abbot Labs
(ABT) - Get Abbott Laboratories Report
if its $72-a-share cash and stock offer goes through.
Johnson & Johnson
(JNJ) - Get Johnson & Johnson Report
still has a $21.5 billion, or $64-a-share offer for Guidant on the table.
Boston Scientific was off 36 cents, or 1.4%, to close at $25.88, while Guidant was higher by $1.65, or 2.5%, to $69. J&J gained 39 cents, or 0.6%, to $62.99.
By sector, the Amex Oil index rose 0.5%, the Philadelphia Semiconductor Sector index added 0.9% and the Amex Airline index was off 0.3%.
"Seemingly the only things that didn't make a new high on Friday were financial stocks," said Ken Tower, chief market strategist with CyberTrader. "Since this is the S&P's largest sector by market capitalization, it is a bit worrisome. The other breakout failure was in industrial stocks, which are falling fast in relative-strength terms."
Texas Instruments
(TXN) - Get Texas Instruments Incorporated Report
will sell its Sensors & Controls business to affiliates of private investment firm Bain Capital LLC for $3 billion. The sale is expected to be completed in the first half of 2006. TI lost 29 cents, or 0.8%, to $34.16.
Prudential Equity Group upgraded
Merrill Lynch
(MER)
to overweight from neutral weight, on the basis of increasing capital markets activity and growth prospects. The firm raised its stock price target to $80 from $64. Merrill Lynch tacked on $1, or 1.5%, to $69.70.
Meanwhile,
Cisco
(CSCO) - Get Cisco Systems, Inc. Report
was higher by 1.6% after Prudential raised its rating to overweight from neutral. The firm cited high hopes for the company's second-half performance. Prudential raised its stock price target for Cisco to $24 from $21 and raised its third-quarter earnings estimate to 29 cents a share from 27 cents a share. Cisco added 29 cents to $19.06.
After the bell Monday, Dow component
Alcoa
(AA) - Get Alcoa Corporation Report
will kick off the earnings season when it reports fourth-quarter results.
"The good jobs report bought the bulls a reprieve, and now it is up to earnings to carry the torch," said Marc Pado, market strategist with Cantor Fitzgerald. "We're still heading right into the seasonally weak February and March months in a bearish midterm election year with rates rising and oil prices rallying. Januaries tend to start strong, but it is how they finish that matters."
Overseas markets are higher, with London's FTSE 100 unchanged at 5731and Germany's Xetra DAX flat at 5537. In Asia, Japan's Nikkei was unchanged at 16,428, while Hong Kong's Hang Seng gained 1.3% overnight to 15,547.