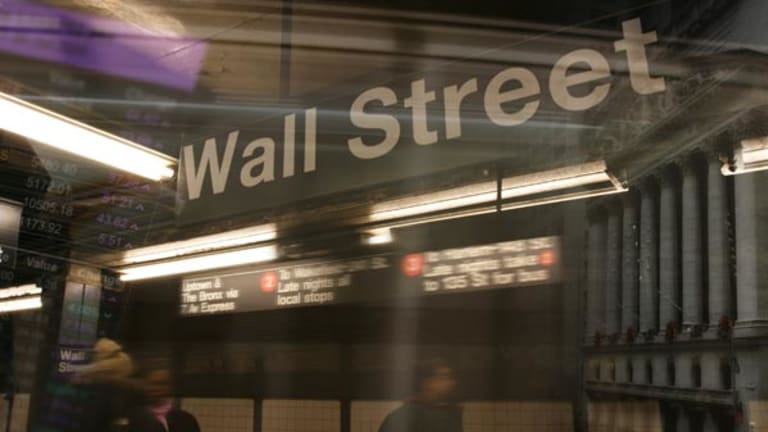 Dow Battles Back From Rout
Blue chips end broadly higher while the Nasdaq inches up.
Updated from 4:11 p.m. EST
Stocks closed broadly higher Wednesday, with the
Dow
recouping about a third of the previous session's rout, thanks to a series of benign economic developments and a fall in oil.
The Dow Jones Industrial Average rose 62.59 points, or 0.59%, to 10,673.79, while the
S&P 500
gained 6.58 points, or 0.56%, to 1190.80. The
Nasdaq Composite
managed a smaller gain, rising 0.93 point, or 0.05%, to 2031.25, weighed down by a 2% decline in
Intel
(INTC) - Get Intel Corporation Report
. All the major indices finished off their session highs.
Advancers beat decliners by a roughly 2-to-1 margin on the
New York Stock Exchange
. Volume was heavy for a second consecutive day, with 1.50 billion shares changing hands on the NYSE. Volume on the Nasdaq was 1.88 billion, with advancers and decliners even with each other.
The 10-year Treasury note settled up 5/32 in price to yield 4.27%, while the dollar firmed against the yen and euro. The April crude oil futures contract ended a volatile session down 25 cents to close at $51.17 a barrel.
Stocks tanked Tuesday, with the Dow shedding 174 points and the Nasdaq losing 28, as the dollar was hammered and oil spiked.
Dollar bulls got a break Wednesday morning when monetary officials in both Japan and South Korea told wire services they had no immediate plans to sell U.S. assets to diversify their foreign reserve portfolios. A report Tuesday that Korea was planning to add Canadian and Australian assets led to a rout in the greenback and contributed to the stock market declines.
On the economic front, the Labor Department said that the consumer price index rose 0.1% in January, lower than the expected 0.2% rise. The core CPI, which excludes food and energy, rose 0.2%, in line with expectations.
"The fear of inflation was overdone yesterday," said Ken Tower, chief market strategist with CyberTrader. "Greenspan raised the point a week and a half ago that long-term interest rates were unreasonably low. The bond market has sold off since then, and rates have risen on the long side of the curve. It's still an open question as to how much inflationary impact is in the economy today."
Minutes from the
Fed's
last FOMC meeting were released Wednesday afternoon. The FOMC saw core inflation remaining low and stable with interest rates still low and accommodative. Earlier this month, the central bank raised interest rates a quarter percentage point for the sixth time since late June, taking the federal funds rate to 2.5%.
"The Fed officials mentioned that looking ahead, rate increases will be data dependent," said Michael Sheldon, chief market strategist with Spencer Clarke LLC. "They will continue to pay attention to labor costs, productivity levels, and the falling dollar to see if inflation is starting to root and will rise. They also did state that the trade deficit adds some uncertainty to the outlook for the economy. Overall, I think the comments were fairly balanced, but don't tell us anything tremendously new."
Intel dropped 45 cents to $23.31 after the research unit at Standard & Poor's cut its sales growth estimate for semiconductors. The loss -- Intel's second in two days -- had the Philadelphia Semiconductor Sector index down 0.2%.
In earnings news, home furnishings giant
Lowe's
(LOW) - Get Lowe's Companies Inc. Report
said its fourth-quarter profit surged 24% from a year ago to $508 million, or 64 cents a share, wiping out the consensus Wall Street estimate of 59 cents a share. But the company guided lower, saying it expects first-quarter earnings of 74 cents to 77 cents a share, compared with a consensus estimate of 79 cents a share. Shares added 37 cents, or 0.6%, to $57.90.
Luxury homebuilder
Toll Brothers
(TOL) - Get Toll Brothers Inc. Report
said first-quarter earnings more than doubled to $110 million, or $1.33 a share, beating the Wall Street estimate by 18 cents. Revenue rose 67% to $999.1 million. Shares gained $3.21, or 4%, to $84.25.
Ciena
(CIEN) - Get Ciena Corporation Report
said its first-quarter loss narrowed to $57 million, or 10 cents a share, from $76.7 million, or 16 cents a share, last year. Excluding items, the network-equipment company lost 5 cents a share, matching estimates. For the second quarter, the company expects revenue of $99.5 million to $101.4 million. Analysts were predicting revenue of $91 million. Ciena dropped 35 cents, or 12.7%, to $2.40.
Martha Stewart Living
(MSO)
recorded a fourth-quarter net loss of $7.3 million, or 15 cents a share, compared with a profit of $2.4 million, or 5 cents a share, last year. The Thomson First Call consensus estimate called for a loss of 17 cents a share. Revenue fell 15% from last year to $60.2 million, mainly because of lower advertising revenue. Shares added $2.92, or 8.5%, to end at $37.40, a 52-week high.
Merger news continued apace Wednesday with prescription administrator
Medco
(MHS)
saying it will buy
Accredo
(ACDO)
for $2.2 billion in cash and stock. Accredo holders will receive a package worth $44.33 a share, 43% above its Tuesday close. Accredo soared $11.87, or 39.3%, to finish at $42.11. Medco dipped 29 cents, or 0.7%, to $43.14.
A report in
The Wall Street Journal
says
Yellow Roadway
(YELL) - Get Yellow Corporation Report
is in talks to acquire fellow trucking firm
USF
(USFC)
for more than $1 billion. Yellow shares have come close to doubling over the last 12 months following the former Yellow Corp.'s merger with Roadway Corp. Yellow finished up $2.60, or 4.7%, to $57.95, while USF jumped $4.37, or 13.1%, to $37.73.
AT&T
said Wednesday that it has entered into a three-year customer support contract worth $69 million with
DirecTV
(DTV)
that will allow DirecTV to roll out new Internet technologies for its customer service call centers and enterprise networks. DirecTV added 6 cents, or 0.4%, to $15.16. AT&T gained 45 cents, or 2.4%, to $19.32.
Goodyear Tire
(GT) - Get The Goodyear Tire & Rubber Company Report
estimated fourth-quarter earnings of 55 cents to 65 cents a share on sales of $4.8 billion, which would be a company record. Goodyear attributed the expected profit to higher prices and the sale of more expensive tires, which offset higher-than-expected costs for raw materials. Shares rose 88 cents, or 6.7%, to $14.00.
CarMax
also upped its fourth-quarter sales and earnings guidance, citing an increase in sales financed by its subprime lender, Drive. The company expects same-store sales to rise 11% or 12%, up from its previous range of 7% to 9%. CarMax also expects earnings of 26 cents to 27 cents a share in the quarter, up from its previous guidance of 23 cents to 25 cents a share. Shares finished up $1.94, or 6.3%, to $32.84.
In analyst action, Soleil Securities upgraded
Oracle
(ORCL) - Get Oracle Corporation Report
to hold from sell on the basis of valuation. Oracle added 29 cents, or 2.3%, to $12.95.
Procter & Gamble
(PG) - Get Procter & Gamble Company (The) Report
helped blue chips after being upgraded by UBS to buy from because of increased optimism about the company's planned acquisition of
Gillette
(G) - Get Genpact Limited Report
. P&G gained $1.24, or 2.4%, to $53.49. Gillette rose $1.02, or 2.1%, to $50.75.
Brokerage Smith Barney upgraded shares of
Mediacom Communications
(MCCC)
to buy from neutral, citing a stabilizing number of basic subscribers and the potential upside of the company's telephony. Mediacom finished up 12 cents, or 2.3%, to $5.42.
Overseas markets were uniformly lower with London's FTSE 100 ending down 0.9% to 4988 and Germany's Xetra DAX losing 0.3% to 4310. In Asia, Japan's Nikkei fell 0.8% overnight to 11,500, while Hong Kong's Hang Seng slid 1% to 13,958.