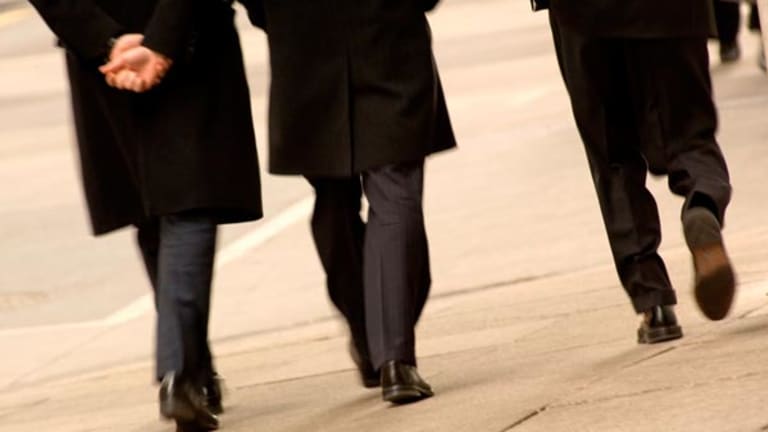 Double Barrel Rally for Stocks
An interest rate-friendly jobs report and a favorable court ruling for Big Tobacco fuel gains.
An interest rate-friendly jobs report and a favorable court ruling for Big Tobacco fuel gains.
Updated from 4:03 p.m. EST
Stocks closed sharply higher for the day and the week Friday, after a government report showed that the economy created fewer jobs than expected in January, which eased concerns about the
Federal Reserve's
approach to raising interest rates. A rally in tobacco shares, led by
Dow
component
Altria
(MO) - Get Report
gave the market an additional boost.
The Dow Jones Industrial Average added 123.03 points, or 1.1%, to 10,716.13; the
S&P 500
rose 13.14 points, or 1.1%, to 1203.03, while the
Nasdaq
gained 29.02 points, or 1.4%, to 2086.66. The major indices posted their best single-session point gains since Dec. 1.
"There were a lot of favorable things today," said Larry Wachtel, senior market analyst with Wachovia Securities. "The interesting part is the Goldilocks scenario today, with everything rallying at the end with no fear of the Fed. The economy is growing, but not a breakneck pace. There was a favorable ruling for the tobacco stocks today. There's funds flowing in with mutual fund buying. The semiconductors were upgraded. All those things entered the fray today. The cup now looks half full."
All the major indices easily registered their second straight up week and have now erased a good part of their early losses in 2005. For the week, the Dow added about 2.8%, the S&P 500 gained 2.7%, and the Nasdaq rose 2.5%. The Dow has gained ground in five of the eight sessions since hitting a 2005 low of 10,368.81 on Jan. 24 and is now just 67 points below its 2004 closing level.
Volume on the
New York Stock Exchange
was 1.65 billion shares, somewhat light compared with recent standards, with advancers beating decliners by a ratio of 3 to 1. Volume on the Nasdaq reached 1.93 billion shares, with advancers beating decliners 2 to 1.
In other markets, the 10-year Treasury note rallied after the jobs data, adding 22/32 in price to yield 4.08%. The benchmark note last closed below that level in mid-December. The dollar turned lower against the yen and the euro. Oil prices closed slightly lower, with March crude down 3 cents to $46.43 a barrel.
Nonfarm payrolls rose by 146,000, rather than the 200,000 consensus estimate. The jobless rate, however, fell to 5.2% from 5.4% in December. The report is the first major economic update since the Fed boosted official interest rates by a quarter-point on Wednesday, its sixth consecutive tightening.
The weakness in the labor market raised new questions about the economy's overall strength, following weaker-than-expected GDP data for the fourth quarter, but tempered recent concerns about the central bank becoming more aggressive in raising interest rates.
"First people didn't like the numbers, but now they've changed their mind," said Edgar Peters, chief investment officer with Pan Agora. "The real turnaround today wasn't the jobs information but an awareness that the fundamentals have all been good, which the market has been ignoring."
At a London conference, Federal Reserve Chairman Alan Greenspan said that market pressures were stabilizing and that the weak dollar would decrease the U.S. current-account deficit. Greenspan said there is growing support to cut the federal budget deficit, which would reduce pressure on the U.S. to attract investment from abroad.
"I have argued elsewhere that the U.S. current account deficit cannot widen forever but that, fortunately, the increased flexibility of the American economy will likely facilitate any adjustment without significant consequences to aggregate economic activity," said Greenspan. "That argument will be tested, I suspect, by possibly new twists and turns that will emerge in a seemingly ever-more complex international economic and financial structure."
In another report, the University of Michigan's final reading on consumer sentiment in January came in at 95.5 vs. 95.8 earlier in the month. Economists had expected the index to reach 96.2.
Tobacco shares helped the spike in the Dow after an appeals court in Washington reportedly said U.S. law doesn't support a huge profit surrender in the government's $280 billion racketeering case. Altria rose $3.26, or 5.1%, to $67,
Loews
(LTR)
gained $1.80, or 2.6%, to $70.80, and
British American
(BTI) - Get Report
added 75 cents, or 2.1%, to $36.15.
Time Warner
(TWX)
reported a 76% increase in earnings. Fourth-quarter profit was $1.13 billion, or 24 cents a share, including a gain of 4 cents a share. Analysts had been forecasting earnings of 16 cents a share before the gain. Revenue rose 2% to $11.1 billion. Time Warner earned $639 million, or 9 cents a share, a year ago. Shares dipped 12 cents, or 0.7%, to $18.04.
Search engine
Ask Jeeves
(ASKJ)
reported fourth-quarter earnings of $17.1 million, or 25 cents a share, compared with $7.6 million, or 13 cents a share, a year ago. Excluding items, the company earned 35 cents a share, beating estimates, though revenue of $86.1 million was slightly soft.
Ask Jeeves forecast 2005 earnings of $1.30 to $1.45 a share, bookending the analyst consensus, but the shares fell as investors continued to be wary of the competitive threat posed by
Google
(GOOG) - Get Report
and
Yahoo!
(YHOO)
. At Thursday's close of $26.94, the stock trades at 18.5 times the high end of 2005 guidance. Shares of Ask Jeeves dropped $1.55, or 5.7%, to $25.39.
Hard-drive maker
Maxtor
(MXO)
swung to a fourth-quarter loss of $70.2 million, or 28 cents a share, from a profit of $39.2 million, or 15 cents a share, in the year-ago quarter. Analysts were expecting a much narrower loss of 15 cents a share in the period. Fourth-quarter revenue of $1.03 billion was above analysts' expectations of $990 million, but lower than the $1.17 billion Maxtor reported a year ago. Shares gained 65 cents, or 13.3%, to $5.54.
Online retailer
Shopping.com
(SHOP) - Get Report
dropped after the company reported a fourth-quarter loss of 9 cents a share. The decline resulted from an IPO-related dividend. Revenue for the quarter was $33.6 million. The Thomson First Call consensus was 27 cents a share on revenue of $33.6 million. Shares of Shopping.com slid $4.26, or 18.4%, to $18.94.
Shares of mortgage lender
Countrywide
(CFC)
were upgraded to buy from hold at Deutsche Bank, which argued that quarter-to-quarter earnings volatility has led to too much selling in the stock. The brokerage raised its price target to $43, implying almost 30% of upside from the current price of $35.72. Shares were higher by $1.21, or 3.4%, to $36.93.
Prudential Equity cut its rating for
Gillette
(G) - Get Report
to underweight, saying that upside in the stock is now limited by the pending merger with
Procter & Gamble
(PG) - Get Report
. Gillette last week agreed to be aquired by P&G in a $57 billion deal. Gillette fell 65 cents, or 1.3%, to $49.75, while P&G lost 62 cents, or 1.2%, to $52.62.
Meanwhile, Prudential Equity upgraded
Texas Instruments
(TXN) - Get Report
to overweight from neutral, and also raised its semiconductor sector rating to favorable from unfavorable. The broker said improving margins, revenue growth and lower inventories helped fundamentals. Shares of Texas Instruments rose $1.67, or 7.2%, to $24.80.
The Philadelphia semiconductor index, which dropped 1.3% Thursday, gained 4.4%, with all 20 components finishing higher for the session.
OfficeMax
(OMX)
rose 3% after UBS initiated coverage with a buy rating. The broker feels there is an opportunity for the company to close the gap with rivals
Staples
(SPLS)
and
Office Depot
(ODP) - Get Report
. OfficeMax finished up 91 cents to $30.95.
Overseas markets closed mixed, with London's FTSE 100 finishing up 0.7% to 4941 and Germany's Xetra DAX adding 1.3% to 4339. In Asia, Japan's Nikkei fell 0.2% overnight to 11,389, while Hong Kong's Hang Seng lost 0.3% to 13,515.