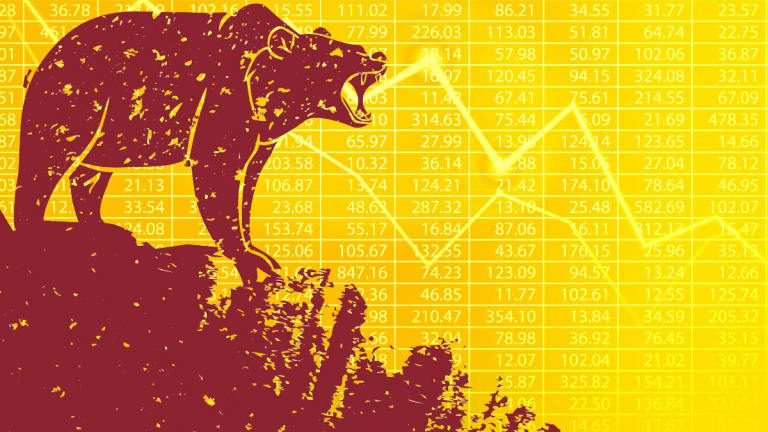 Don't Make These Mistakes When Stocks Sell Off
Losing hurts. Behavioral economists offer tips about what not to do as the markets tumble.
Losses, according to behavioral economists, are felt twice as intensely as gains. And that means recent losses in your portfolio -- assuming you have losses -- probably have you doubled over in pain.
The major indexes posted their worst day of the year on Monday as China hit back at President Donald Trump's move to accelerate tariffs on China-made goods by allowing the yuan to slip to the lowest levels against the dollar in more than a decade.
The Dow Jones Industrial Average, which was off more than 950 points during the day, finished down 767 points, or 2.9%, to 25,717. The S&P 500 fell 2.98%, and the Nasdaq dropped 3.47%.
So, what might you do to alleviate the pain? Here's what behavioral economists had to say.
Don't Panic; Sit Tight
No one can, of course, predict the future, and there is some chance that the panic will be self-fulfilling, leading to a recession, or worse, said George Loewenstein, an economics and psychology professor at Carnegie Mellon University. "However, the standard advice is probably the right advice, now: The worst possible time to panic-sell is when everyone else is panicking."
In the past two crashes, Loewenstein said, you could have lost about half your wealth by selling at the bottom when everyone was panicking. "Although there is never any assurance that the future will be like the past, if you have a 10-year window, historically the best thing to do is to sit tight," he said.
Others share that point of view. "Sit on your hands," said David Laibson, an economics professor at Harvard University. "Even the experts can't time the market. We're not better at this than the experts."
So, what you might you do if you're inclined to do something? "All that investors should do is find a self-directed -- for example, not 'managed' -- low-cost, index-based, target-date fund and hold it to and through retirement," said Laibson. "If you already have one, keep contributing as much as you can while you are working and don't change course when markets are volatile. When you retire, take the annual required minimum distribution each year."
Think Long Term
Other experts also think you should focus less on the here and now. "Stick with a long-term perspective," said Victor Ricciardi, a finance professor at Goucher College and co-editor of Financial Behavior: Players, Services, Products, and Markets.
Markets will -- as many are well aware right now -- decline at times. What to do? Reframe the declines as a buying opportunity at lower prices. This is known, Ricciardi said, as dollar cost averaging in which, investors buy investments (mutual funds, ETFs and the like) at a fixed amount each month within a 401(k) plan. "During declining markets this results in more shares at lower prices," he said. "In essence, this approach removes the emotional aspects of investing for retirement."
Tune Out
Ricciardi also recommends tuning out the negative news and noise of the financial markets. "Bad news has an influence on our current investment state of mind," he said. "The research reveals that negative financial information places us in a bad mood; this causes our risk tolerance to decline and reduces our appetite for riskier assets such as stocks."
Ask Yourself Some Questions
Meir Statman, a finance professor at Santa Clara University and author of Finance for Normal People, recommends asking yourself the following questions:
Is anyone bleeding or is it only a fender bender?
Has the value of your portfolio declined so much that your retirement income is in peril? Or is it only that your ego is dented?
If you arrange your portfolio in layers of a pyramid by priority, you have at least two layers, "not being poor" at the bottom, and "being rich" above it. Did the stock market decline destroy your being rich layer? Did it do serious damage to your not being poor layer?
Understand the Risk Associated With Being Too Safe
According to Statman, keeping your stock allocation as it is is no guarantee of riches in retirement, not even guarantee of not being poor. "But unless you're are very rich already, keeping all your money in a money market fund is a sure way to being poor," he said.
Think Total, Not Just Financial, Capital
Older people commonly do not count the equity in their home as part of the portfolio pyramid, hoping to leave it to the children, said Statman. "But if you're not being poor layer is seriously damaged, can you draw from that equity?" he asked.
Put Things in Perspective
As Statman puts it, 2017 was a wonderful stock market year, and 2018 is lousy. "Does it make sense to place your reference point for gains and losses at the very peak of your portfolio?" he asked. "What are the average returns in 2017 and 2018? Is it not above what you can reasonably expect the stock market to yield?"
Statman also notes that you are poorer now than at the end of 2017. "But your social status is not necessarily lower," he said. The neighbors, colleagues, and brothers-in-law you compete with for social status are poorer too. So, your place in the social status rankings probably did not change."
For the Record
"Loss aversion" does not really refer to what's going on with investors and their portfolios today, said Statman. "It is about rejecting gambles such as a 50-50 chance for a $300 gain or $100 loss," he said. "This is about loss of potential retirement income for some, and loss of social status and self-esteem for others."
It's never too late - or too early - to plan and invest for the retirement you deserve. Get more information and a free trial subscription to TheStreet's Retirement Dailyto learn more about saving for and living in retirement. Got questions about money, retirement and/or investments? Email Robert.Powell@TheStreet.com.