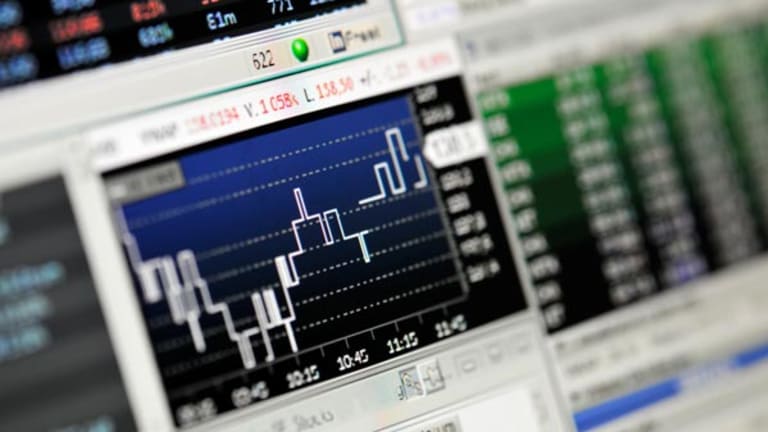 Don't Bet on Breakouts
Wait to buy until after a stock has broken through.
Why do we sometimes buy in anticipation of a breakout? Isn't that the low-percentage play?
After all, what defines a potential breakout is a level of resistance that has thus far proved formidable. Each time the bulls push the stock to this magical level, the upthrust is thwarted and the stock falls back. This level of resistance is the barrier through which the stock "breaks out."
The unspoken reason why many traders will buy before a stock breaks out is because, when it does, it proves them right and provides a sense of victory.
Instead, why not sacrifice the opportunity to appear smart and instead opt for the lower-risk wait-and-see trade?
When you really think about it, simply waiting for the breakout to occur does not substantially reduce your potential profit on the trade. After all, any stock is only attractive if we feel that the stock has a lot of room to run
after
it breaks out. So by purchasing before the breakout, you are incurring a great deal of risk simply to participate in the earliest part of the move.
A longtime
RealMoney
reader asks, "You liked SYKE before on a breakout above $15. It seems to keep hitting that resistance level but hasn't yet broken out. Is this a 'wait and see' thing?"
The trading channel for
Sykes Enterprises
(SYKE) - Get Free Report
is well defined: between $12.50 and $15. For more than six months, Sykes has been unable to move above resistance.
Yes, the stock looks poised to move higher, but a purchase at this level can only be protected by a stop clear down below $12.50. Why? Because even a decline to $12.50 would simply be a continuation of the six-month trading cycle. You wouldn't be wrong -- you'd be early.
I'd wait for the stock to break out of the current range. After a breakout, any move back inside congestion would be an indication that you are wrong in the trade, so stop placement is pretty simple.
The
iShares Nasdaq Biotechnology Index Fund
(IBB) - Get Free Report
has been on a steady climb for the past year after bottoming out at around $63. But this stair-stepping uptrend is now in trouble -- the bears are flirting with a lower low.
If the fund falls below the February low, the series of higher highs and higher lows will be broken. However, until that occurs, I'd be looking for a buying opportunity on any bounce.
Genentech
(DNA)
has almost formed a complete top. After bouncing off $80 several times over the past few quarters, the bears have Genentech on the ropes again.
Given the established demand at this level, I expect some buyers to start snapping up the stock pretty soon. However, it's too early to be a buyer now. Any further decline would put $70, and perhaps $60, in play. Wait for the stock to tell you when it's done going down.
After
Sears
(SHLD)
broke out a few weeks ago, I wrote that I'd be a buyer on pullbacks. The stock pulled back to $130 for a time, but it's now moving back up to test resistance at $140.
A purchase now would be risky because the stock could decline $10 before you'll even begin to learn whether the stock is truly falling back to the $120 trading range or simply testing demand at $130 again. Instead of buying now, wait for the bulls to lead the way.
Goldcorp
(GG)
is in a strong uptrend -- it has doubled since it broke out above $15 in June. An uptrend like this is just begging to suck you in, moving higher and higher as you wait on the sidelines in frustration for an opportunity to buy on a pullback.
Despite the undying urge to buy now, I'd wait for a pullback toward support to define my risk. At present, Goldcorp could fall more than $5 without doing anything it hasn't done before -- trend between resistance and support.
Be careful out there.
Fitzpatrick is a freelance writer and trading consultant who trades for his own account in Encinitas, Calif. He is a former co-manager of a hedge fund and teaches seminars on technical analysis, options trading and asset-protection strategies for traders and business owners. Fitzpatrick graduated from the McGeorge School of Law and was a fellow at the Pacific Legal Foundation, a nonprofit public interest firm specializing in constitutional law. He also practiced law in the private sector before pursuing trading as a full-time career. At the time of publication, Fitzpatrick held no position in any stocks mentioned, though positions may change at any time. Under no circumstances does the information in this column represent a recommendation to buy or sell stocks. While Fitzpatrick cannot provide investment advice or recommendations, he appreciates your feedback;
to send him an email.