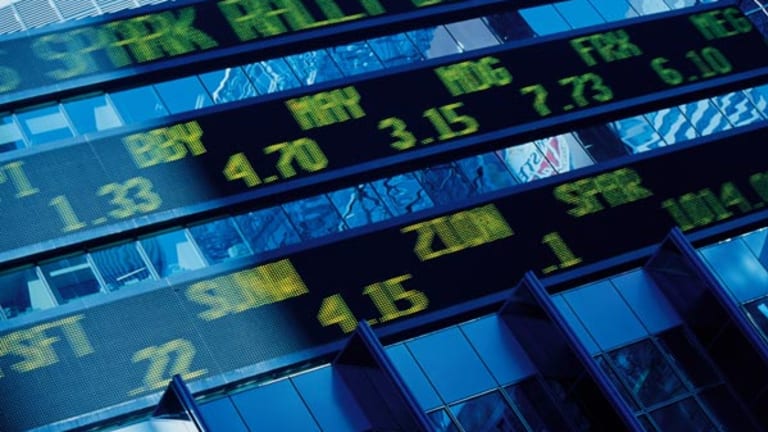 Don't Bet on a Rebound
Now's no time to take risks to regain ground.
When will this correction be over?
That's certainly a legitimate and important question. But at the moment, it's the wrong question. Instead, investors should be asking, what are the odds that what has so far been an almost classical correction could turn into something worse -- a prolonged downturn that puts an end to the long-term rally that stretches back to March 2003?
I don't think the rally is over yet. But there is no doubt that it is getting long in the tooth and that the world's central banks seem perversely determined to put the global economy -- and thus the rally -- at risk. The next four months or so are likely to be critical. By the fall, I think the data will show relatively clearly if the rally is intact or if central banks have managed to kill the goose of growth.
A correction is a downward move that interrupts a stock market rally to correct the speculative excesses that always build up as a rally progresses. The average bull market correction since 1970, according to Sam Stovall of Standard & Poor's, is 13%. After the correction, the rally resumes from a new and sounder foundation.
So far, we've clearly got part one.
Taking Away the Candy
Since this downturn began on May 10, the
Dow Jones Industrial Average
is down 7.3% as of the June 12 close, the
Standard & Poor's 500
is down more than 6.5%, and the
Nasdaq Composite
is down nearly 9.9%. That puts this market within striking distance of the typical definition of a correction as a 10%-to-15% drop in the major stock market averages.
I don't think investors have to look far to find the initial cause for this correction. As I've written about frequently recently (see my column "
Central Banks' Tight Fit," for example), the world's central banks first released a flood of money at extremely low interest rates that produced speculative excess in the price of assets from homes to copper. Traders used money borrowed at 1% to leverage their own capital and make massive bets in everything from the bonds of Iceland, New Zealand and Turkey to commodities such as copper, gold and houses from San Diego to Spain.
Now these same central banks have decided that it's time to take away the punchbowl by reducing the supply of money and raising the price that speculators have to pay for it. The move toward tighter and more expensive money is taking place simultaneously around the world. On June 9, for example, the central banks of South Korea, India, Denmark, South Africa and the euro currency union all raised interest rates.
Falling Metal
Realizing that money is becoming more expensive -- and will get even more expensive in coming months because the Bank of Japan, the European Central Bank and, quite probably, the U.S.
Federal Reserve
are likely to raise interest rates again -- speculators have unwound leveraged positions. That selling has whacked the speculative excess out of the hottest markets.
The hotter the market had been, the bigger the correction. Gold, for example, which had hit a May peak of $732 an ounce, prompting talk of gold at $1,000 an ounce, closed at $613 a ounce on June 9, a drop of 16%. Copper, an even hotter market, has shown even greater volatility. The July contract for copper closed at $3.27 on June 9. That's a drop of almost 9% in a week. The Indian stock market (using the Sensex Index of the Bombay Stock Exchange) had soared on inflows of global hot money, then fell 26% between May 9 and June 8.
This part of the correction, although painful, has been healthy. Too much money has been chasing the hot asset of the moment, producing huge and unsustainable short-term gains. In many cases, the correction merely took the price increases of this last speculative period out of the market. So, for example, from Feb. 1 to May 9, the Indian stock market climbed 26%, almost exactly equal to the fall from May 9 through June 8 in the recent correction.
No Place to Hide
This correction has been especially painful -- and scary -- because speculative excesses had built up in so many asset classes that the drop in prices left equity investors with no place to hide. If you had added gold, as I had, as a hedge against inflation and market volatility, you still took it in the neck along with everyone else because speculative money had flowed into, and was now flowing out, of gold. Same with copper miners, oil drillers and timber producers.
Stocks that in other kinds of markets could be counted on to move up when the market as a whole turned down, went down too as the central banks rattled their monetary swords.
In recent days, I've seen signs that this correction of speculative hot-money excesses is drawing to a close. I'm not saying that price declines are over -- just that prices are starting to react normally again to the flow of news. Speculative money flowing out of commodities doesn't overwhelm all other considerations. So, for example, on June 9, crude oil climbed $1.28 a barrel to $71.63 on worries about supply disruptions in Nigeria and the possibility that a tropical storm was brewing in the Caribbean Sea.
The market is shifting gears. Selling by speculative, leveraged investors of hot asset sectors is gradually giving way as the driving force of share-price declines. Taking its place is the worry that central banks will take the current round of interest rate hikes too far and tank economic growth in the second half of 2006.
Sacrificing Growth
Talk from the central bankers themselves is feeding into this fear. Federal Reserve officials, including Chairman Ben Bernanke, Vice Chairman Donald Kohn and various and sundry Federal Reserve presidents and governors have all weighed in recently on the dangers of inflation and the need to prevent expectations of future inflation from gaining a foothold.
Sure, these Fed officials have said, growth is slowing. And sure, as Kohn acknowledged under Senate questioning, the data on inflation and growth look backward and measure where we were and not where we are now. But the Fed seems willing to sacrifice growth on the altar of inflation prevention.
The Federal Reserve isn't alone in this rhetoric -- and it is by no means the bank most willing, in its rhetoric at least, to sacrifice growth to inflation prevention. That honor goes to European Central Bank President Jean-Claude Trichet, who raised interest rates by 0.25 percentage points on June 8 to 2.75% and lowered the bank's forecast for economic growth in the euro zone to 1.8% in 2007 from a prior forecast of 2%. (The bank is calling for growth of 2.1% in 2006.)
Bond Traders See Slowdown
The bond market isn't helping either. If bond investors feared inflation, they'd be demanding higher current yields -- and lower current bond prices -- to offset the decline in the future value of their bonds. But instead, bond prices are climbing and yields are falling -- exactly what happens when bond investors think the economy is likely to slow in the future.
Even the optimists at the White House, who have a vested interest in convincing everyone that the economy is going great guns -- at least until the election is over -- have joined the trend. While White House economists are predicting higher growth -- 3.6% -- for 2006 than private-sector economists, even they are forecasting a slowdown in growth to 3.3% in 2007.
Lower growth in the second half of the year poses a real danger to stock prices. If inflation is climbing and interest rates are inching up, stocks need higher earnings just to keep even. Often, higher inflation and higher interest rates cut the multiples that investors are willing to pay for earnings growth. So, for example, a stock with $3 a share in earnings and trading at $60 a share (for a price-to-earnings ratio of 20) would need to grow earnings to $3.15 to stay at $60 a share if the multiple investors are willing to pay falls from 20 to 19.
Will the Fed Overshoot?
Stocks were facing a projected earnings challenge in the second half of 2006, even without further Federal Reserve action. At the beginning of June, Standard & Poor's projected that second-quarter earnings for the S&P 500 would climb just 7.2% in the second quarter, down from 14% growth in the first quarter.
What worries me is that every additional quarter-point interest rate increase from the Federal Reserve raises the odds that they will overshoot and squeeze growth in their concentration on fighting inflation.
Bernanke and company clearly believe that they've got the economic leeway to act and that inflation is enough of a danger that they may need to act. But given the lags in the economy, the backward-looking nature of most data on growth and inflation, and true distortions in the inflation numbers introduced over the last decade, I doubt that these central bankers or any other really know enough to succeed at the extreme fine-tuning that they're attempting.
So, what do you do as an investor?
I haven't moved over to the pessimist's camp, but I do believe that stock market risk increases with each interest rate increase. We won't know if the Federal Reserve has gone too far and slowed the economy too much until six months after any interest rate increase. And we're headed into the, seasonally, weakest part of the year for stocks anyway.
Caution Is a Good Tactic
So, this isn't the time to pile on the risk in an effort to recoup whatever you've lost since May 10. No blind doubling down to get even. No swinging for the fences.
Go back and re-read my list of long-term trends that you want to own, from my May 31 column "
Turn Short-Term Fear Into Long-Term Profit," and use the current volatility to work into your portfolio stocks with exposure to those trends. Add predictable growth stocks to take advantage of any worries about growth and any possible growth "famine" at the end of the year. Keep price-to-earnings ratios low to reduce risk.
And keep your hedges on against inflation and volatility (gold), against a weak dollar (European stocks, for example) and against a jump in oil prices (oil-service stocks). Right now, the stock market is worried about a growth slowdown. But I wouldn't be surprised to see a revival of inflation fears on a spike in oil prices.
New Developments on Past Columns
Bad for GM, Bad for America: Bad news from the latest J.D. Power & Associates new-car quality survey for
General Motors
(GM) - Get General Motors Company Report
-- as well as
Ford Motor
(F) - Get Ford Motor Company Report
and
DaimlerChrysler
(DCX)
.
GM's bread-and-butter Chevrolet nameplate came in at an average of 124 in the survey (where a lower score is better), trailing
Hyundai
(102),
Toyota
(TM) - Get Toyota Motor Corporation Report
(106),
Honda
(HMC) - Get Honda Motor Company Ltd. Report
(110), Acura (120) and
Nissan
(NIS)
(121). The company's Cadillac brand came in seventh at 117. But Buick dropped to a tie for 22nd (from fourth last year), and problems with the new Hummer 3 dropped the Hummer brand to a slot just fourth from the bottom.
Ford's Ford nameplate came in just below Chevy (at 127), DaimlerChrysler's Chrysler brand was just above average at 120, and Dodge was just below Ford at 132. (Ford's Land Rover was dead last.) Nothing here to change the big gap in quality that forces Detroit to offer bigger rebates to consumers than Japanese and Korean carmakers in order to maintain sales volumes.
At the time of publication, Jubak did not own or control any of the equities mentioned in this column. He does not own short positions in any stock mentioned in this column.
Jim Jubak is senior markets editor for MSN Money. He is a former senior financial editor at Worth magazine and editor of Venture magazine. Jubak was a Bagehot Business Journalism Fellow at Columbia University and has written two books: "The Worth Guide to Electronic Investing" and "In the Image of the Brain: Breaking the Barrier Between the Human Mind and Intelligent Machines." As an investor, he says he believes the conventional wisdom is always wrong -- but that he will nonetheless go with the herd if he believes there's a profit to be made. He lives in New York. While Jubak cannot provide personalized investment advice or recommendations, he appreciates your feedback;
to send him an email.