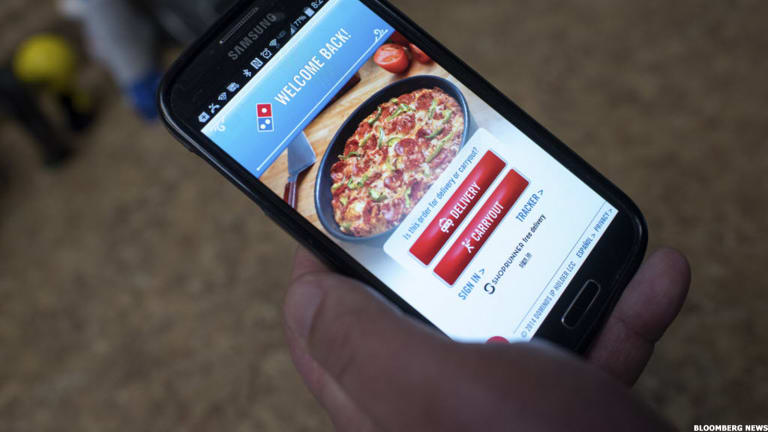 Domino's Pizza Group Launches Amazon Echo Ordering Service as U.K. Earnings Go Large
'Alexa, order me a large with sweetcorn and chicken.'
Domino's Pizza Group plc (DPUKY) said Tuesday that it will launch a voice-activated ordering service linked with Amazon Inc.'s  (AMZN) - Get Amazon.com, Inc. Report Echo device after the U.K.-based franchise of Domino's Pizza Inc. (DPZ) - Get Domino's Pizza, Inc. Report posted solid first half earnings and said it was accelerating its rollout of new stores.
Domino's said its underlying pretax profit for the six months ending on June 25 rose 9.1% to £44.6 million ($58.11 million) while group sales rose 10.5% to £546.5 million. The Group said online sales rose 11.5% from the same period last year and now comprise more than three-quarters of total group turnover. 
""The first half of 2017 has been another period of good progress for Domino's Pizza Group, despite a more uncertain UK economic environment," said CEO David Wild. "The core business delivered strong year-on-year system sales, continuing to take pizza market share, with good like-for-like performance."
The Group expects to open 90 new stores in the U.K. this year and will invest around £4 million in order to "improve value for customers and strengthen national promotions."
Wild also said the Group will launch its voice ordering option, which was first unveiled by Domino's Inc. in the United States last year.  
"DPG continues to lead the pizza market, with innovations such as the popular Lotta-Chocca pizza and our launch today of Amazon Echo voice ordering," Wild added. "Following a successful trial, we'll be rolling out GPS, which will enable customers to track their delivery and help franchisees with labour management."
Domino's Pizza Inc will also report earnings on Tuesday before the open, with analysts expecting $1.23 per share in earnings on $614.39 million in revenue for the most recent quarter.
"It's a technology company that sells pizza," said The Street's founder, Jim Cramer, adding that the "stay-home thesis" remains quite strong. The stock has run, but it's still got "very good" long-term trends and a fantastic asset-light business model, Cramer reasoned. If investors want to be long, they can buy half the stock now and the other half after earnings if DPZ stock pulls back, he concluded.
More of What's Trending on TheStreet:
Trump Just Resurrected the Ugly Practice Known as Civil Forfeiture for No Reason
60 Second Tips: Best Return on Your College Investment