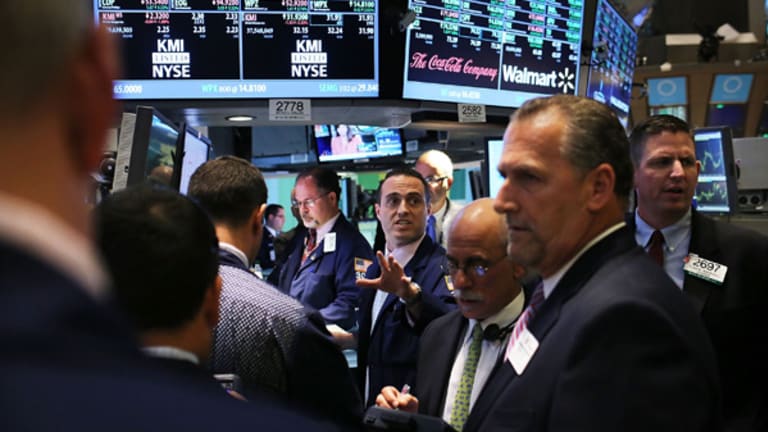 Dollar, Volatility Slam Stocks
The Dow sheds 178 points, and the Nasdaq ends down 1.6%. The S&P closes below 1000.
Updated from 4:08 p.m. EDT
Stocks closed with steep losses Friday after the FBI issued a warning about potential terrorist activity in Jewish neighborhoods, which along with a weakening dollar and options-related volatility kept buyers on the sidelines.
The
Dow Jones Industrial Average finished with a loss of 177.98 points, or 1.9%, to 9253.79. The
Nasdaq dropped 23.82 points, or 1.6%, to 1440.93, and the
S&P 500 slumped 17.16 points, or 1.7%, to 989.13.
Early weakness spread from the financial and energy segments to most areas of the market, despite a fairly bullish profit outlook from
Qualcomm
(QCOM) - Get Free Report
.
Worries about corporate America were giving the sellers the edge even before the latest terror warning. The FBI is telling local authorities to watch out for possible terrorist attacks against Jews, possibly using fuel tanker trucks both at home and abroad. No specifics were outlined, but the warning is being taken seriously.
Friday also marked the quarterly expiration of futures and options contracts known as triple-witching. Activity related to the expirations appeared to have extended some of the averages' losses late Thursday and was contributing to volatility in the current session.
Qualcomm said it expects third-quarter earnings to meet or beat expectations thanks to stronger-than-expected telephone chip shipments. The company's shares ended down 0.8% at $26.12.
The outlook buoyed the wireless sector for a while, even after Banc of America Securities lowered its investment rating on the group, including Qualcomm.
Ericsson
undefined
,
Sprint PCS
(PCS)
,
Motorola
(MOT)
and
Anaren Microwave
(ANEN)
were also downgraded.
Overall, the group ended the day lower, as the Dow Jones U.S. Wireless Communication Index fell 2.3%.
Elsewhere among technology stocks,
Dell
(DELL) - Get Free Report
was upgraded by Salomon Smith Barney on a valuation basis. Dell added 5 cents to $23.98.
Meanwhile,
IBM
(IBM) - Get Free Report
fell 4% to $68.75 after SoundView Technology cut its earnings estimates on the computer hardware company, saying it has yet to see any real signs of recovery in the IT industry, and that hardware will lag the broader market when a recovery does occur.
Amdocs
(DOX) - Get Free Report
, a maker of telecommunications software, was one of the day's biggest losers, falling 41% to $8.60. The company lowered its third-quarter guidance and said it will cut 8% to 10% of its workforce, citing a slowdown in capital spending among service providers. Amdocs also said Chief Financial Officer Dov Baharav will take over as president and CEO beginning July 1.
Merck
(MRK) - Get Free Report
, the nation's second-largest drugmaker, was under pressure after a report in
The Wall Street Journal
said the company and its Medco pharmacy benefits unit boosted revenue by billions of dollars in 2001 using an aggressive accounting method. Merck slid 4% to $49.98.
Another drug company,
AstraZeneca
(AZN) - Get Free Report
, said Thursday that the Food and Drug Administration issued a not approvable letter for the company's high-dose Casodex drug, a treatment for prostate cancer. AstraZeneca said the setback doesn't affect current use of the drug in a 50-milligram formulation and that it will work closely with the FDA to gain approval for the 150-milligram dose.
Offsetting that news was word an advisory panel to the Food and Drug Administration recommended that AstraZeneca's heartburn drug Prilosec be approved for sale over the counter. AstraZeneca ended the day up 1.6% to $40.35.
Energy trader
El Paso
(EP) - Get Free Report
set the price for its stock offering, which it said would raise $1.35 billion to pay off its short-term debt. The company will offer 45 million common shares at $19.95 each and 10 million convertible notes at $50 a share. The transaction is expected to close on Wednesday. El Paso rose 4% to $20.70.
On the earnings front, household products merchant
Bed Bath & Beyond
(BBBY) - Get Free Report
said quarterly earnings rose 54% on strong sales of its home goods and beat analysts' expectations by 2 cents. The company posted first-quarter net income of $46.3 million, or 15 cents a share, compared with $30 million, or 10 cents a share, a year earlier. The stock rose 5% to $36.26.
With equities sinking, U.S. Treasury issues were moving higher. Around 4 p.m. EDT, the 10-year note was up 5/32 at 100 26/32, yielding 4.77%.
Overseas markets were mixed. London's FTSE 100 gained 0.6% at 4605, but Germany's Xetra DAX was down 0.3% at 4232. Japan's Nikkei 225 fell 2.4% to 10,354, while the Hang Seng closed down 1.5% to 10,592.