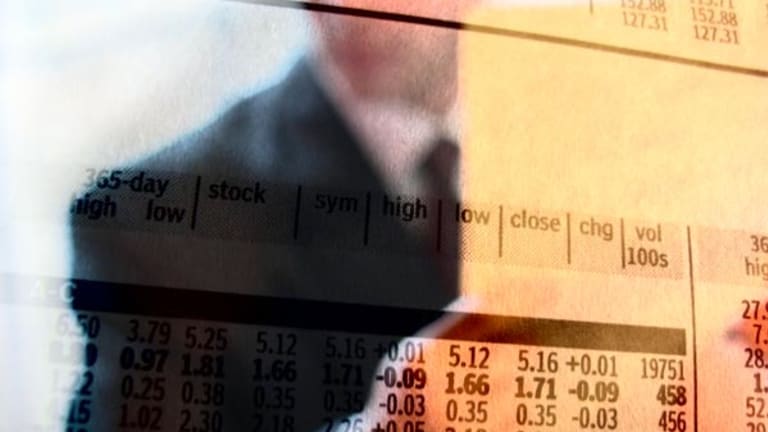 Dollar, Oil Worries Sink Stocks
The Dow ends down 1.1%, while the Nasdaq sheds 0.6%.
Updated from 4:07 p.m. EST
After posting solid gains on Monday, stocks slid Tuesday, thanks to an earnings warning from
McDonald's
(MCD) - Get McDonald's Corporation Report
, dollar weakness and civil unrest in Venezuela.
The
Dow Jones Industrial Average
ended off 92.01 points, or 1.1%, to 8535.39, while the
Nasdaq
dropped 8.29 points, or 0.6%, to 1392.04. The
S&P 500
fell 7.41 points, or 0.8%, to 902.99.
Tuesday's action added fuel to speculation that the Christmas rally may have come early, especially if retail sales continue to struggle. "The Santa Claus rally is so predictable and talked about that it's impossible not to play in front of it. We've had eight up weeks followed by two down weeks," said Art Hogan, chief market strategist at Jefferies. "We're in a tight trading range and as far as major, we may not get that pop. If we close the year 100 up or 100 down from where we are, we're in good shape heading into January."
The dollar gave up as much as 1.1% to $1.0312 to the euro in London, hitting its lowest level against the European currency since Jan. 12, 2000. Traders attributed the decline to fresh war worries after U.S. Secretary of State Colin Powell said the U.S. remained skeptical about Iraq's weapons declarations. Gold continued to fall, but the dollar gained some strength after White House spokesman Ari Fleischer stressed that the U.S. government was sticking to its strong dollar policy.
"It makes sense when you think about the endeavors this government has going on," said Hogan. "I'm not surprised that people shying away from our currency, with things going on like the major military operation in Iraq. War plays out in higher gold and currency prices. It's not good for the long term, but not completely disastrous either. It gives our multinationals a competitive edge."
Meanwhile crude oil prices spiked almost 6% to $30.10 a barrel before easing just below $30 as a general strike against Venezuelan president Hugo Chavez went into a third week. The unrest has led to a near two-thirds reduction in the company's oil output. Venezuela is the world's fifth-largest exporter of petroleum.
In economic news, the Labor Department issued its November report on consumer prices. The data showed a 0.1% price increase, slightly below the consensus of a 0.2% rise, compared with a 0.3% gain in October. Excluding the volatile food and energy sectors, prices climbed 0.2% in the period. Separately, a government report on the housing market showed the number of new homes started rose to 2.4% to an annualized rate of 1.697 million in November from 1.657 million in October. That was ahead of economists' consensus estimate of 1.68 million.
Industrial production data showed marginal economic improvement during the month of November, with production up 0.1%, lower than the 0.2% consensus. That said, October's production number was revised to a 0.6% decline from the previously expected 0.8% decline. As a result, capacity utilization came in at 75.6%, slightly higher than expectations, which suggests that the summer lull in manufacturing isn't the sign of a larger trend.
Dow component
General Electric
(GE) - Get General Electric Company Report
Tuesday night reaffirmed its 2002 and 2003 earnings forecast. The company said volume is stabilizing in its business lines while prices are firming, although it still hasn't seen a "spark" that could lead it to raise guidance. At analyst meeting on Monday, chief executive Jeff Immelt characterized the current business environment as "challenging." G.E. fell 1.6% to $26 on the news.
Fast-food giant
McDonald's
(MCD) - Get McDonald's Corporation Report
, also a Dow member, warned that it would not meet its financial targets for the fourth quarter and that same-store sales are tracking below plan. The move marks the company's eighth warning in the last nine quarters, with its shares off 40% from its 52-week-high. Tuesday was no different. McDonald's fell another 7.9% to $16.
On the research front, Merrill Lynch said sales trends in the first two weeks of December have reaffirmed its belief that the U.S. is in the midst of a poor Christmas selling season, maybe the worst in 10 years. The
S&P Retail Index
slid 2.4%.
The latest example?
Target
(TGT) - Get Target Corporation Report
, which reported after the close Monday that its sales for last week and for the month to date were coming in "well below plan." Target had forecast that its same-store sales, which track revenue from stores open more than one year, would grow by 3% to 5%. Shares dropped 6.4% at $29.76.
Best Buy
(BBY) - Get Best Buy Co., Inc. Report
, the nation's No.1 consumer electronics seller, reported a modest rise in third-quarter earnings, beating the Street by a penny, as the company executed successful cost-cutting measures and offered attractive holiday sales on its DVD players and televisions. Total revenue for the quarter spiked 16% to $5.5 billion, but same-store sales fell 0.3%, short of estimates. Best Buy slid 5.3% to $24.05.
Meanwhile, rival
Circuit City
(CC) - Get Chemours Co. Report
posted a loss, citing weaker sales of its digital satellite systems and cellular phones. The company still managed to top analysts' lowered expectations by 4 cents. Total revenue for the quarter climbed 7%, while sales at stores open at least a year rose 6%. Circuit City dropped 10.9% to $7.30.
Home furnishing chain
Pier 1 Imports
(PIR) - Get n.a. Report
reported a 24% rise in third-quarter earnings, topping analysts' upwardly revised estimates by a penny, as it managed to control costs amid steady consumer demand. The company posted net income of $31.1 million, or 33 cents a share, up from $25 million, or 26 cents a share, in the year-ago period. Wall Street analysts were expecting the company to earn 32 cents a share. Total sales rose 13.2% to $438.5 million, while sales at stores open at least a year climbed 4.6%. Looking forward, Pier 1 is projecting December same-store sales to grow 2% to 4%. Pier 1 fell 6.4% to $19.35.
Disappointing retail results have roiled manufacturers as well.
Nike
(NKE) - Get NIKE, Inc. Class B Report
dropped 3.5% to $42.70 after
Foot Locker
(Z) - Get Zillow Group, Inc. Class C Report
announced that it will reduce its planned Nike purchases by $300 million to $400 million, twice what was previously announced. Foot Locker fell 3.2% to $12.12.
Interstate Bakeries
(IBC)
was a big loser on Tuesday, falling 35.5% to $14.94, after the company missed analyst estimates by 15 cents a share. Interstate, which makes Twinkies and other Hostess products, said earnings were lower due to lower sales, rising ingredient costs and the impact of a bakery closing.
Johnson & Johnson
(JNJ) - Get Johnson & Johnson Report
dropped 1.7% to $54.63 after J.P. Morgan told investors that increasing competition in the company's pharmaceutical business and a thin pipeline will offset growth in coated stents. J.P. Morgan reiterated its neutral rating on the stock, with a price target between $55 and $60.
Despite some positive news for individual semiconductor names, most companies were lower, with the Philly Chipmakers ending down 1.5%.
Before Tuesday's open, J.P. Morgan release a report saying that
Xilinx's
(XLNX) - Get Xilinx, Inc. Report
March quarter appears better-than-expected, with its business recovering quicker than other OEMs like
Cisco
(CSCO) - Get Cisco Systems, Inc. Report
,
EMC
(EMC)
,
Ericcson
(ERICY)
and
IBM
(IBM) - Get International Business Machines Corporation Report
.
As a result, Xilinx gained 0.9% to $22.05 and EMC added 2.5% to $6.56. Cisco fell 0.5% to $13.63, Ericcson fell 6.7% to $8.09, while IBM dropped 1.6% to $80.31.
Nvidia
(NVDA) - Get NVIDIA Corporation Report
slid 0.1% to $14 along with the rest of the chipmakers, despite the fact its CEO said that graphic chip demand among consumers should rebound in 2003, thanks to new graphics hardware and software programs.
Wireless communications operator
Nextel
(NXTL)
stood by its guidance for 2002 despite a challenging business environment. The company said it remains comfortable with its operating cash flow target of at least $3.1 billion and no more than $1.9 billion in capital spending. The company sees 1.9 million net additional subscribers this year. Nextel rose 3.2% to $13.23.
Videogame makers were attracting a lot of attention on Tuesday. Leading the charge was
Take-Two Interactive
(TTWO) - Get Take-Two Interactive Software, Inc. Report
, maker of the controversial shoot-'em up Grand Theft Auto, which announced fourth-quarter earnings that beat Wall Street consensus by six cents a share. Additionally, the company raised revenue and earnings estimates for both the first quarter and fiscal 2003. After rallying for most of the day, Take-Two ended down 1.1% to $24.60.
Yesterday,
Electronic Arts
(ERTS)
shipped the multiplayer version of the mega-popular game called The Sims Online and shares rose 2.3% as a result. But overnight, rumors began swirling that the new game has glitches and that sales have slowed. On Tuesday morning, in an interview with
Bloomberg
, the company denied the rumors and the stock gained 2.8% to $59.72.
On Monday, the Dow gained 193.83 points, or 2.3%, to 8627.54. The Nasdaq rose 37.99 points, or 2.8%, to 1400.41 and the S&P 500 added 20.94 points, or 2.4% to 910.42
Overseas markets were mixed. London's FTSE 100 slid 1.9% to 3909, while Germany's Xetra DAX dropped 2% to 3140. Building on Monday's stateside rally, Japan's Nikkei gained 0.7% to 8511, while Hong Kong's Hang Seng rose 0.6% to 9716.
U.S. Treasury issues were higher, with the 10-year note up 12/32, yielding 4.11%.