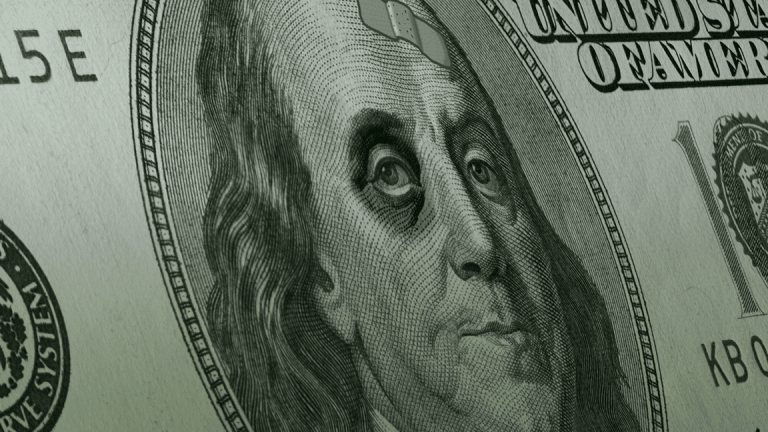 Dollar at 3-Year Low as Treasury Secretary Mnuchin Supports Weaker Greenback
The U.S. dollar continued its near year-long decline Wednesday, falling to the lowest level against it major global rivals since 2014, after Treasury Secretary Steven Mnuchin said a weakening greenback was good for American trade.
The U.S. dollar plunged to a fresh three-year low Wednesday after Treasury Secretary Steve Mnunchin told an audience in Davos that a weakening greenback would be good for American trade.
The comments followed a warning from Commerce Secretary Wilbur Ross, who told a panel at the World Economic Forum in the Swiss Alpine village that yesterday's decision to slap tariffs on solar panels and washing machines from China and South Korea were the first of more trade measures to come from Washington as President Donald Trump accelerates his 'America First' trade policy.
"A weaker dollar is good for us as it related to trade and opportunities," Mnuchin told reporters in Davos ahead of an expected keynote address later this week in which Trump is expected to provide further details of his trade and economic policies. "This is about an America First agenda, but America First does mean America working with the rest of the world".
"The dollar is one of the most liquid markets. Where it is in the short term is not a concern for us at all," he added. "A weaker dollar is good for us as it relates to trade and opportunities. Longer term, the strength of the dollar is a reflection of the strength of the US economy and that it is, and will continue to be the primary reserve currency."
The U.S. dollar index, which benchmarks the greenback against a basket of six global currencies, was marked 0.90% lower from Tuesday's opening levels at 89.71, the lowest since December 2014. The dollar has given ground away to all of the world's major currencies so far this year and has fallen more than 12% on and index basis since Trump told the Wall Street Journal on April 12 that "I think our dollar is getting too strong, and partially that's my fault because people have confidence in me."
A good portion of the dollar's recent weakness, however, can be pegged to the improving forecasts for global economic growth after the International Monetary Fund lifted its estimate for world GDP to 3.9 for this year and next in its World Economic Outlook report earlier this week.
However, as ING analyst Viraj Patel noted, "it feels like the next few weeks could be a watershed moment for world trade and protectionism - and yet there is an unnerving sense of serenity in markets."
"As Vice-President Pence confirmed, President Trump will be heading to Davos - ahead of next week's pivotal State of the Union speech (31 Jan) - to pitch his 'America First' ideology," he said in a Wednesday blogpost. "This remains a risk strategy for the dollar - and for a US economy that relies on the kindness of strangers to fund its structural deficit."
At this rate, the weak dollar will replaced by cryptocurrencies, says this guest.
More of What's Trending on TheStreet: