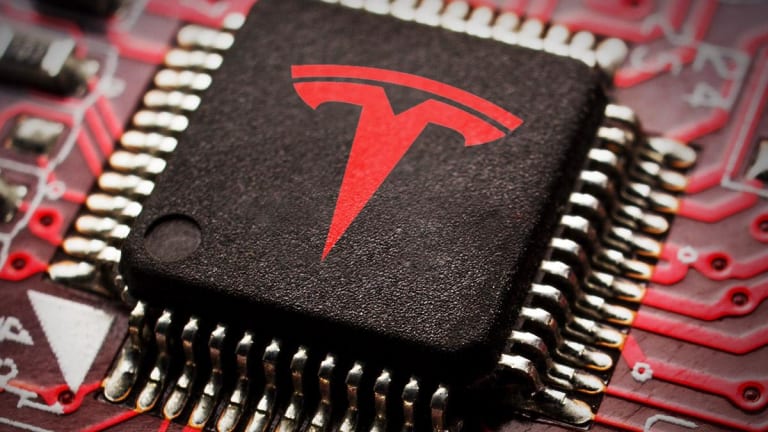 Tesla Faces U.S. Criminal Probe Over Musk's 'Funding Secured' Tweet
Tesla is under real fire now.
Tesla and Musk may actually be in deep trouble. 
The U.S. Department of Justice is opening a fraud investigation into Tesla over CEO Elon Musk's 'funding secured' tweet he made in early August, according to a Bloomberg report that cited two people familiar with the probe. Tesla shares fell as much as 6.5% Tuesday Sept. 18. 
The Justice Department inquiry, out of the Northern District of California, comes after the Securities and Exchange Commission launched a formal investigation into Musk's tweet shortly after he made it.  
Tesla said it has not yet received any formal legal requests from the DOJ, after news of the DOJ's investigation broke.
"Last month, following Elon's announcement that he was considering taking the company private, Tesla received a voluntary request for documents from the DOJ and has been cooperative in responding to it," a Tesla spokesperson, who declined to be named, said in a statement. "We have not received a subpoena, a request for testimony, or any other formal process. We respect the DOJ's desire to get information about this and believe that the matter should be quickly resolved as they review the information they have received."
Musk's tweet, which claimed that Tesla had secured financing for a transaction that would take the electric car company private, was questionable to many legal experts, including former SEC chairman Harvey Pitt. The tweet initially boosted Tesla's stock from $363 to $379. If it is deemed that the tweet was made with the intention of boosting the stock price, Musk's tweet could be considered market manipulation. 
Musk could be liable for damages to investors who shorted the stock, and short-sellers have indeed sued both Musk and Tesla. Only a small number of short sellers covered their positions on the day of the tweet, however. Roughly 2 million shares were bought back, according to S3 Partners, a financial data analytics firm. That means Musk may not actually be liable for a large amount because only realized losses can be recovered as damages in a lawsuit.
"If you don't have any realized damages, there's nothing to recover," Thomas Gorman, a partner at law firm Dorsey & Whitney LLP told TheStreet. "Paper losses ain't going to cut it." 
Aside from what Musk is in for, and aside from the intention of the tweet, it is also clear that funding was not secured, which many legal experts say would be securities fraud.