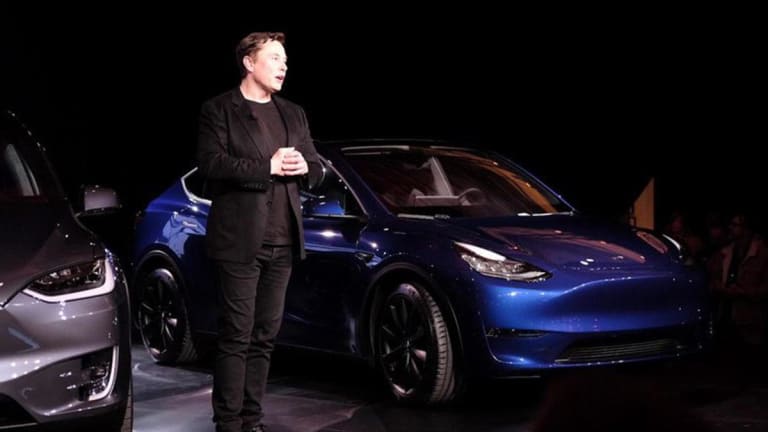 Does Tesla's Model Y Presentation Suggest Elon Musk Is Out as CEO?
My sense is that Elon Musk is seeing a higher probability now -- more than he did even a few weeks ago -- that his relationship with Tesla might be due for a restructuring.
Forget about the new Tesla Model Y from Tesla (TSLA) - Get Tesla Inc. Report for a moment. The Model Y seemed just fine, and exactly as predicted and indeed even teased by Tesla in recent weeks: It's simply and straightforwardly the crossover version of the Model 3. It even looks extremely similar.
This type of compact crossover body design is the sort of thing every automaker is building -- today, in the form of internal combustion engine cars, and going forward in the form of battery-electric vehicles. They make a sedan or hatchback, and they make a couple of SUVs (or crossovers) around it, to form a portfolio of vehicles sharing a common platform.
Not all of them focused on the same geographies (European tastes are different than U.S. tastes, etc.) -- but in principle, this is what they all do. Tesla's Model Y is just following this well-established industry pattern.
My biggest takeaway from the Model Y unveil event wasn't at all the car itself. It was all about CEO Elon Musk and his demeanor, in combination with the nature of the event itself.
Musk spent the vast majority of the presentation talking about the company's accomplishments to date. He basically said, "Here is what I did, against all odds and all the naysayers."
It was as if he was making a film for the History Channel -- a documentary of how Tesla became a force in the industry and changed things way beyond the punching weight of such a relatively small entity. It's the way he would like to be remembered. A legacy.
The Model Y presentation itself was very brief -- only a few minutes at the very end of the event. There was nothing really wrong with the facts presented as it simply outlined the versions of the car that Tesla intends to manufacture and sell, starting in the fall of 2020.
There were something missing, however, and that was any confirmation of the U.S. manufacturing strategy. While we know the Model Y will be built in China, why didn't Musk also confirm where it will be built in the United States?
In order to understand the company's capital needs and realistic time-to-market, that is important information. Yet Musk didn't touch on the issue.
In Tesla's Jan. 30 investor letter, this was the text:
"Additionally, this year we will start tooling for Model Y to achieve volume production by the end of 2020, most likely at Gigafactory 1."
OK, so why not confirm that? Has that "most likely" scenario changed? Has the company not decided yet?
But even that completely misses what I thought was the biggest takeaway from the event: Musk's body language and avoidance of usually important subjects.
For example, how about any comfort with respect to the March quarter, which only has two weeks left? The stock is down approximately $100 in three months -- some 25% -- and this would have been a good moment to "stick it to the shorts" with comfort regarding the March quarter sales and earnings numbers. (Full disclosure: I'm one of the people who are shorting Tesla.)
Even more important than that, however, was Musk's abrupt end to the presentation. Right before it ended it was as if he really wanted to bring up "one more thing," but held back and instead ended the presentation in the most abrupt manner imaginable.
What did he hold back?
I don't know, but let's consider that the Securities and Exchange Commission is scheduled to file its brief with Judge Alison Nathan in less than a week. Surely, Musk and Tesla must be engaging in some form of settlement negotiations with the SEC right now. I obviously don't know what the outcome of this process will be, but remember that last September, when the SEC sued Musk, it first asked for his removal as CEO.
Then we have the poor March quarter, which seems to be down a lot not only from the 91,000 or so cars Tesla sold in the December quarter, but also below where the consensus was until a week or two -- 81,000 units. Some analysts have come out and pointed to numbers that would be below 70,000 units. I'm on the record estimating under 60,000.
When sales volumes fall so much, it puts enormous pressures on the balance sheet of a company that is heavy in debt and other liabilities, as well as being relatively cash-strapped. To get out of this bind, a capital raise is needed.
Less than 90 days ago, Musk mortgaged his half-dozen homes to the tune of $61 million. That was followed by multiple layoffs at Tesla (and even one at SpaceX), capped with an awkward shutting down of the Tesla retail stores -- followed a week later by a partial reversal of that decision. Tesla's chief financial officer and general counsel both left the company within a month of each other. The vice president of engineering -- Michael Schwekutsch -- did, too.
Clearly something is not right in Tesla-land, and perhaps not for Musk personally either, given the $61 million home mortgages -- not a natural thing to do for someone allegedly worth nearly $20 billion.
That leads me to the bottom line of my impression from the event: Elon Musk seemed like he was giving somewhat of a farewell speech. Something weighed on him, with a heavy heart, but he didn't want whatever that was to spoil the event by telling us what was on his mind. It would have to come later. 
We can all make our own guesses as to what could possibly have caused this gloomy and abrupt end to the Model Y unveil event. My sense is that Musk is seeing a higher probability now -- more than he did even a few weeks ago -- that his relationship with Tesla may be due for a restructuring. It may not be his choice.
Could that mean that he will (have to) step down as CEO? I don't know, but this much is clear: Watching Musk present on Thursday evening, I think the probability of that scenario just went up.
If something like that were to happen, would it be good for the stock? I think not.
(This column has been updated.)
At the time of submitting this article for publication, the author was short TSLA. However, positions can change at any time. The author regularly attends press conferences, new vehicle launches and equivalent, hosted by most major automakers.