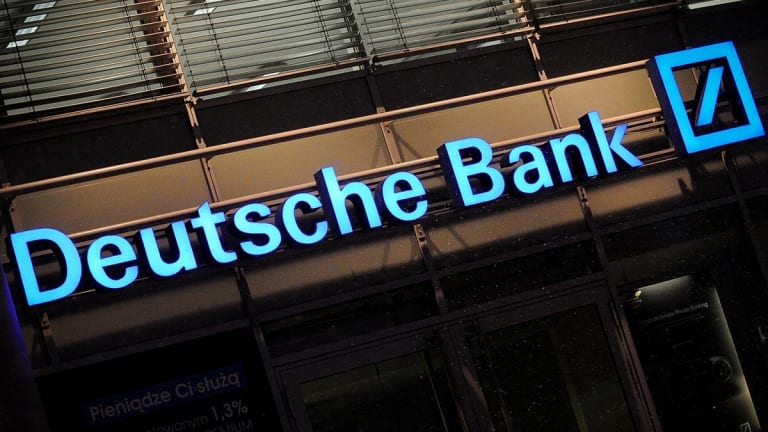 Deutsche Bank Surges After Surprise Q2 Preview Indicates Solid Earnings Growth
Deutsche Bank shares spiked more than 5% in Frankfurt after a surprise preview of its second quarter earnings release unveiled bullish expectations for Germany's biggest - but troubled - lender.
Go figure.
Deutsche Bank (DB) shares traded sharply higher in Frankfurt Monday after Germany's largest lender revealed a bullish outlook for its near-term earnings prospects in a surprise release ahead of its July 25 report. 
The bank said it sees pre-tax profit for the three months ending in June of around €700 million ($818 million), putting the first half total at around €1.15 billion, figures that the bank said "demonstrate the resilience of the franchise" and are "considerably above the average consensus estimate" it had previously complied from analysts that cover the stock. Net income is slated to come in at €400 million while second quarter revenues are seen at €6.6 billion, the bank said, and should include around €3.5 billion from its corporate and investment banking division when the report if published next week.
Deutsche Bank shares were marked 6.36% higher at €10.22 each in Frankfurt following the statement, the highest since May 29 and a move that takes it some 16.6% higher than the all-time low of €8.76 it hit on June 27. 
The unscheduled update marks the latest in a series of headlines surrounding the bank, which has struggled to maintain investor confidence in its turnaround plans under both former CEO John Cryan and new boss Christian Sewing.
Last month, a German business magazine, WirtschaftsWoche, said JPMorgan Chase (JPM) and Industrial Commercial Bank of China could be interested in taking a stake in the bank, Investors have also been speculating on the fate of China-based HNA Group's 8% holding in the German lender following the death of its chairman, Wang Jian, during a freak holiday accident in France. JPMorgan is a holding in Jim Cramer's Action Alerts PLUS.
HNA said Wang's stake in the China-based investment group, estimated to be around 15%, will be "addressed in due course, consistent with his pledge to donate them to charity, and in accordance with all applicable legal and regulatory guidelines."
Wang died on July 3 during a holiday in France after police in Bonnieux, near Avignon, said the 57 year old fell after posing for photographs on a steep cliff edge.
Deutsche Banks' U.S. division also failed the second phase of the Federal Reserve's stress tests in June, a decision that will likely prevent it from paying a dividend to the parent German lender.
The Fed said it had concerns with the way Deutsche Bank's U.S. division forecast future revenues in the face of a theoretical global recession, and a spike in domestic unemployment, and said there were "material weaknesses" its data capabilities and capital planning processes. The result, however, was widely expected by investors, who had taken the stock to a record low earlier this week, and thus didn't extend declines for the lender in early Frankfurt trading.
The Fed also identified "approaches and assumptions used to forecast revenues and losses arising from many of its key business lines" and in its risk-management", the central bank said.
"Together, these weaknesses raise concerns about DB USA's ability to effectively determine its capital needs on a forward-looking basis," the Fed added.
The results may hasten plans by Sewing to scale-down the U.S. operations and accelerate cost cost cuts at Germany's largest lender, something investors have been demanding both before and after the departure of Cryan.
Deutsche Bank said in May that its global staffing numbers would fall "well below 90,000" following the job cuts, most of which would take place in London and New York, adding that other business reductions and restructuring would reduce the bank's overall leverage by 10%, or €100 billion, by the end of the year.
The bank's overall cost base is expected to fall to €23 billion this year and €22 billion in 2019, Deutsche Bank said, although "no further significant disposals" are currently planned.
Investors have grown increasingly wary of Deutsche Bank's €48 trillion derivatives book and the risks associated with unwinding it as its global business operations scale-down under the turnaround plans first unveiled by Cryan and now supported by incoming boss Sewing.